The day that World of Warcraft Mega Bloks collectors have long dreamed of has arrived–the World of Warcraft Mega Bloks Series 1 Mystery Packs Blind Bags figures have arrived! It's taken the better part of a year since the Mega Bloks Warcraft toys hit stores, but the WoW Series 1 Mystery Pack figures have arrived–and we've got the codes so you can make sure to get the figure you want every single time!
Since the inception of the WoW Mega Bloks line (heck, since the day it was announced), Warcraft fans have been demanding low-priced single figure blind bags of the Mega Bloks figures (such as the ones released for Power Rangers Mega Bloks and Halo Mega Bloks). MEGA Brands has promised for a while that these fan-demanded blind bags were on the way, and after showing them at Toy Fair 2013, they've started to hit online retailers in late March 2013!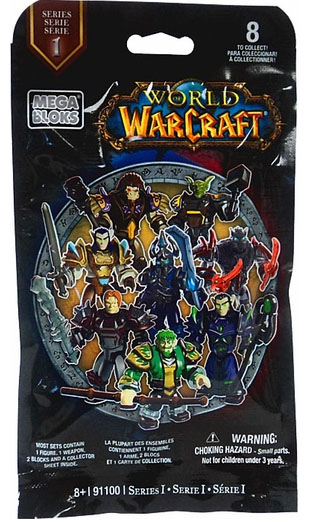 Each full case of 91100 Mega Bloks Warcraft Series 1 figures contains 24 packs, with 8 different figures in the assortment. There is only one "Legendary" rarity Duskborne (Elf Death Knight) in each case, and two of each of the "Epic" rarity Nighthowl (Worgen Rogue) and Medrin (Blood Elf Paladin). Each case contains 3-4 each of the remaining five figures. Every figure includes at least one weapon and a display base with either a transparent red or blue block to put on top, announcing that character's allegiance as either Horde (red) or Alliance (blue).
If the Warcraft Mega Bloks Series 1 Mystery Packs haven't hit your local stores yet or if you want to just order specific figures without having to hunt around, the figures are available for order online now.
The World of Warcraft Mega Bloks Series 1 figures codes are as follows:
Duskborne — Alliance Knight Elf Death Knight (Ultra Rare / Legendary) A02013GT-1
Nighthowl — Alliance Worgen Rogue (Rare / Epic) A02013GT-2
Medrin — Horde Blood Elf Paladin (Rare / Epic) A02013GT-3
Greyland — Alliance Human Warrior (Common) A02013GT-4

Roto — Alliance Gnome Monk (Common) A02013GT-5

Thunderhorn — Horde Tauren Druid (Common) A02013GT-6

Drixil — Horde Goblin Warrior (Common) A02013GT-7

Dayhaven — Horde Blood Elf Priest (Common) A02013GT-8