Now that November 2013 and the holiday shopping season have arrived, so too have the Holiday 2013 LEGO Sales and Deals! The last two months of any given calendar year have more great discounts and savings on LEGO sets than pretty much any other time of the year, and I'll be doing my best to keep this site updated with the major sales and discounts going on as we approach Christmas and the 2013 Holiday Season!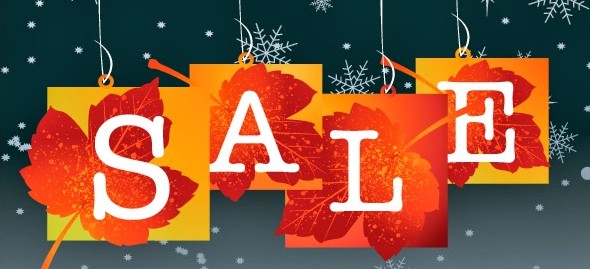 I'll also be sharing the best LEGO sales items I hear about on Facebook, so be sure to 'Like' Bricks and Bloks on Facebook if you want to have new LEGO sales and deals sent straight to your Facebook Newsfeed!
UPDATE 12/7/2013: Though many, many deals have expired since Cyber Monday, some awesome new sales have sprung up as well–including 25% Off of some of the new-for-2014 LEGO The Hobbit sets, and the 2014 LEGO Ninjago Ninjacopter that was released less than a week ago, marked down from $60 to $44 shipped! Woo! It's unheard of to be getting 25% off of major set releases like this within a week of release, so it's a pretty exciting time to be a LEGO collector!
Below is a list of links to the current best prices around for various LEGO sets that are now on sale:
LEGO Lord of The Rings/LEGO The Hobbit Sets 2014 Sets on Sale
LEGO The Hobbit Dol Guldur Battle $52.99 (reg $69.99) 25% Off!
LEGO The Hobbit Dol Guldur Ambush $15.30 (reg $19.99) 25% Off!
LEGO The Hobbit Goblin King Battle $67.99 (reg. $99.99) 33% Off!
LEGO Lord of the Rings Pirate Ship Ambush $60.34 (reg. $99.99) 40% Off!
LEGO Ninjago 2014 (and 2013) Sets on Sale
I'm psyched about the 2014 LEGO Ninjago NinjaCopter being on sale already! In fact, I ordered it this morning for myself! From the 2013 sets, The Temple of Light has now been added to extremely-discounted sale items, which is good as it will give kids (and collectors) a cheap playset for all their LEGO Ninjago minifigures to hang out at. I don't know how many adults are into the LEGO Ninjago theme, but these are going to be more sets that will be super-popular for holiday gifts to young boys. I actually kind of like this theme, and I'm thinking about picking up the Epic Dragon Battle so that I can have the huge dragon to fight the Nindroid Dragon coming out this winter!
70724 LEGO Ninjago NinjaCopter $44.98 (reg. $59.99) 25% Off
70505 LEGO Ninjago Temple of Light $47.99 (reg. $69.99) 31% Off!
9450 LEGO Ninjago Epic Dragon Battle $84.72 (reg.$119.99) 29% Off!
70503 LEGO Ninjago Golden Dragon $20.99 (reg. $29.99) 30% Off!
LEGO Star Wars Sets on Sale

I can't believe how much LEGO has marked down some of the 2013 LEGO Star Wars sets! Earlier this week they offered almost FIFTY PERCENT OFF on the AT-TE, Z-95 Headhunter, and Rancor Pit! Craziness! At this point I'm legitimately wondering if these prices can get any lower than they've made them!
75021 LEGO Republic Gunship $91.19 (reg. $119.99) 25% Off!
75020 LEGO Star Wars Jabba's Sail Barge $85.50 (reg. $119.99) 29% Off!
75018 LEGO Star Wars Jek-14′s Stealth Starfighter $56.00 (reg. 69.99) 20% Off!
75019 LEGO Star Wars AT-TE $79.99 (reg.$89.99) 11% Off!
LEGO Superheroes Sets on Sale
Just when I think the LEGO Superheroes sets have hit their rock-bottom prices for the year, Amazon discounts them a little bit more! The LEGO Superman sets have hit their lowest prices yet, while the LEGO Avengers Loki's Cosmic Cube Escape set has been restocked at a discount! I particularly like that set, as you get LEGO Minifigures of Loki and Iron Man for under 15 bucks (plus a Hawkeye and a SUV to spare!).
LEGO Marvel Loki's Cosmic Cube Escape $14.99 (reg. $19.99) 25% Off!
LEGO Superman Battle of Smallville $30.99 (reg. $49.99) 38% Off!
LEGO Superman Black Zero Escape $13.99 (reg. $19.99) 30% Off!
LEGO Superman Superman vs Power Armor Lex Luthor $15.29 (reg. $19.99) 25% Off!
LEGO Legends of Chima Sets on Sale
Legends of Chima is primarily aimed at kids, and that's a good thing because it means lots of great holiday sales! I'd been holding off on the Lion CHI Temple myself since summer, but at $75 shipped today I finally decided to bring the Chima Lion CHI Temple home! This'll make a great huge, somewhat cheap Christmas present!
70010 LEGO Chima The Lion CHI Temple $75 (reg $119.99) 37% Off!
70005 LEGO Legends of Chima Laval's Royal Fighter $25.03 (reg.$39.99) 37% Off!
70006 LEGO Chima Cragger's Command Ship $55.24 (reg. $79.99) 31% Off!
LEGO Castle Sets on Sale
Sadly, it appears that the LEGO King's Castle 70404 is no longer on sale. I'm not surprised, considering what a crazy deal it was! But don't underestimate the appeal of the awesome LEGO Dragon Mountain 70403 set! Marked down just to $38 shipped, the LEGO dragon in this set will be the closest thing to a LEGO Smaug this year and should be very popular with Christmas shoppers.
70403 LEGO Castle Dragon Mountain $38.22 (reg. $49.99) 24% Off!
70402 LEGO Castle The Gatehouse Raid $21.87 (reg. $29.99) 27% Off!
LEGO City Sets on Sale
Though I don't buy much from the LEGO City theme, there's some really nice LEGO City sets on sale right now as well. These are going to be especially popular for Christmas gift-giving, as not all parents/grandparents/relatives know what licensed LEGO sets their loved ones would like. The Museum Break-In and the City Coast Guard Patrol are easily my favorite two LEGO City sets currently on sale. Great stuff!

LEGO City Police Museum Break-In $43.49 (reg.$69.99) 38% Off!
LEGO City Coast Guard Helicopter $25.39 (reg.$39.99) 37% Off!
LEGO City Fire Emergency $25.49 (reg.$39.99) 36% Off!
LEGO City Coast Guard Patrol $51.99 (reg.$79.99) 35% Off!
LEGO City Mobile Police Unit $29.99 (reg.$44.99) 33% Off!
LEGO City Heavy Lift Helicopter $33.99 (reg.$49.99) 32% Off!
LEGO City Cargo Truck $28.49 (reg.$39.99) 29% Off!
LEGO City Fire Station $72.99 (reg.$99.99) 27% Off!
LEGO Friends Sets on Sale
I am secure enough in my masculinity to admit that I find the LEGO Friends Dolphin Cruiser really sweet. The LEGO Friends sets are (obviously) aimed primarily at girls, and that's fine–boys can't have all the cool stuff! I love that LEGO is promoting building sets for females to help develop interest in engineering and other technical skills, and I hope that lots of girls get very cool LEGO Friends sets this coming holiday season.
3315 LEGO Friends Olivia's House $59.99 (regularly $74.99) 20% Off!
If you see any other hot LEGO deals or sales around and would like them added to this post, leave a reply and I'll add a link to this topic so that other LEGO collectors can share in the great deals prevalent this time of the year!