After having just been blessed with dozens of new sets being released last week, it seems a little bit perverse to be thinking of next month already–but hey, when you're a LEGO collector, you've got to be constantly looking ahead, right? TLG certainly is, as they've once again shared next month's store calendar a full month early. And according to the February 2016 LEGO Store Calendar, next month we can look forward to a new free promo set, a Double VIP Points offer and more!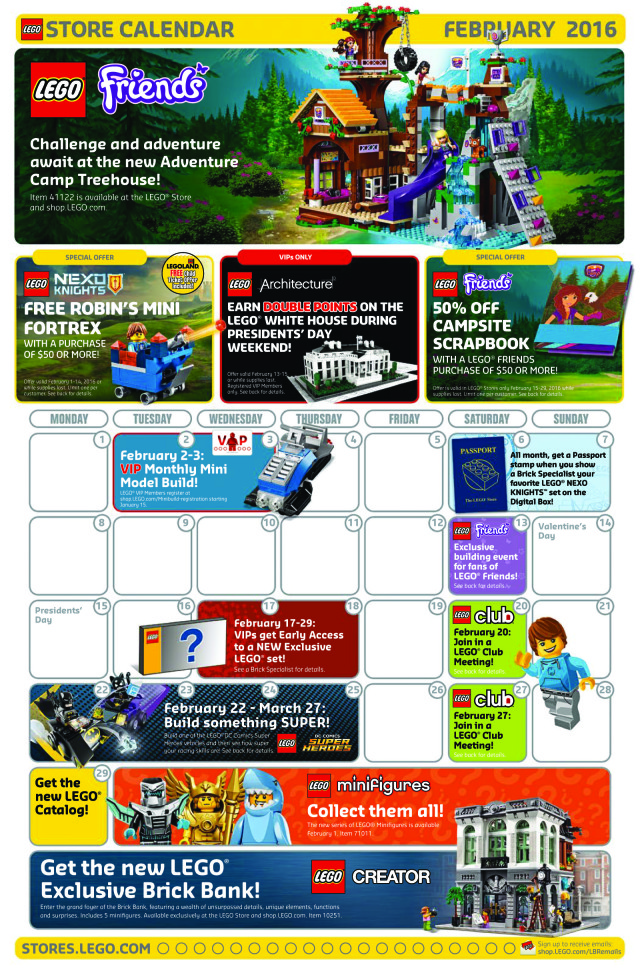 As usual, the most compelling part of the new calendar is next month's exclusive free (with qualifying purchase) promotional polybag set. For the second month in a row, the freebie is a Nexo Knights promo. I'm alright with this, as Nexo Knights is the new theme on the block and desperately needing a big push, but I hope in March we get a Super Heroes promo or something else totally different.
This time, the free promo is LEGO Robin's Mini Fortrex 30372. Robin isn't included in very many Nexo Knights sets, so I think the child self-insert character is a good pick for this promotion.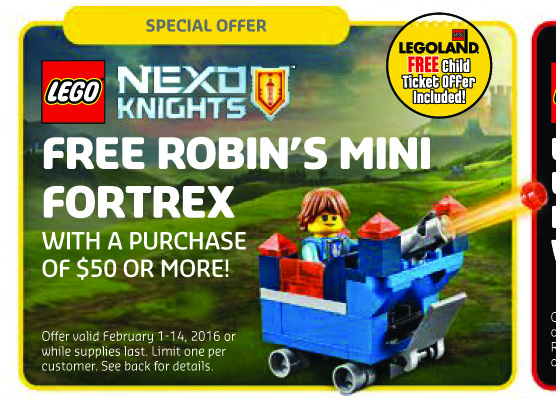 The 30372 LEGO Nexo Knights Robin's Mini Fortrex set will be free with any qualifying purchase of $50 or more from February 1st to 14th, so make sure to stop by during the first half of the month if you really want to claim this polybag.

From February 17th to 29th (yes, February 29th–we're in a super-special leap year!), VIPs will have exclusive early access to a new LEGO Exclusive set. We're not supposed to know what that set is just yet, but, well…
Spoilers: It's the LEGO Batman Classic TV Series Batcave 76052, with a classic Batmobile, plus minifigures of Batman, Robin, Alfred and Catwoman. (But try to look surprised when the set is announced, okay?)

And speaking of DC Superheroes, the calendar also shows some of the new Mighty Micros sets. Since those sets haven't turned up yet at retail, I guess we can assume they'll be turning up somewhere between now and the start of February!

If you're living in the United States, you probably noticed that the much-anticipated LEGO Minifigures Series 15 blind bags did not appear last week. It looks like they're going to be held for an "official" release on February 1st, 2015, although I wouldn't be surprised if the blind bags turn up at retail before this month is over (in fact, I'd be surprised if they didn't!).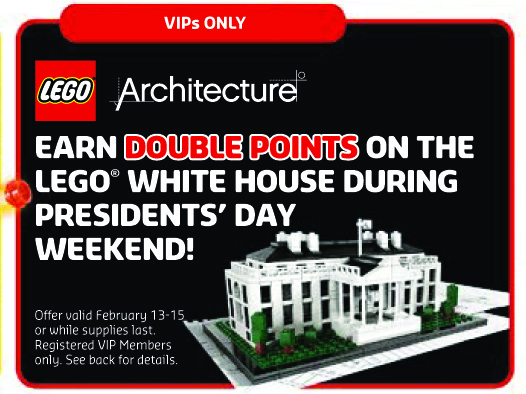 In addition to all those new sets launching, we'll also be seeing an older set go on sale (sort of): TLG will be offering Double VIP Points on the LEGO Architecture White House set from February 13th to 15th. As much as I love double points, this promotion only yields $5 in VIP Points instead of the usual $2.50 you'd get from this set. It's tough to get excited about two dollars, ya know?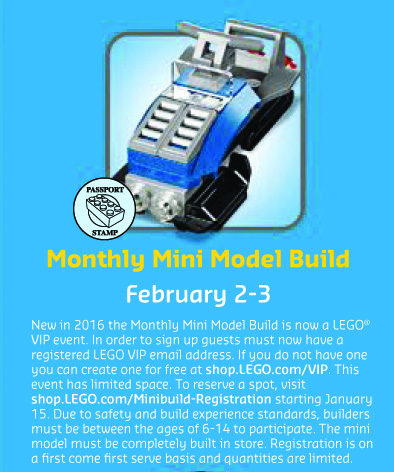 Finally, we've got the February 2016 Monthly Mini Model Build. This time, it's a little brick-built Snowmobile! There's only one angle of the vehicle on the calendar, but at a glance it looks nice enough for a freebie. In fact, it looks like it should be scaled properly to be ridden by any minifigure! We get snowmobiles pretty frequently, so for a change I'm not jealous of the kiddos, thankfully.
Overall, I think that February 2016 is unfortunately one of the weaker months at the LEGO Stores that I can recall, with only the free polybag promo being something that I'd really like to venture into the store for.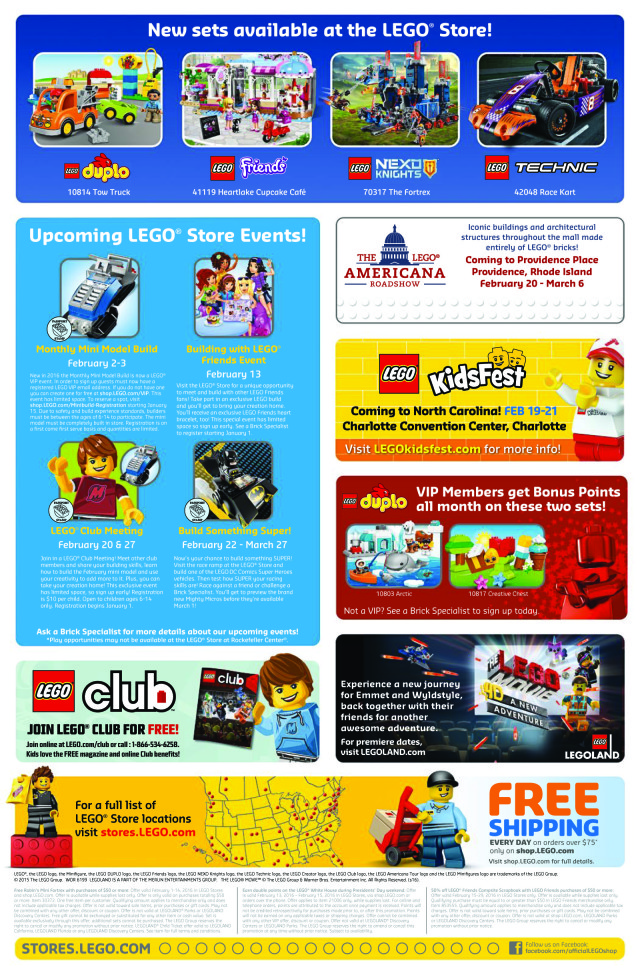 What do you think of the LEGO Store February 2016 Calendar, brick fans? Is there anything on the docket that's got you stoked, or are you not planning to go out of your way to visit one of the store locations next month?