May 2015 turned out to be the single worst month of my entire life, so it is with much gusto that I say goodbye to May and hello to June. And with the arrival of June comes at least a sliver of sunshine in my life, as the July 2015 LEGO Store Calendar has now been posted! While nothing quite stacks up to the Winter Soldier minifigure in the June Calendar, that's not to say that July is a total loss! There's a free LEGO Space polybag set, the third LEGO Star Wars movie poster, a "mystery" VIP set and more on the way…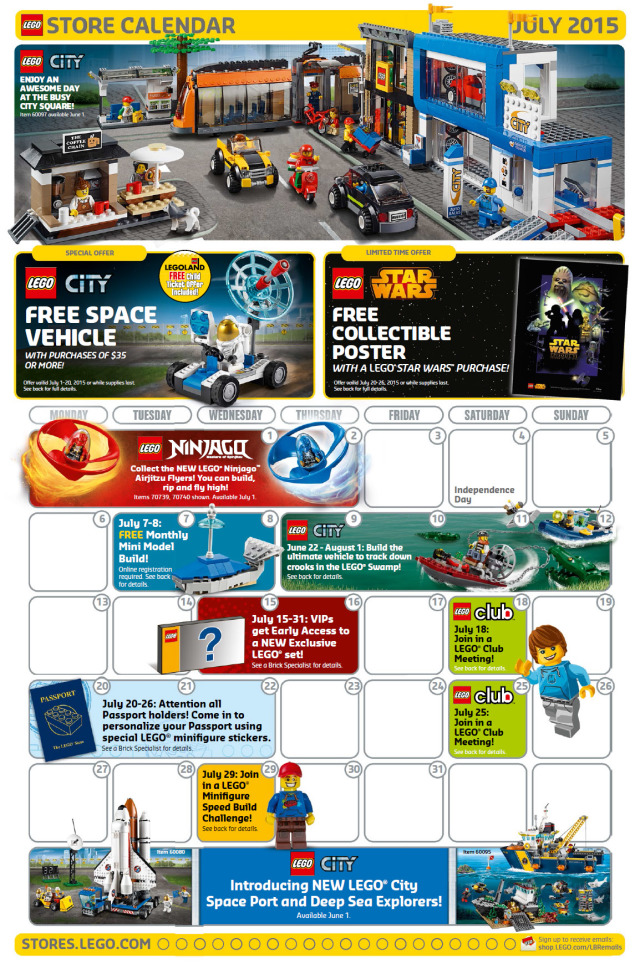 I apologize for the lack of updates the last few weeks. We suffered a crushing loss to our family, and I haven't really been able to get myself into the right mindset to talk about toys as much as I usually do. It's a new month, though, and time to (try) to get myself back into motion–and what better way than with the new LEGO Store July 2015 Calendar?
There are two free promos available in July 2015, and while only one of the two promos is actually made a bricks, they're both items that I suspect many people are going to be psyched for…
There's one free polybag promo in July, and it's the final addition to this year's Space Port theme: the LEGO 30315  Space Rover set! It's a cute little polybag that includes a little Space Rover car with rotating satellite, and even includes an Astronaut minifigure. It's pretty shocking that there was no Rover like this available for purchase as part of the 2015 LEGO Space sets, so this will definitely fill a hole in Space enthusiasts hearts this year.
The 30315 LEGO Space Rover will be available from July 1-20 with any $35 purchase from any theme (not just Space sets), but with kids out of school for the summer and buying boatloads of new sets, I imagine this set will actually run out well before the 20th. Get it early if you want one!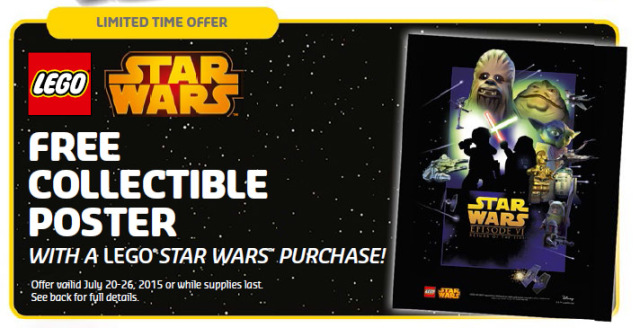 The other free item being given out on the July 2015 LEGO Stores calendar is the third LEGO Star Wars movie poster for "Return of the Jedi"! The ROTJ poster will be available with purchase of any LEGO Star Wars set for one week only–from July 20th to 26th–so unless your store manages to keep the Space polybag until the very last day, you'll have to make two trips to the store if you want both the polybag and the LEGO Return of the Jedi poster.

You'll also notice the mention of a new VIP Early Access set being available from July 15-31. As usual, we "don't know" what that set is, but let's be honest here–it's the LEGO Ferrari F40 10248. We've known about it for a while, and it's only going to be a matter of days now until the first images of the Ferrari set drive in. Vroom vroom!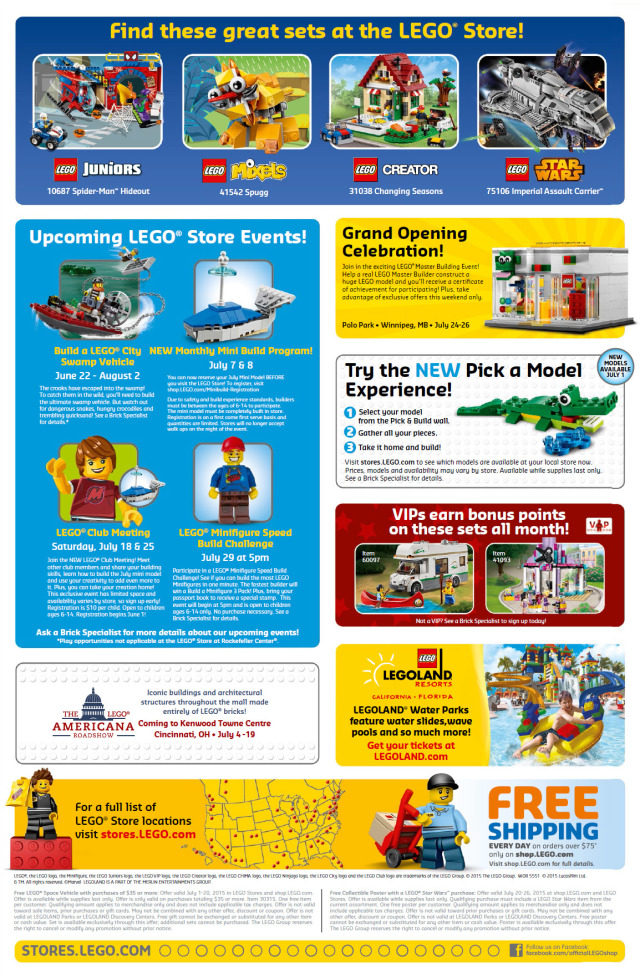 The back of the calendars tend to be weak, and this month's is particularly so. There's a new store opening in Canada, a pair of club meetings (July 18th and 25th), the ongoing Build A City Swamp Vehicle event, and the LEGO Minifigure Speed Build Challenge (July 29th). The Speed Build Challenge sounds like a blast, but sadly, us over-the-hill folks who have passed age 14 may not participate. I may just hold my own Minifigure Speed Build Challenge at home, though…
Now that you know all of the goings-on at your local LEGO Stores in July 2015, what are you looking forward to (if anything), brick fans? Will you be heading to your local store next month, or is there nothing on the latest calendar that gets to excited in the slightest?