Although "Captain America: The Winter Soldier" is one of the most popular and renowned movies in the whole Marvel Cinematic Universe, it was a pretty big let-down for LEGO fans, as there were exactly zero boxed sets released for the blockbuster movie. But TLG isn't making that same mistake again, as they've got three sets on deck for "Captain America: Civil War"–and the LEGO Black Panther Pursuit 76047 set will give us our first mass-release Winter Soldier and Black Panther minifigures!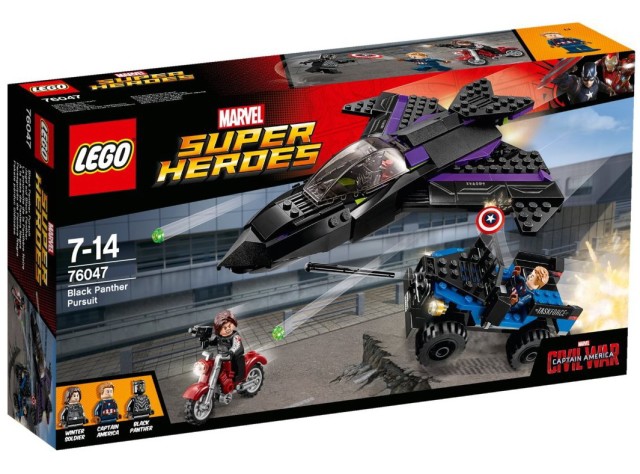 "Captain America: The Winter Soldier" was a definite missed opportunity for LEGO, as the only item ever released for the movie was a free promo Winter Soldier polybag given away with a qualifying purchase last spring. But a character as popular with the masses as the Winter Soldier could never be satisfied with such a limited release, and so he's back as part of the LEGO Marvel 2016 sets–and he's bringing the Black Panther and a newly-updated Captain America with him!
And oh yeah–a motorcycle, and a car, and also one of the slickest-looking brick-built jets that I've seen in many, many years. Thanks, Bucky!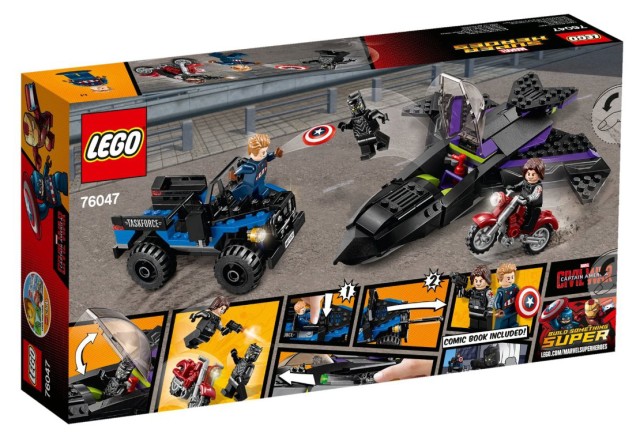 The Black Panther's country of Wakanda is a technological powerhouse in the MCU, and as a result, the Black Panther has what looks to be the coolest stealth jet ever seen in a Marvel movie. I love the sleek design of the jet and its black and purple paint scheme, and it's honestly the first time I can remember being really excited to build a brick-built jet plane.
Meanwhile, Winter Soldier is riding a red a motorcycle (which looks suspiciously similar to Cap's motorcycle from the first Avengers movie sets), and Captain America himself has an odd blue and black military vehicle to drive. Personally, I think that poor Steve and Bucky are totally outmatched by T'Challa's jet, but I guess we'll see how things turn out in the film in just a few months!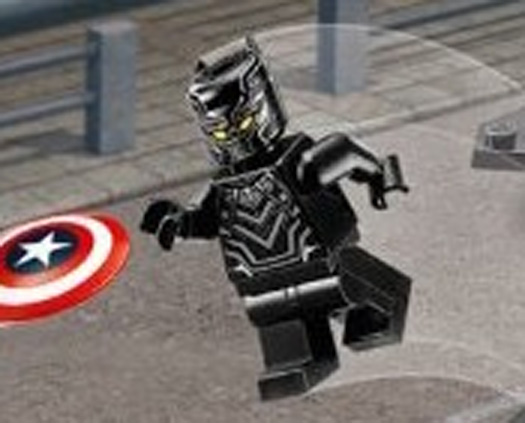 Sadly, the one figure that we still can't see all that well–even in these hi-res images–is the main event of the set, the Black Panther LEGO minifigure itself. By magnifying the image of the Black Panther from the back of the package, we can get a better look at T'Challa's yellow eyes and grey torso detailing, but I'm looking forward to being able to see him close-up at New York Toy Fair 2016 next month.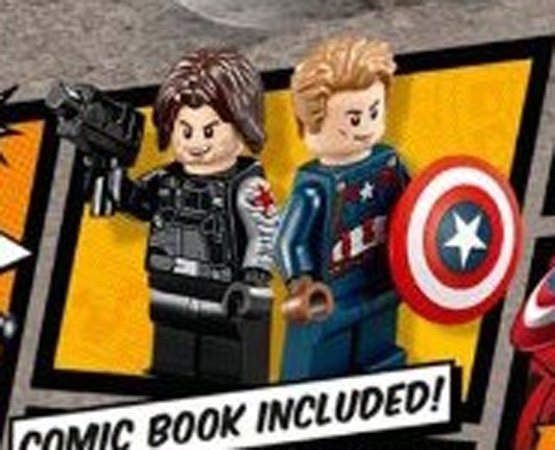 Two figures we can get a great view of, however, are the updated CW Captain America and Winter Soldier Bucky Barnes! Fans (and shippers) have been dying to see Bucky and Steve hanging out and fighting together since the last movie, so I suspect that this set is gonna make a lot of people happy!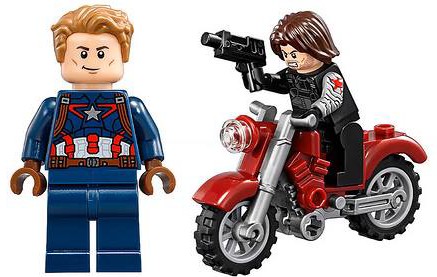 One thing that's really unique and surprising about this set is that it's the first non-exclusive one ever to come with only an unmasked Captain America Steve Rogers minifigure! The hairpiece, the smirk… everything about this Captain America minifig looks terrific, but it's still weird having a Cap with no mask. I wonder how much of the Civil War movie Steve will be maskless during…?
Meanwhile, I'm pleased to see that the Bucky minifigure has a double-sided head. Though it's awesome to finally see Bucky and Steve smiling together (in cute brick figure form), it's nice to know that the Winter Soldier still has aggressive, capable combatant side to his personality as well.

The LEGO Marvel Civil Wars sets will be available online and in stores later this winter, with no official street date confirmed for the wave at this time. I imagine TLG will have to obey whatever the street date is for all "Captain America: Civil War" movie merch and collectibles, but at this time that date hasn't been revealed by Disney. I'll send out an alert via the Bricks and Bloks Twitter and Facebook Pages once we know more release specifics on these sets.
What do you think of the debut set containing Black Panther and Bucky minifigures, brick fans? Is there enough cool stuff (and figures) in this set to convince you to drop $30-$40 this winter, or is the 76047 Black Panther Pursuit not on your must-buy list for 2016?