Though I would be perfectly content to discuss the new winter 2016 LEGO Star Wars sets every day, there's another movie coming out in just a few months that a "few" folks are excited about, so today let's turn our attention to the DC Universe! We first saw a sneak peek at the new Batmobile way back in July, and now the complete LEGO Batman v Superman Kryptonite Interception 76045 set has been revealed!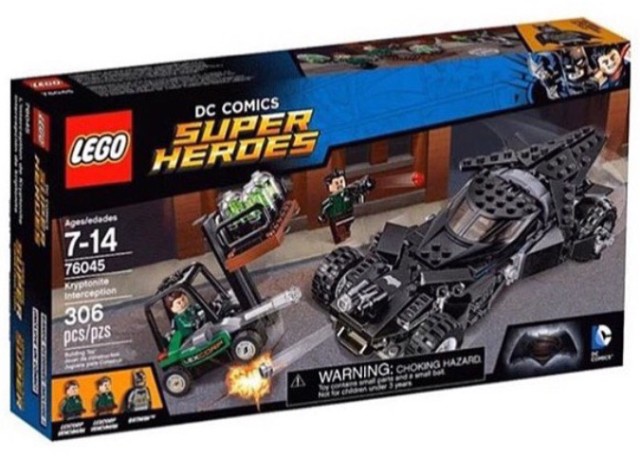 Even the best-laid plans tend to fall apart, and that's why the long-in-development Batman vs. Superman LEGO sets had to be pushed back into 2016 when the "Batman v Superman: Dawn of Justice" movie was likewise delayed to spring 2016.
But while the toys wouldn't be officially released until the new year, TLG let us see the new brick-built Batmobile at SDCC 2015 in July. And now, almost half a year later, we can finally see the full finished set!
The Batman v Superman Batmobile looks largely the same as it did in the preview image released in the summer, although now we can see it a little bit better. I haven't heard anyone yet say that the BvS Batmobile is their favorite version of Batman's legendary car, but I don't especially mind this design (despite the weird elongate cockpit).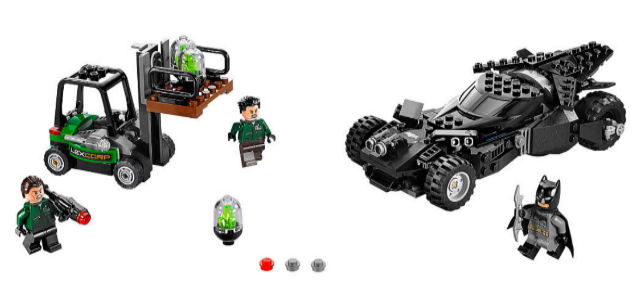 A brick-built LexCorp Forklift is also included with the set. I somehow doubt this forklift is much of a threat to a Batmobile, but it may be fun to send it cruising toward Batman's car nonetheless, and the henchmen will definitely have a better chance with this construction vehicle than without it!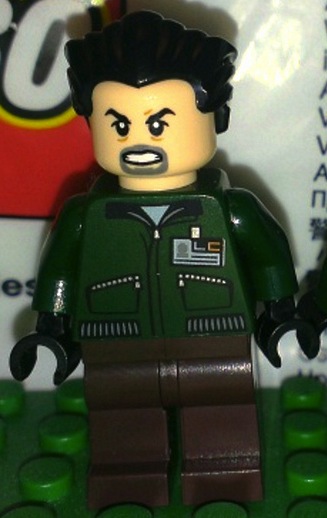 The Kryptonite Interception set includes three Minifigures: a Batman Minifigure from the new movie (obviously) and two LexCorp Henchman Minifigures.
I think I could fill a whole box with all my spare Batman minifigs at this point, but I love the world-building that's made possible whenever henchmen are released. I just may have to pick up a second copy of this set for more LexCorp Henchmen Minifigures!
The DC Superheroes 2016 LEGO 76045 Kryptonite Interception contains 306 pieces and will be priced at $29.99 for an average price-per-piece of just under 10 cents per piece. At that cost, this set passes my "optimal value" test, which is pretty great for a set based off a licensed property like "Batman v Superman: Dawn of Justice"!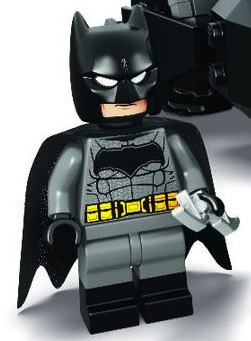 The LEGO Kryptonite Interception 76045 set will be available online and in stores on January 1st, 2016 (along with the other LEGO Batman vs. Superman sets being released). As with all the major sets launching to kick off the new year, haunt your local Toys R Us and LEGO Store if you're hoping to secure your own copy of this new set before the holidays!
Now that we've seen the whole set revealed, what do you think of the LEGO Batman vs. Superman Batmobile set, brick fans? Do you like this iteration of the Batmobile more or less than last versions, and will you be picking this set up this winter?