If you follow the Bricks and Bloks Facebook Page (and if you don't–shame on you), you've probably noticed that I've been posting photos and teasing a review of a certain highly-anticipated set for the past week. While the LEGO Jokerland 76035 Summer 2015 set won't officially release in the United States until next week, my favorite fellow collector Dave M. tracked one down that snuck out early at Toys R Us! And after a monumental amount of prodding and harassment, I finally convinced Dave to compose a full LEGO Jokerland review and photo gallery…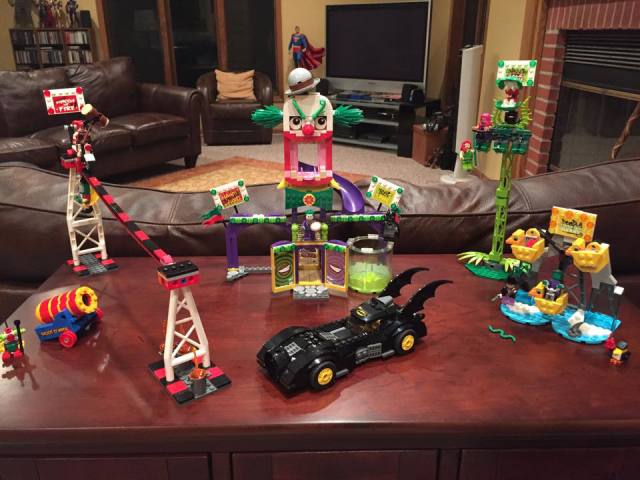 Confession time: I hate clowns. While I wouldn't say I have full blown coulrophobia (fear of clowns), I definitely have a strong dislike of them, fully cemented by my teenage viewing of Stephen King's It ("
Down here, they ALL FLOAT!
"). *Shudder*
I will admit I had a brief moment of horror as I realized those beige colored 1×1 round bricks were forming a row of gigantic evil clown teeth. Momentary moments of mild coulrophobia aside, I thoroughly enjoyed my build of DC's awesome new playground set Jokerland!
The Right:
There is good stuff to talk about with regards to this set… lots and lots of good stuff. Let's start with the mini-figures. This set features eight incredibly detailed mini-figures, six of which have never appeared in this specific likeness in another set. All but one of them feature reversible heads with different expressions on each side, and every one has at least one accessory (usually more). They also all have very detailed designs on both the fronts and backs of the mini-figures. Let's get started with the good guys.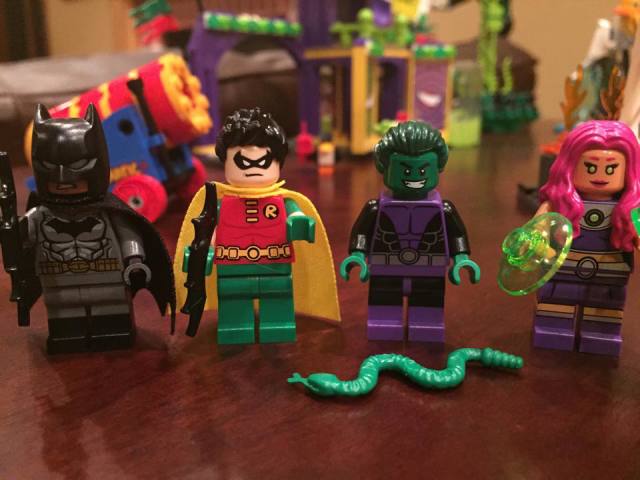 Batman appears in a new costume in this set, otherwise identical to other 2015 sets, with the exception of black boots. Some may not like the black boots, but they don't bother me. The suit is very detailed and looks great. Honestly, you're probably not buying this set for Batman anyway because you likely already have him in ten or more other sets like I do. Let's move on…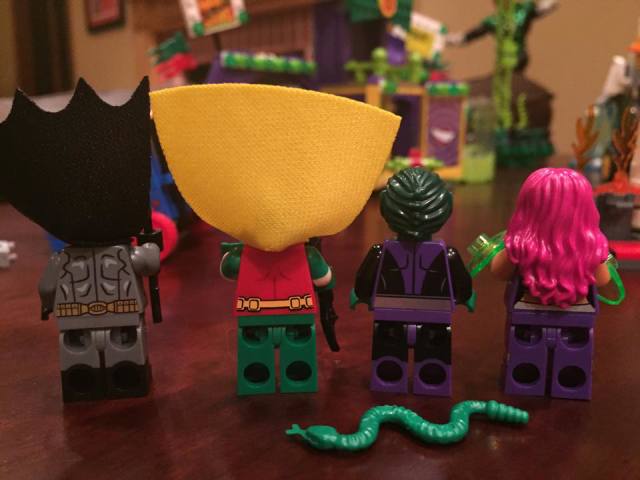 Robin appears for the first time with a new costume and short spiky hair. It's a more modern look than other LEGO appearances, which I think looks pretty cool. He features two great expressions, a determined, kick ass look, and a scared look. He, as well as the other teen super heroes, has an awesome padlocked handcuff accessory, in addition to his Batarang.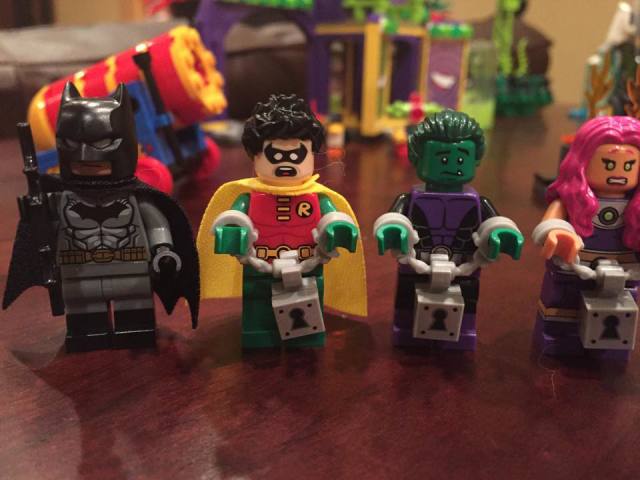 Beast Boy is super cute in this set. He and Starfire will likely be big draws as this is the first time these characters have been featured in any LEGO form. Both his mischievous grin and hang toothed sad faces are adorable. His only "accessory" besides the padlocked handcuffs is a green snake as an alternate form.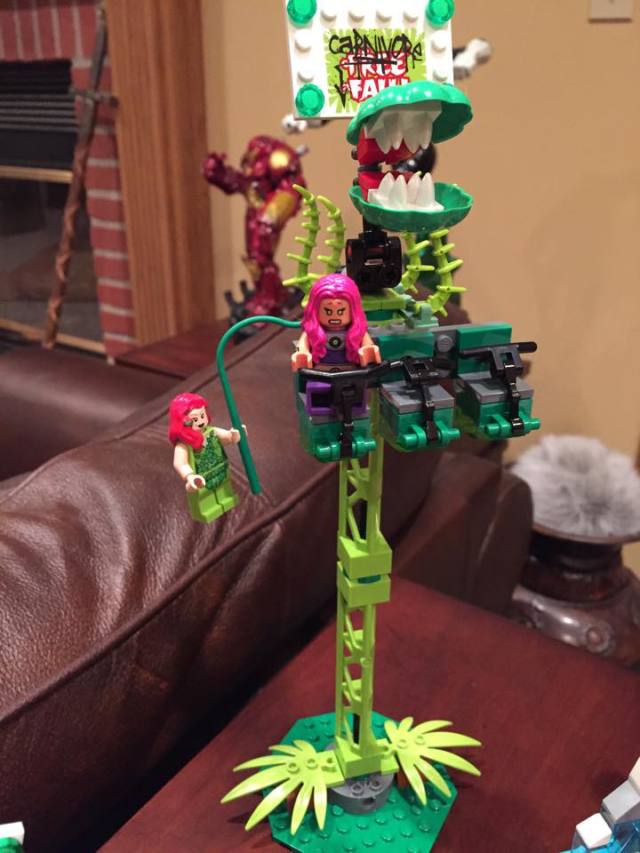 The LEGO Starfire minifigure looks great as well. They did a great job of translating her very skimpy trademark outfit into an acceptable form for fans, children, and overprotective parents. In addition to her handcuffs, she has 2 energy shield… things.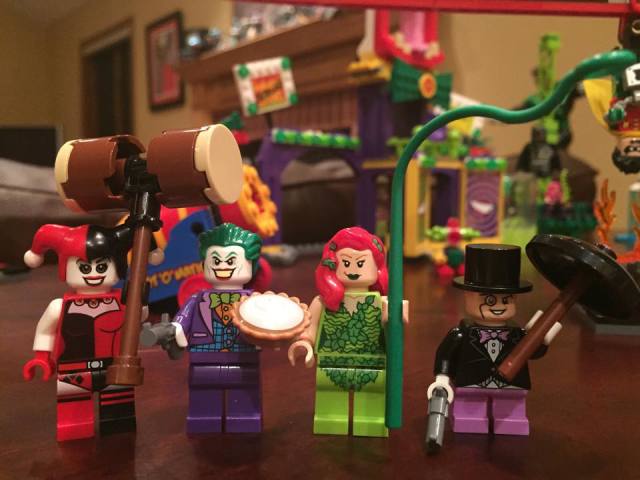 Joker, Harley Quinn, Poison Ivy, and The Penguin comprise the minifigure villain roster of the set, each of which has great detail.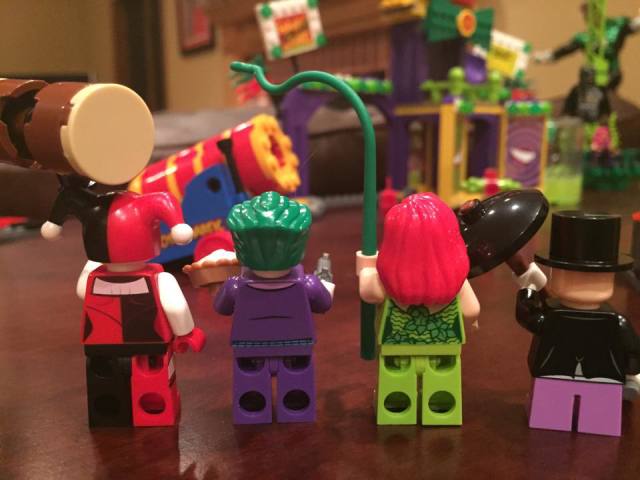 The real standout of the villain mini-figures for me, ironically, was Harley Quinn. While I'm personally not a big fan of the character for several reasons (from which I will spare you), this LEGO mini-figure is a delight. She has two great expressions, and again, LEGO has done a great job of translating one of her popular skimpier costumes into acceptable brick form.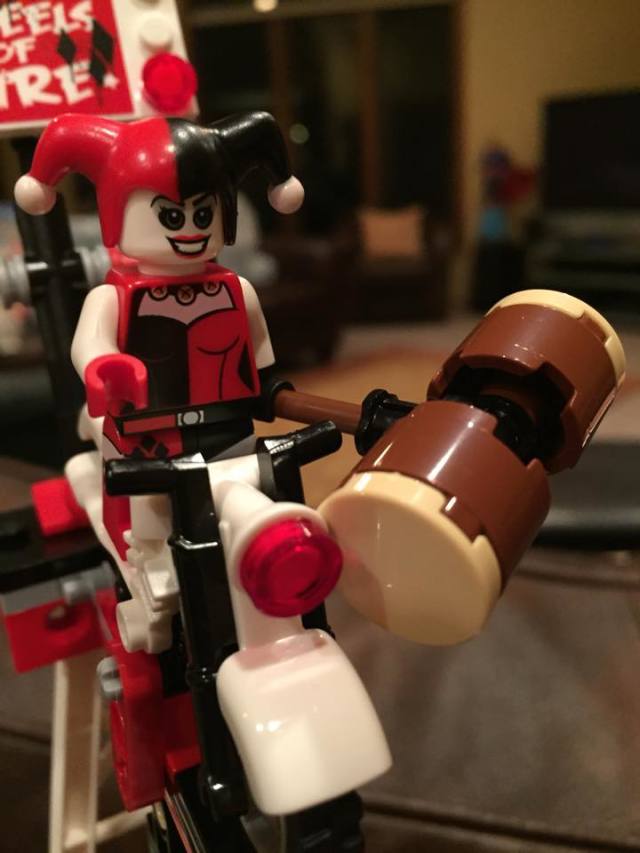 However, the best part of Harley Quinn's inclusion in this set is the brick assembled over-sized hammer. This thing is
HUGE
. It's bigger than she is. The only downside is it makes her a little difficult to balance her when she's not riding her bike.
Assembling the various set pieces in this set was an absolute blast. When you get done with most bigger sets, you have one big assembled thing, like a spaceship or a building. With this set, after every 1-2 bags, you assemble a standalone piece of LEGO awesomeness.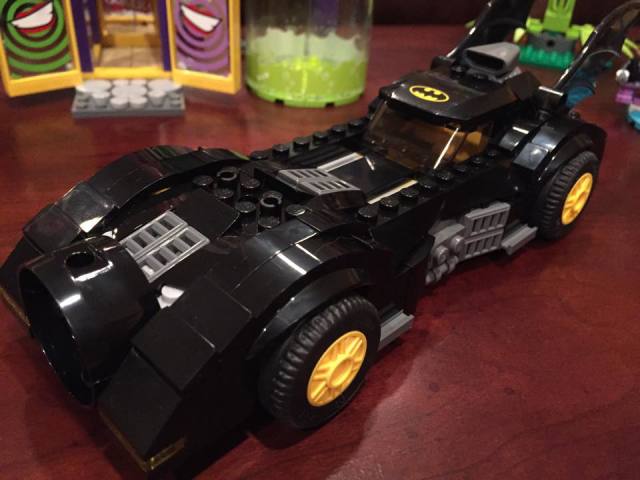 First up, the Batmobile. Not just any Batmobile, but the Tim Burton 1989 Batman movie Batmobile. It's a very well designed little vehicle with a couple of great functions. It has missiles in both the front and the back. The front missiles blew my mind. They are fired by pressing two virtually invisible little switches in the hood which launch missiles which shoot across the room. I giggled like a little school girl the first time I fired them. Very fun.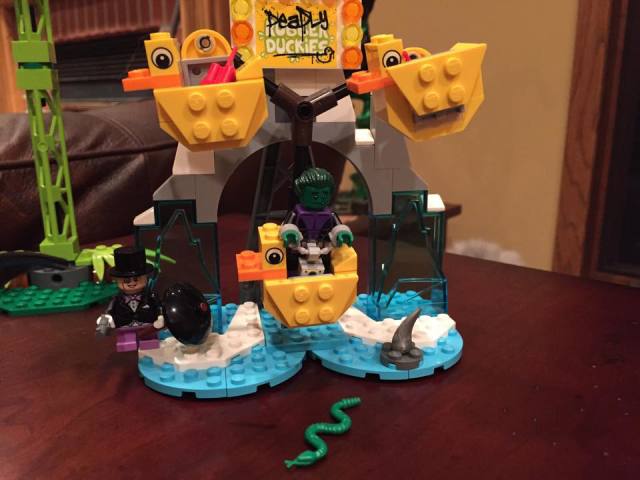 The various set pieces of Jokerland each have great unique playability. The 4 major set pieces of Jokerland are Harley's Wheels of Fire, Carnivore Fall, Deadly Duckies, and Jokerland itself. Each has a wonderfully unique personality and design, well suited to the villains which have taken them over.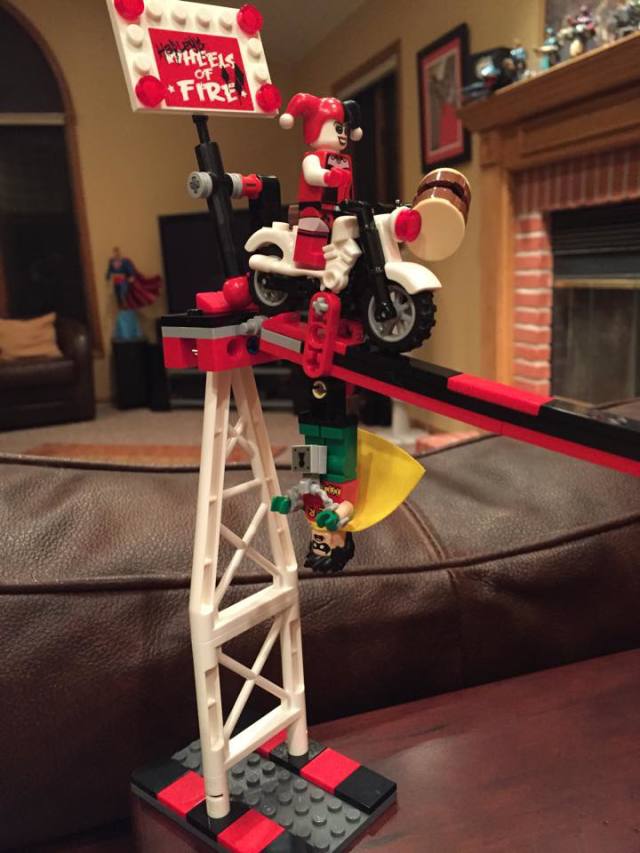 For me, the highlights were Harley's Wheels of Fire and Carnivore Fall. In addition to a cool design, they both have a very fun and dynamic action built into them. I was even entertained by my cat who accidentally triggered them a couple of times by lightly brushing against them during my build on the living room floor.
The Wrong:
Joker's Toxic Tank. I have never sworn more assembling LEGOs than I did when I was putting together this deceptively simple-looking minor set piece. The whole thing collapsed in my hands time and time again. A simple design change to a solid 1-piece round base would have made the assembly of this set piece much less frustrating.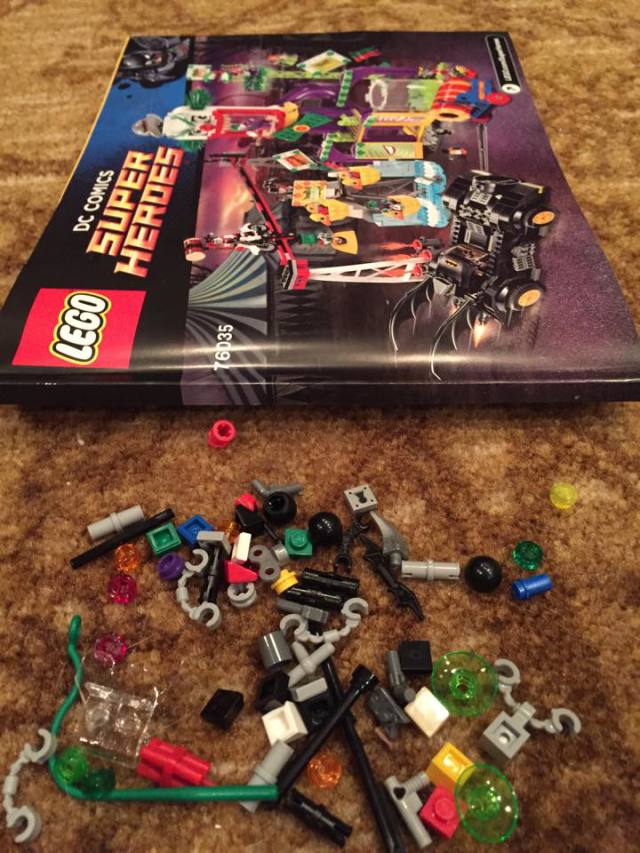 The suggested retail price of the set is $119.99. With 1037 pieces, this equates to 11.6 cents per piece. This is a little higher than the target price of sets of 10 cents per piece. It's a bit of a hefty price tag, but there is a lot of value in the set as well with 8 mini-figures, multiple unique set pieces, lots of playability and a very fun build.
Overall: For having a very fun build, great playability, unique visual appeal, and overall value, I would give the LEGO Jokerland 76035 a solid A+. This is my favorite LEGO set ever, and I can't wait to add the previously-released Joker's Bumper Car and Dynamic Duo Funhouse Escape sets to this one and make one gigantically beautiful carnival of evil.
GRADE: A+