It used to be that we could count on the next month's LEGO Store Calendar being posted right on time (or even early!) like a finely-tuned watch each month. Unfortunately, there's been a disturbing trend of the calendars not being posted online until later and later each month–so much so, that I had set my alarm to get up early and head to the LEGO Store myself at opening in anticipation that the June 2015 LEGO Store Calendar wouldn't be posted online. But hey, any excuse to head to the LEGO Store is a good one, right? And after a quick trip to my closest LEGO Store, I now have hi-res scans of the LEGO Store June 2015 Calendar and all of the scheduled deals, promos and events!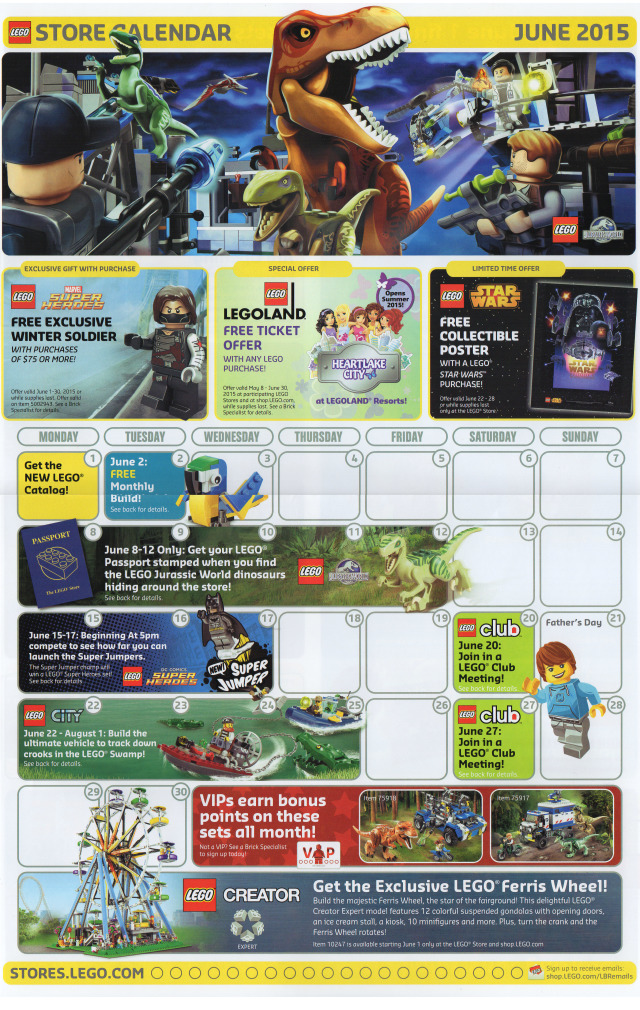 I've gotten to the point where I am just totally spoiled by hi-res images, and I was not willing to wait another day for the official LEGO Stores site to post the calendar in all its jumbo-resolution glory for June 2015. And so, I went and snagged the new calendar myself this morning and scanned it in to post once again. (Please forgive the fold lines on the calendar–the calendars come pre-folded at the store, unfortunately.)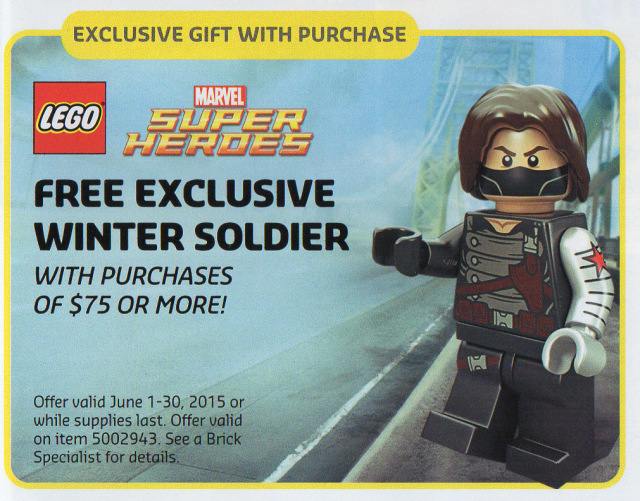 The biggest news on the June 2015 LEGO Stores calendar is–no questions asked–the announcement that the 5002943 LEGO Winter Soldier minifigure will
finally
be released in the United States next month! The free exclusive Winter Soldier minifigure can be obtained starting June 1st with
any purchase
of $75 or more–not just LEGO Marvel sets.
Given how mind-blowingly quickly the desirable free promo LEGO figures and sets have sold out in 2015, I would highly advise being ready to place your $75+ order as soon as you possibly can on June 1st! Otherwise, don't be surprised if this minifig is totally gone after the first few days of the month!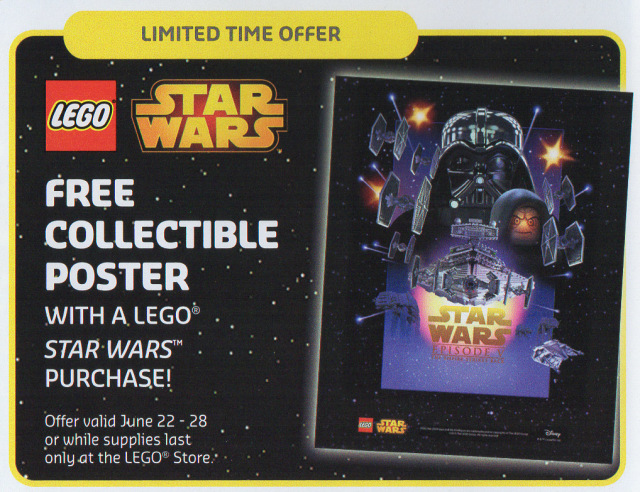 But wait–that's not the only freebie you'll be able to pick up in June! From June 22-28, 2015, you'll be able to score a free LEGO Star Wars poster with any Star Wars set purchase (including magnets and keychains)!
While the calendar specifically shows an Empire Strikes Back poster, I wonder if we'll actually see posters from all six movies given out during that week (as posters for all six Star Wars movies were given out at Star Wars Celebration last month)? Come to think of it–offering a different poster every week or month would definitely get folks coming back to the store! Hmmm!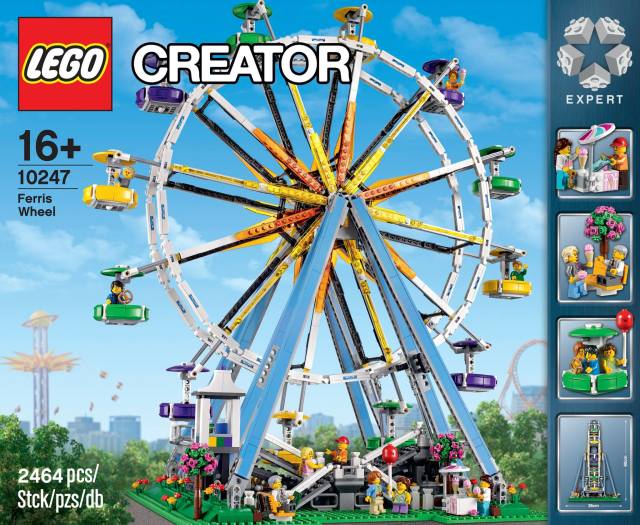 Of course, free stuff isn't everything–and LEGO definitely wants all of our money on June 1st! There's this other "little" set coming out on the 1st of June–and by "little", I mean gigantic! It's the $199.99 2,464 piece LEGO Ferris Wheel set! I've already talked at length about the 10247 Ferris Wheel set, so be sure to check out the photos and videos of this masterpiece if you haven't done so already!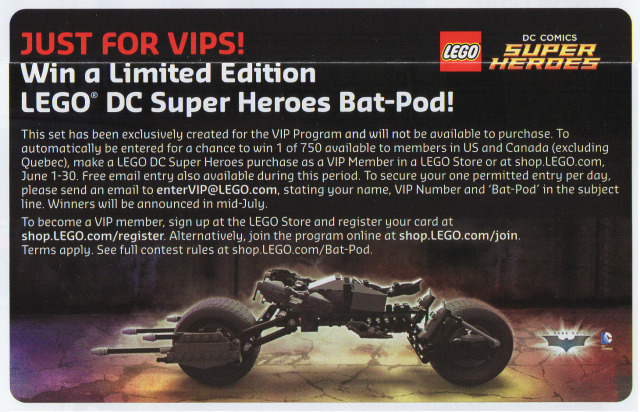 For a nice change, there's actually some big news on the back of the LEGO Store June 2015 calendar as well! I'll be posting a separate article extensively discussing the Limited Edition LEGO DC Super Heroes Bat-Pod set later on, but for now you can read all the details contained on the calendar regarding the Bat-Pod  contest above.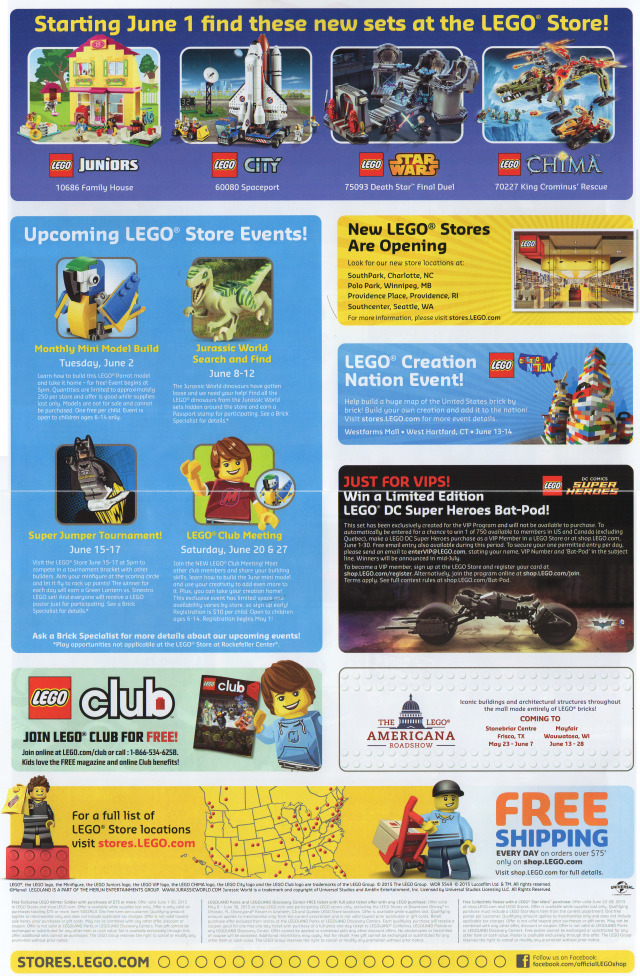 The Mini Monthly Model Build for June 2015 is a Parrot. I embarrassingly forgot to check out the Parrot Mini Model build on display at the store today, so I'll head back this weekend to see it up-close and take hi-res photos of the model. Of course, as usual we old-timers can't participate in the monthly mini model build anyway, but it's always nice to see what's coming up. Look forward to it!
Finally, the calendar back announces the opening of four new stores (three in the U.S. and two in Canada), a Jurassic World Search and Find event, a Super Jumper Tournament and a Creation Nation event in Connecticut. Phew! That's a lot of goings-on for one month!
Now that we can finally see all of it–front and back–what do you think of the LEGO Stores June 2015 calendar of events and promos, brick fans? Is there anything on this calendar that will get you running out to the mall next month, or are you holding out hope for something more exciting lineup up for the summer?