Rumors have been circulating for quite a while now that there would be an exclusive LEGO Star Wars Episode VII polybag available during the Star Wars Force Friday event. We didn't know what the supposed Star Wars Episode VII polybag minifigure would be at the time the rumors started, and we still don't have confirmation of exactly what the details of the promo will be. But one thing we do know is who the first Episode VII minifigure to get his own polybag will be: it looks like an Episode VII C-3PO polybag promo is on the way!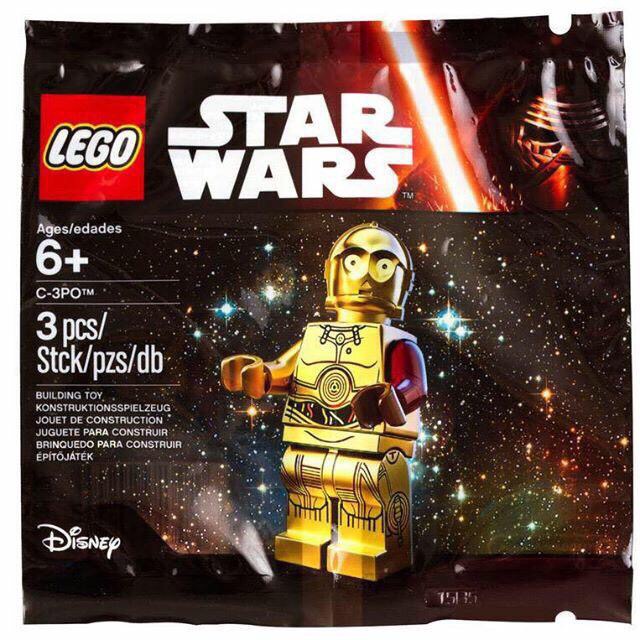 Seeing as how C-3PO is the very first character ever speak in a Star Wars movie–and one of only two characters to appear in all seven movies–it seems pretty fitting that LEGO kick off their sure-to-be expansive line of modern-day Star Wars minifigure polybags with a brand-new take on C-3PO!
I'm not exactly thrilled with the weird red arm that C-3PO has in the new movies–it seems bizarre to me that Princess Leia can't do better for poor Threepio–but I'm excited to see the first really, really new iteration of C-3PO in toy form in many years nonetheless! And hey, this time, LEGO has beaten every other toymaker in the world to the punch–this is the very first Episode VII C-3PO toy to be spotted from any toy manufactuer! Cool, huh?
As of writing, there are still exactly zero confirmed details about when and where and how this Episode VII C-3PO minifigure set will be available, but all of the rumors I've heard regarding the polybag indicate it will be given away with a qualifying purchase at Toys R Us the weekend of September 4th as part of their Force Friday event. If that turns out to be true–and I highly suspect that it will–then there's likely to be quite a frenzy to pick up this exclusive polybag set two weeks from now!
I'll post an update when the official release details are announced for this LEGO Episode VII C-3PO minifigure, and you can 'Like' Bricks and Bloks on Facebook to have more news and photos sent right to your Facebook Newsfeed!
What do you think of this LEGO Star Wars Force Awakens C-3PO minifigure polybag, LEGO fans? Does C-3PO's new red arm entice you to obtain this polybag, or are you satisfied with the dozens of previously-released C-3PO figures which are sans red arm?