All of the waiting for the biggest LEGO release day of the (next) year is about to come to an end, as we're just a few hours away from all of the January 1st 2016 sets going up for sale! But as always, some sets have slipped out early, and today I came face-to-face with most of the first wave sets for the newest LEGO theme on the block: the LEGO Nexo Knights sets have now begun to hit stores nationwide!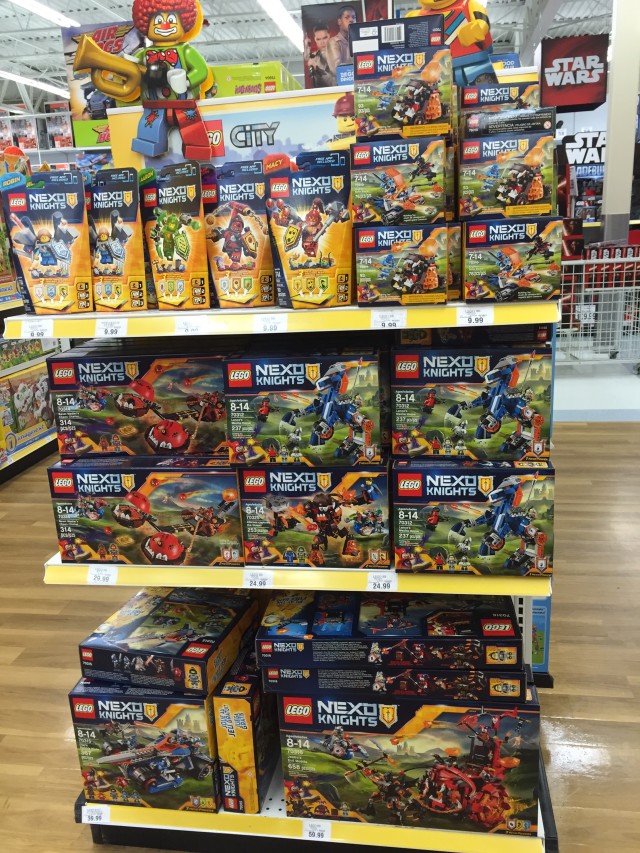 I know that many stores have been starting to put out the 2016 Nexo Knights LEGO sets for over a week now, but unfortunately, none of those stores were even remotely near my location. Alas. But today I finally got a little bit lucky, as my local Toys R Us store finally decided to stock their Nexo-Knights sets (on the eve of the official launch day for them)!
And so, I had my very first chance to get up close and personal and photograph these thirteen new Nexo Knights 2016 sets…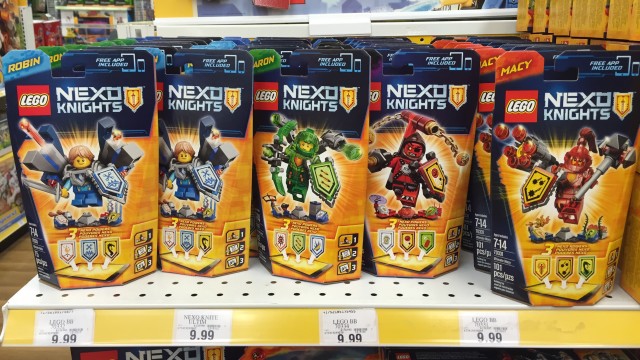 Beast Master, Aaron, Robin and Macy (who appears to be a female!) are all available in $9.99 packs with loads of weapons and accessories.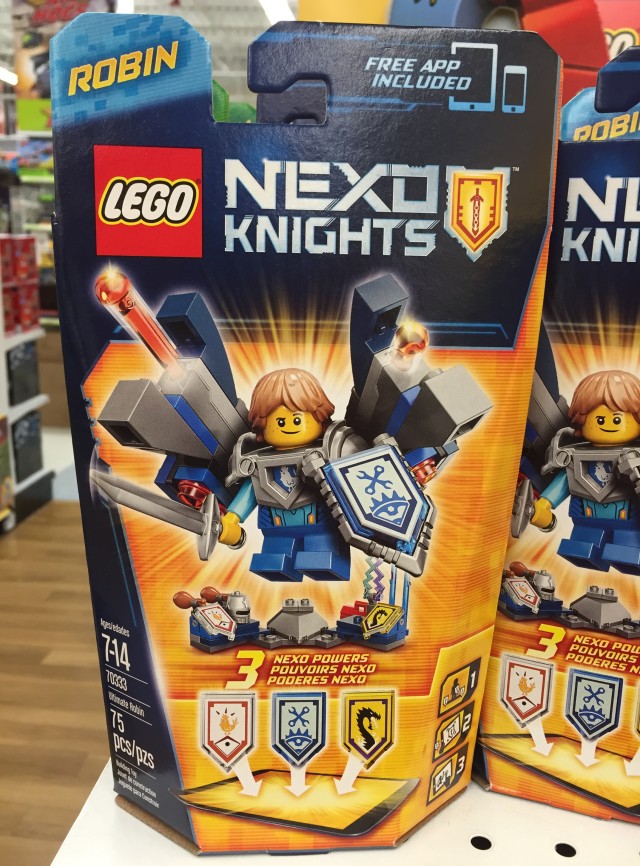 The idea of paying 10 bucks for one Minifigure–even one with a bunch of accessories–just about stopped my heart, so I'm giving these little sets a definite pass unless I end up falling utterly in love with this theme.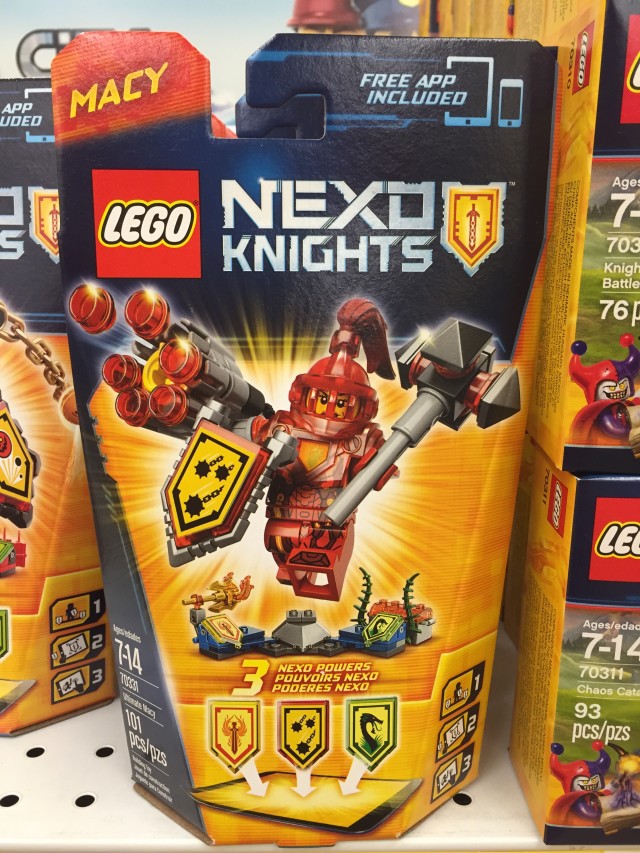 Each of the four sets includes a "free" app and three "Nexo Powers". I imagine these sets are gonna be a huge hit with kids if the theme takes off, but far less popular with us old folks.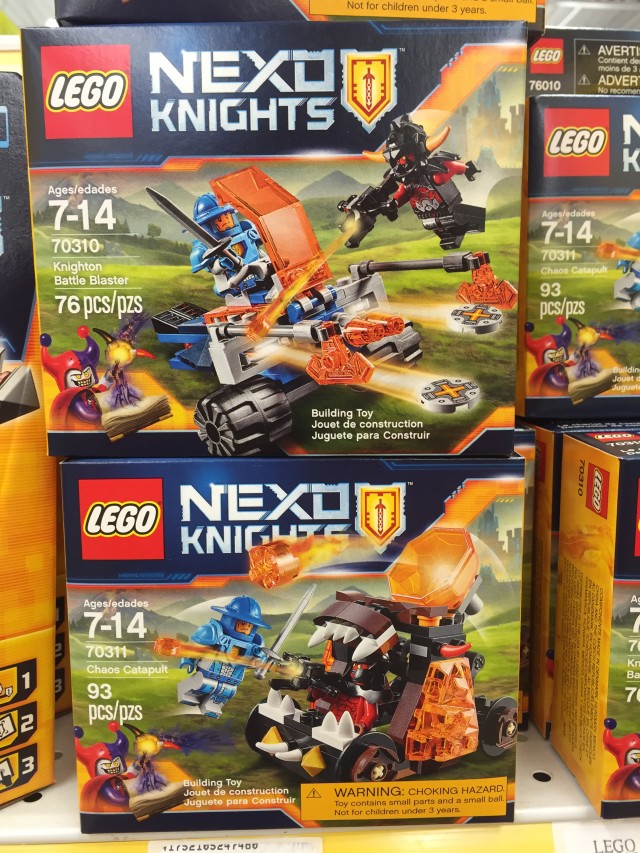 Speaking of $9.99 sets, one of the two "impulse buy" little Nexo Knights sets is the 76-piece 70310 Knighton Battle Blaster.
This set seems a bit uninspired, with just a generic Royal Soldier Minifigure and an Ash Attacker minifig. In fact, TLG must not be very excited about those characters either, as they didn't even put their names on the front of the box!
This pack may be great for those who really get into this theme and want to army-build, but will likely fail to excite many older collectors.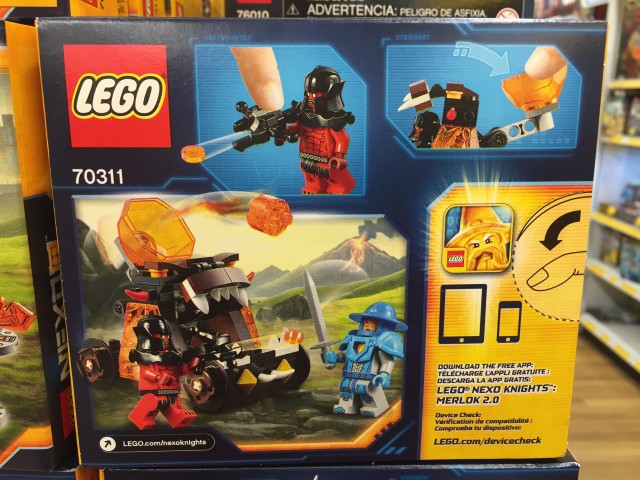 The Nexo Knights Chaos Catapult 70311, meanwhile, looks like a lot of fun. Demonic catapult with monster teeth…? Gotta love it!
The 70311 Chaos Catapult comes with a generic Knighton Knight Minifigure and a Crust Smasher Minifigure, so this $9.99 set will make for another good cheap army-builder set.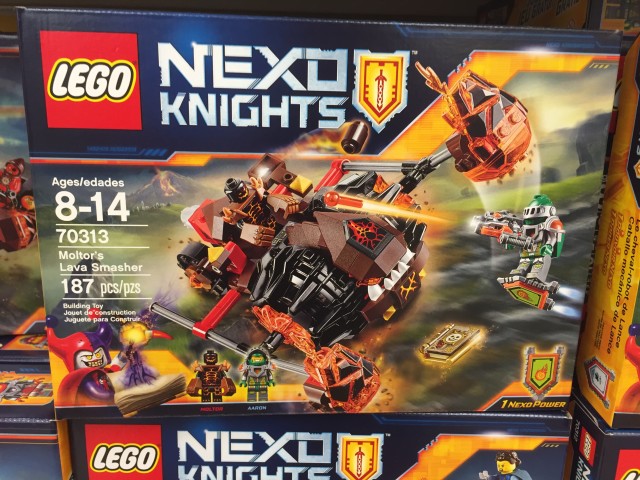 70313 Moltor's Lava Smasher looks like a fun "ground-pounding" lava vehicle set, but not the sort of thing I have space for in my collection.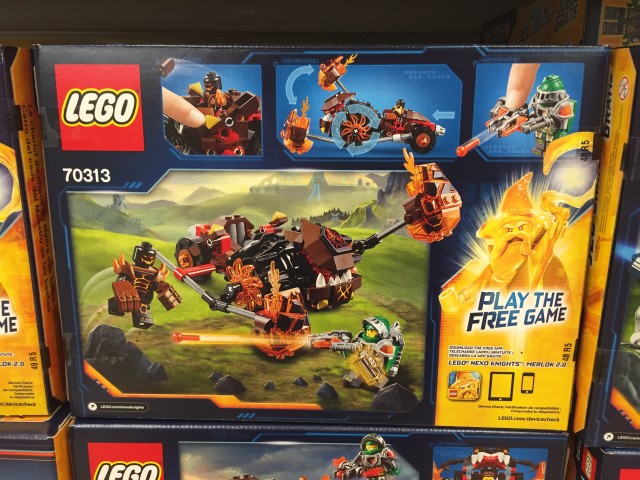 The Moltor Minifigure actually looks really slick and is the best thing about this set, but it still just feels like a lava-themed version of a Chima vehicle.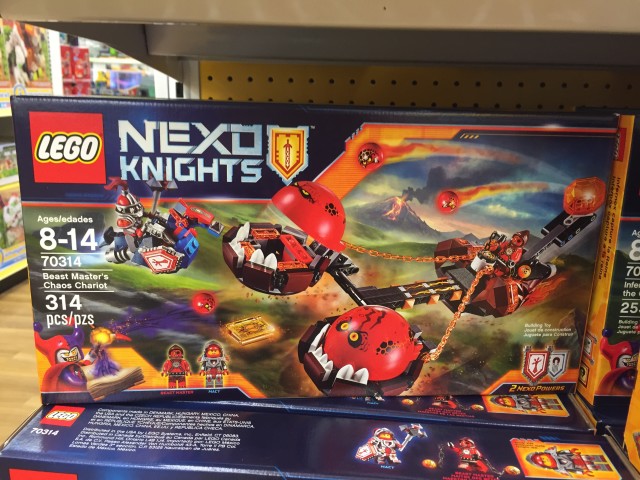 70314 Beast Master's Chaos Chariot has got to be one of the most inspired sets in this first wave! Basically, the Beast Master Minifigure is sitting in a chair that's dragged forward by a pair of psycho red Chain Chomps (a la Super Mario)!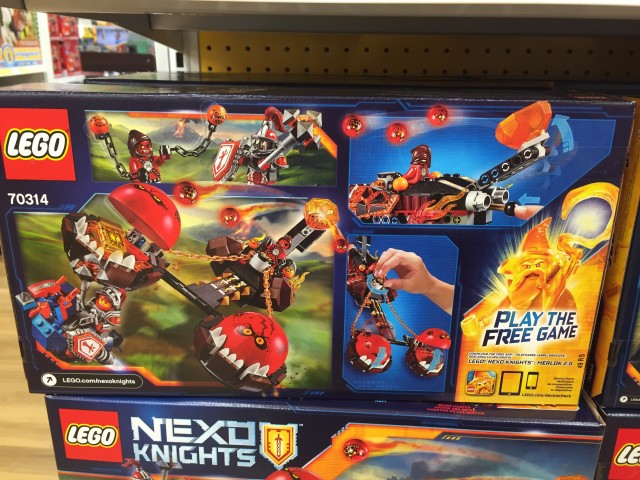 I love the look of this set, and the fact that it also includes one of the very few females in this theme: Macy the Knight! At $29.99 for 314 pieces, this set is a fair value and one that I'll be picking up for review this winter.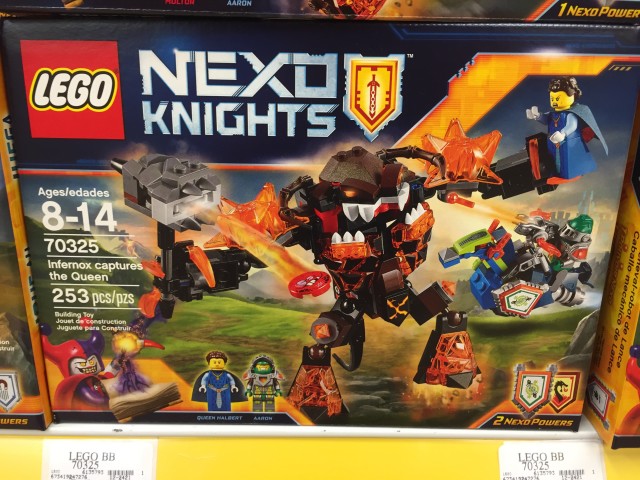 The other set from this first series that really caught my eye is the 70325 Infernox Captures The Queen set. Priced at $24.99 for 253 pieces, this set includes a large brick-built Infernox lava monster, as well as an Aaron minifigure and an exclusive Queen Halbert minifigure.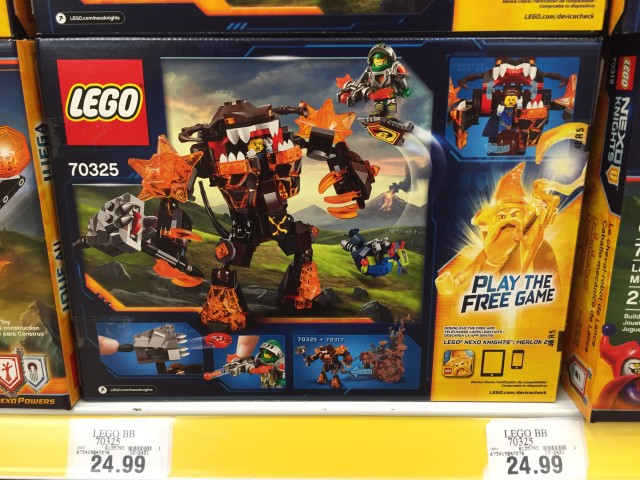 The ball-jointed Infernox figure looks like a lot of fun to pose and play with, and I'm psyched that TLG hasn't neglected to give us a minifig of the queen in this first batch of Nexo sets.
I also think it's super-cool that you can "imprison" minifigures inside of Infernox's mouth, just like a jail! This is my other "must-buy and review" set from this theme as far as the winter 2016 sets go.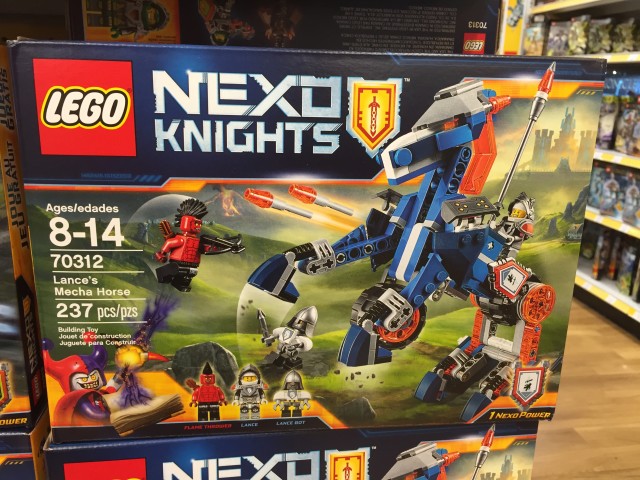 Lance's Mecha Horse 70312 (237 pieces for $24.99) immediately evokes memories of Stridor the Robot Horse from Masters of the Universe when I look at it. Of course, unlike Stridor, Lance's Mecha Horse can transform into a motorcycle for fast-paced jousting action!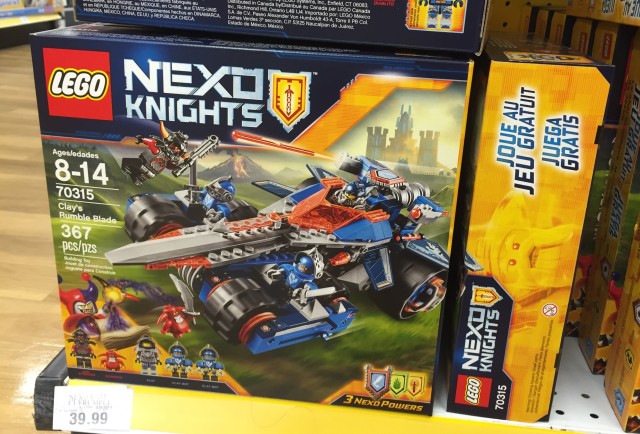 I initially thought that Clay's Rumble Blade 70315 looked quite dopey, but the more I look at the sword-shaped ground vehicle (that splits into multiple vessels!), the more it grows on me.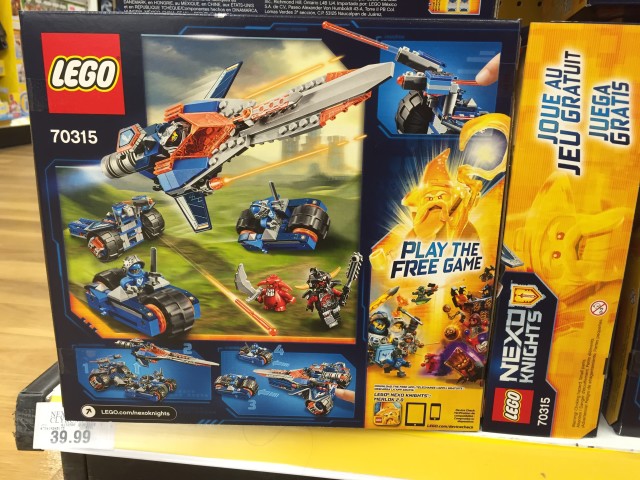 The Clay Bot "minifigures" are quite cute, and I like the idea of clay having robot drones to pilot the other pieces of his vehicle once he launches the primary jet portion of it. I think this may be one of the most stylin' of the 2016 Nexo Knights sets.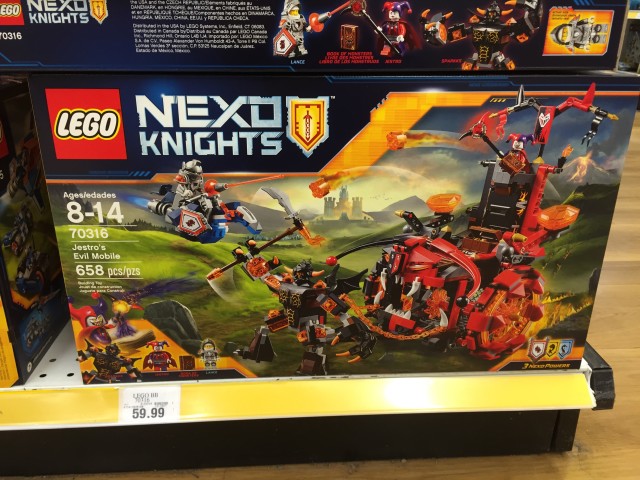 One of the two sets that I saw the world premiere of at New York Comic-Con 2015 this fall is also now available: Jestro's Evil Mobile 70316!
Villain sets typically don't sell as well as hero vehicles do, and with this set only including two minifigures (including Lance and the Jestro minifigure), I'm concerned this $59.99 set may not set the cash registers ablaze in local stores. The set does include an additional monster and the Book of Monsters–and it's also a good value at $60 for 658 pieces–but I foresee this set being discounted heavily by summer.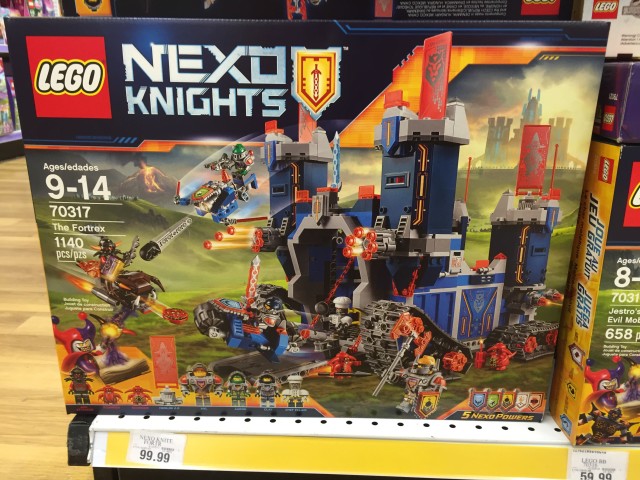 Finally, we've got the granddaddy set of them all, which I also saw at NYCC 2015 in October: The Fortrex 70317. This is the largest and most expensive of the first series of Nexo Knights sets, priced at $99.99 for 1,140 pieces.
This is actually a decently-priced set value-wise and comes with a big assortment of figures: an Ash Attacker, two Scurriers, the beefy knight AXL, Aaron, Clay, and exclusive Chef Eclair and Merlock 2.0. This set also includes 5 Nexo Powers, for anyone who cares about those (which I imagine is no one just yet).
If I end up becoming a Nexo-Knights fanboy (and that is certainly a possibility), then I'll definitely have to make a point of grabbing this mobile fortress/castle mash-up.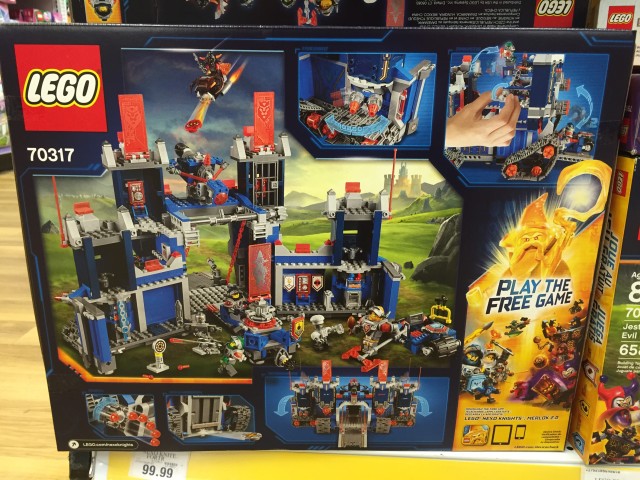 Have you spotted any of the Nexo Knights LEGO sets available for purchase yet at any of your local stores, brick fans? If so, have you picked up any of these sets yet, or are you taking a wait-and-see attitude with the theme that is the successor to Legend of Chima?