As we are not fast approaching the holiday shopping season, get ready for things to kick into high gear with LEGO 2016 sets being revealed and announced at a crazy pace over the next two months! And leading the charge on January 1st, 2016 will be the latest addition to the ultra-popular modular buildings line: the LEGO Brick Bank 10251 modular building set has now been fully revealed!
UPDATE 1/1/2016: The new year has now arrived–and so has the Brick Bank! The LEGO Brick Bank 10251 is now available for order online with free shipping!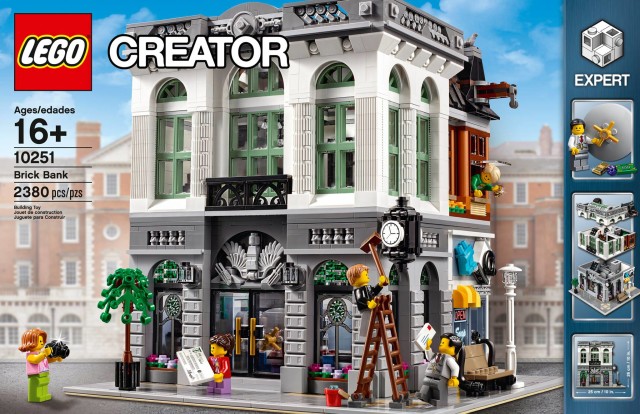 The reaction to the grandiose unveiling of the Nexo Knights theme at NYCC 2015 was mixed (at best), but thankfully LEGO still had a trump card to play this weekend–in the form of the 2016 Modular Building Expert Creator set! This weekend at BricKorea, LEGO announced the highly-anticipated next set in their long-running series of modular buildings, and it's a doozy–the Brick Bank set!
The architecture of this set is simply breathtaking, but as ambitious as this set is, I do think it has some flaws that bring it down a notch in my book as well…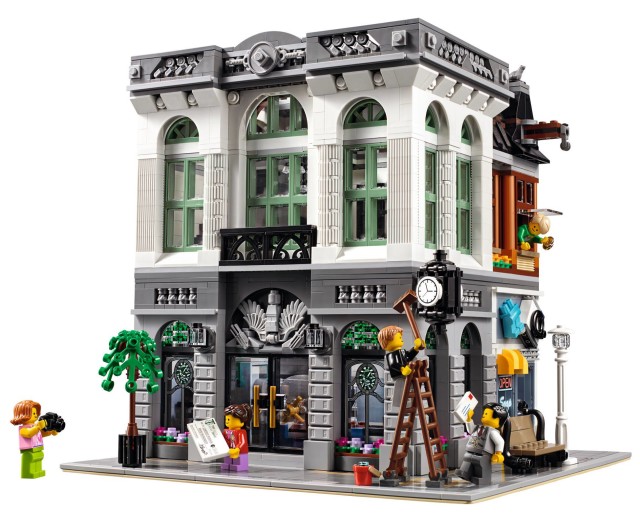 As far as new elements go, the sand green window framing and black fencing (from the Elves theme) are both excellent choices, and I love the way that the new wings from the Doctor Who set have been incorporated into the building. I also think the grey-colored gold bricks used as sloping on the exeterior were a stroke of pure brilliance. Whatever weaknesses this set may have, the exterior of the building is absolutely not one of them. Absolutely beautiful.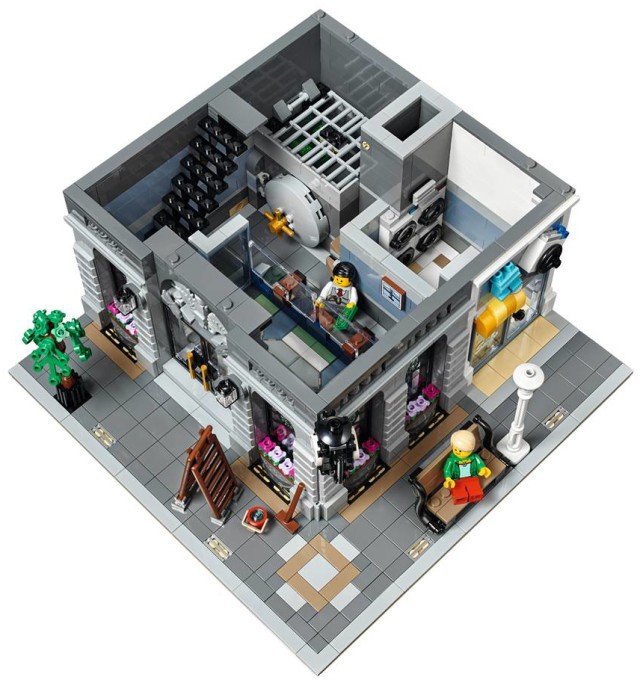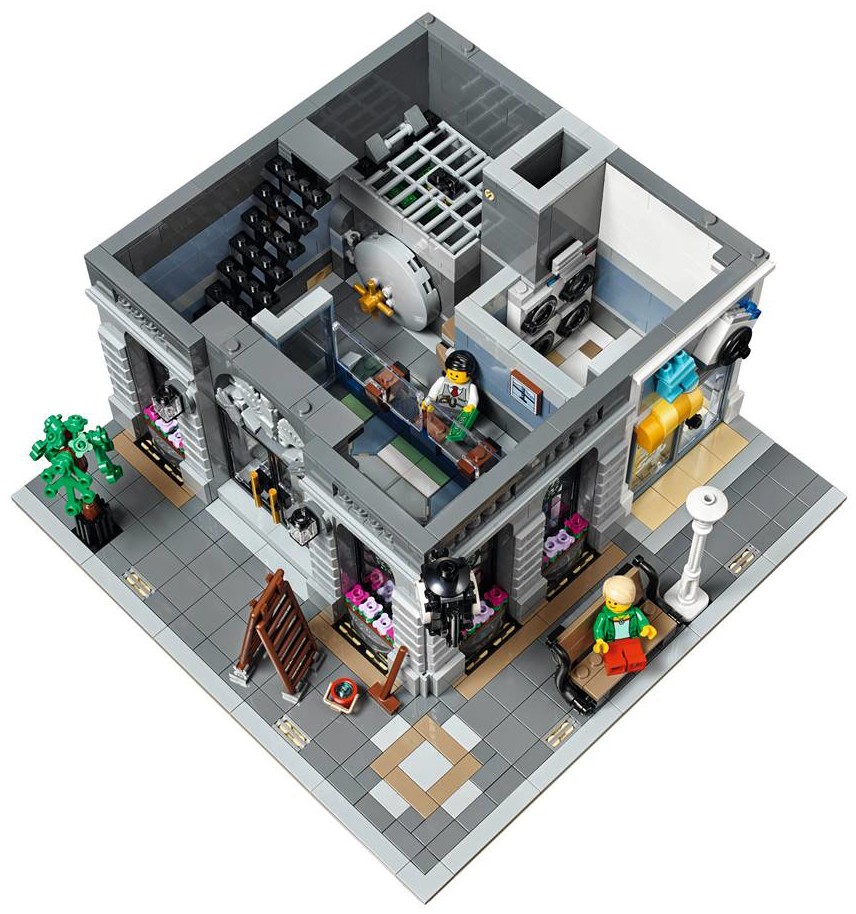 And the interior is actually just as intricately detailed–if not more! Check out the bank vault with safety deposit boxes, the adjoining laundromat with four washing machines, the teller counter, the tiled floor (made from pieces from the new Nexo Knights theme!), and the stairs leading upstairs!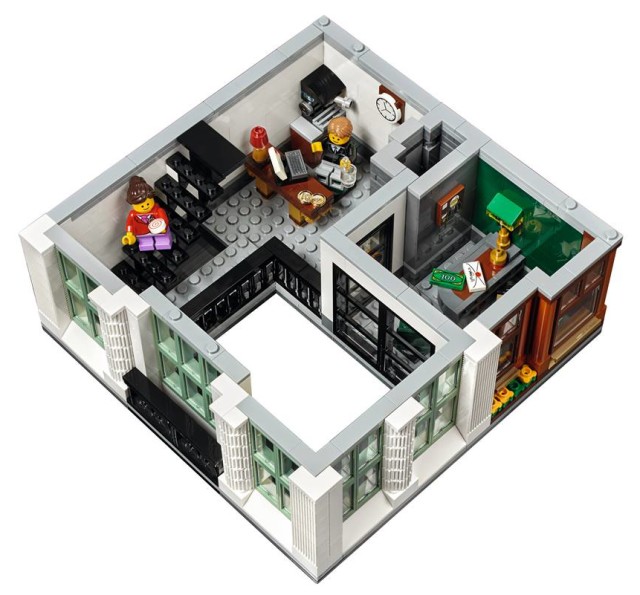 Meanwhile on the upper-level, we've got the Bank Manager's office and the Secretary's Office, with elements such as a desk lamp, typewriter, wall clock, statue, cabinet and even a unique portrait on the wall!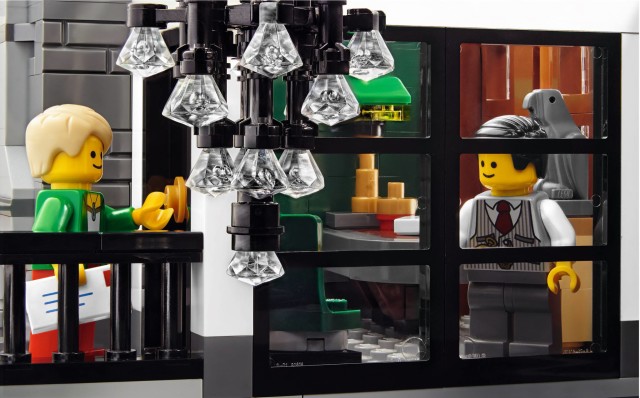 And man, is this chandelier ever pretty…! It might be my favorite aspect of this entire set! (The bird statue is pretty cute too, though.)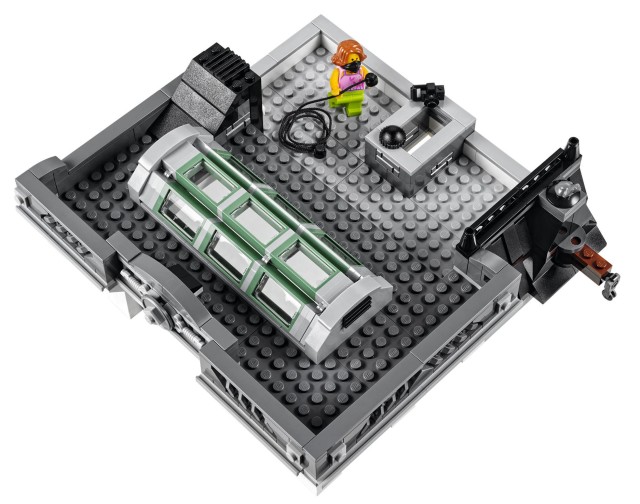 …Meanwhile, there's something odd going on on the roof. I'll talk about that feature of this set in just a little bit (unfortunately).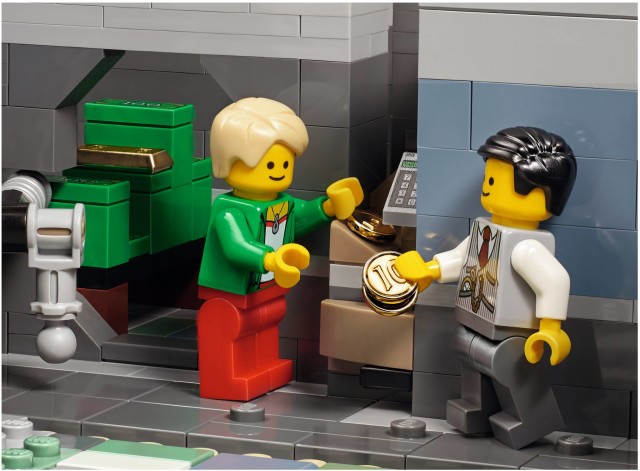 You only get five minifigures with the Brick Bank building, and as you might expect, the majority of the figures are bank-related: you get a Bank manager minifigure, a Secretary minifigure, a Teller minifigure and figures of a Mom and her child.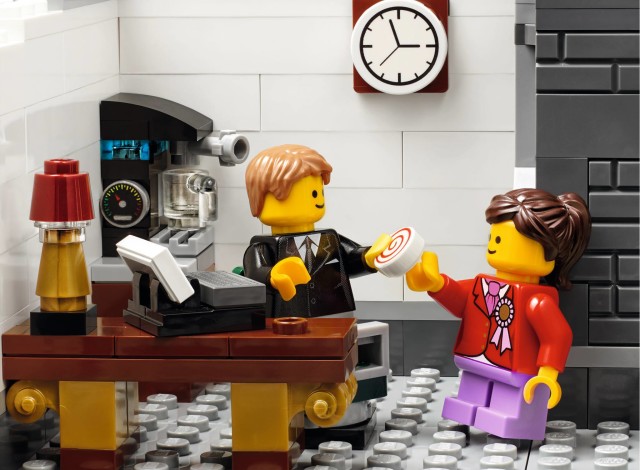 This is obviously not the most riveting selection of minifigs to ever come with a Creator Expert set, but really–it's a bank. What else was TLG really gonna do…?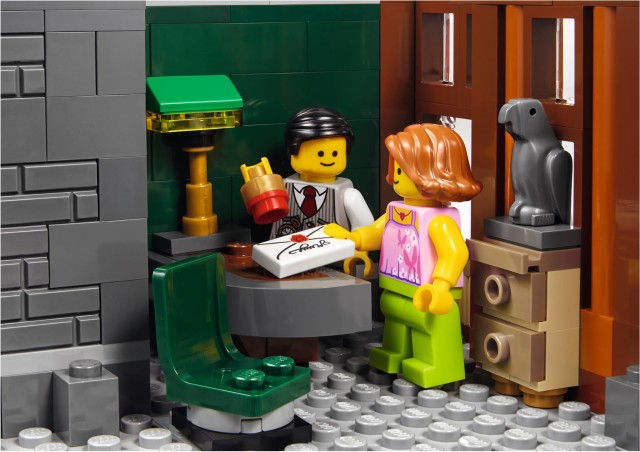 Oooooo! The bank manager can approve loans or checks or whatever. Excitement!! (Sort of.)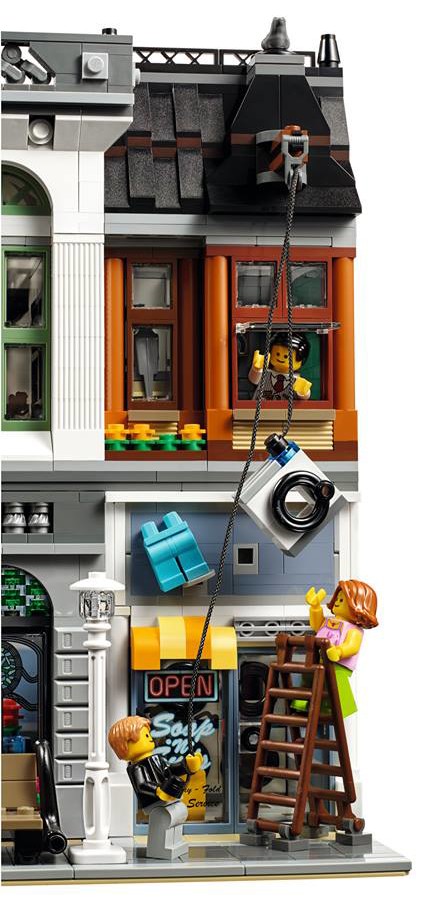 LEGO must have thought that the bank was slightly boring as well, because they decided to integrate what I think is beyond any shadow of a doubt the most bizarre concept ever in a modular building set: the laundromat next door to the Brick Bank is secretly a front for, *achem*… "money laundering".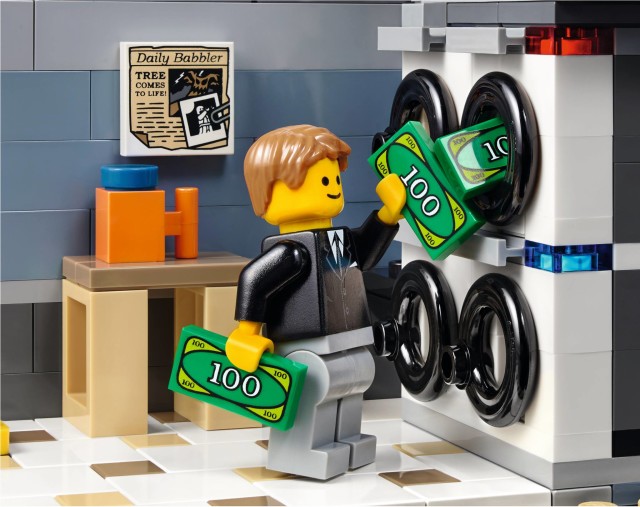 Ummm… no. Just no, guys. I love you, TLG, but this concept feels totally out of place (at least on my personal street of modular buildings). I'm just gonna pretend that it's a plain old laundoramat and not part of some wacko master plan.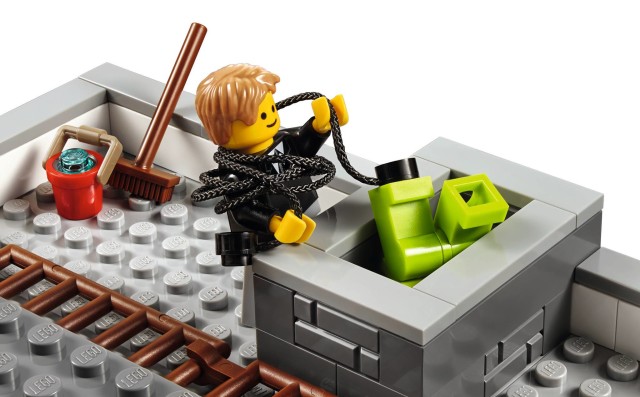 Since this set includes so few minifigures, it seems that one of the Bank Manager's own employees is behind the evil money laundering scheme! This sounds like a case for Ace Brickman, ace detective!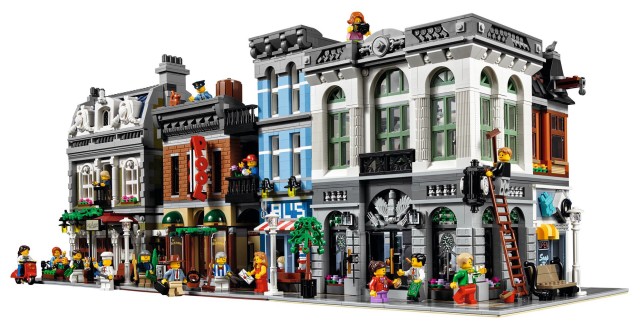 And speaking of Ace Brickman, the Detective's Office set from 2015 looks fabulous connected immediately next to the Brick Bank, doesn't it?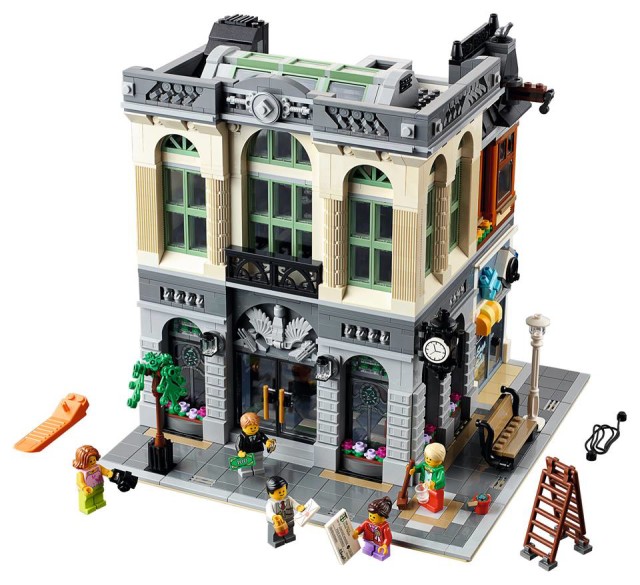 As you might have guessed from my commentary, I have sort of mixed feelings about this 10251 LEGO Creator Expert Brick Bank Modular Building. On the one hand, the attention-to-detail on this set–both on the interior and exterior–is downright phenomenal. This is a really well thought-out, elaborately designed bank.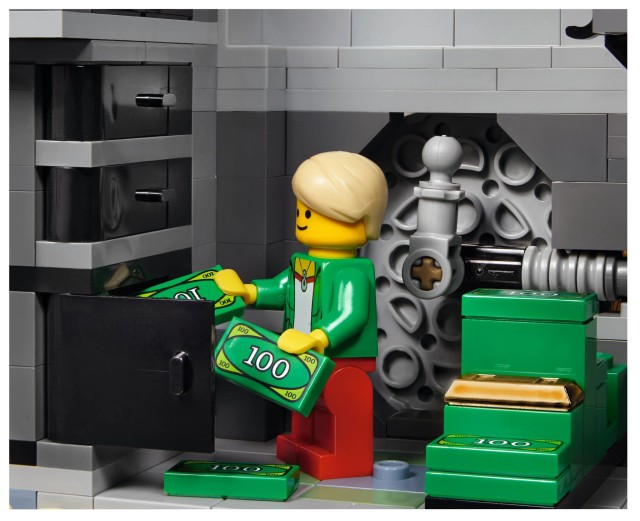 On the other hand, well… a bank just doesn't strike the same romantic cord with me that a detective's office, Parisian restaurant or old-time theater do. It's tough (at least for me) to get psyched up about building a toy model of a bank (no matter how gorgeous that bank may be), and though I'm sure people will call me a grump for saying this, I think the idea of the money laundering laundromat next door is quite simply ludicrous.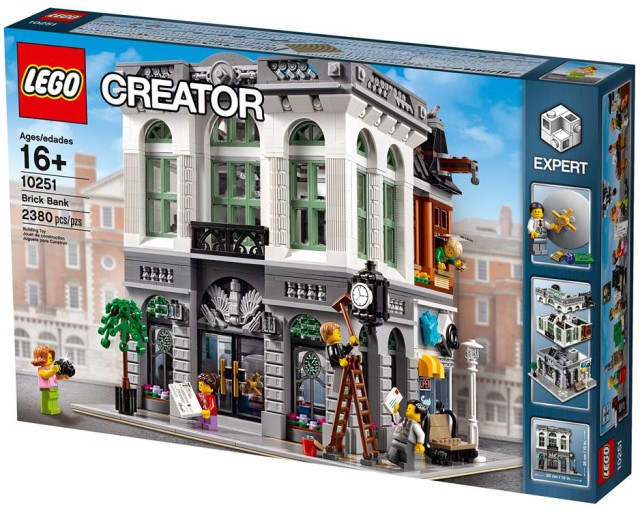 In addition, the bank is
really
small compared to most of the other modular buildings we've gotten, measuring just 10″ on each side (26 cm high, 25 cm wide, 25 cm deep). Since the price went up an additional $10 this year, it's a bit of a bummer that the size of the building shrunk so much. Of course, that is definitely not to say that this set is priced badly…
LEGO 10251 will include 2,380 pieces for a price tag of just $169.99. That's just over seven cents per brick, and an all-around outstanding price-point! Man, TLG almost always treats us like gold when it comes to the pricing of their Store-exclusive modular buildings!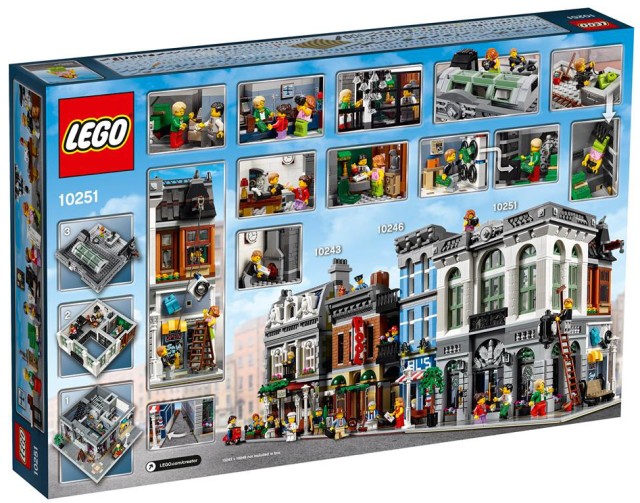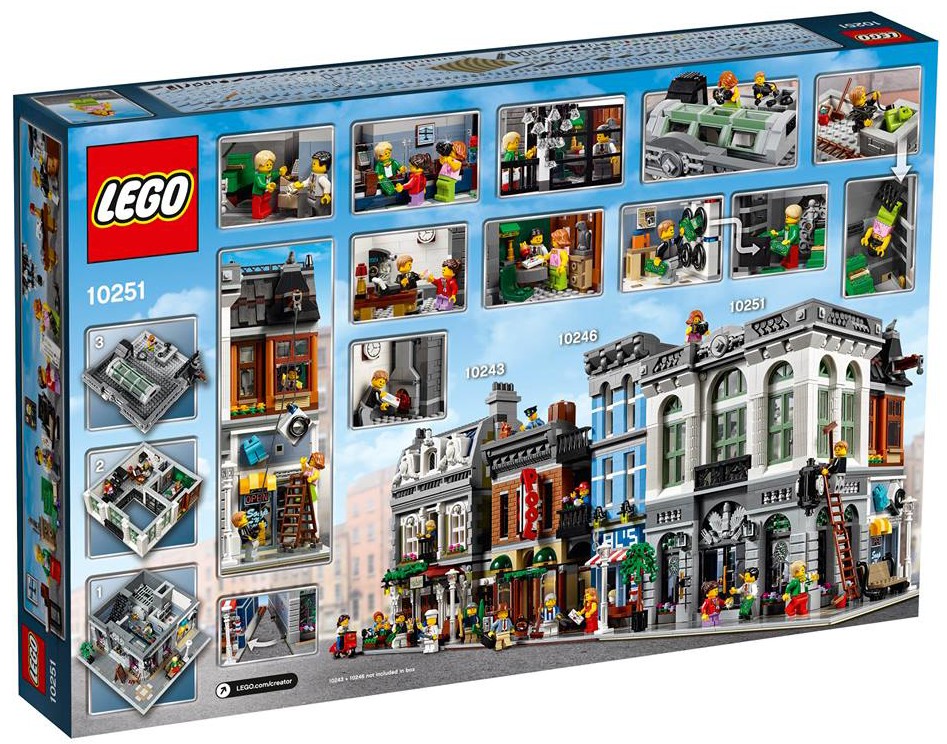 The 10251 Brick Bank set will be available exclusively online and in branded LEGO Stores on 1/1/2016. TLG usually has some amazing polybag promos to kick off the new year each January as well, so look forward to adding both the Modular Building Bank and something extra (and free) to your collections this winter!
What do you think of the 2016 LEGO Modular Building addition, brick fans? Are you impressed with the superb detailing and fine aesthetic of the Brick Bank, or does a Bank just not scream "excitement" to you?