One of the best surprises in block figure blind bags this year has been Hasbro's Kre-O G.I. Joe figures. Whereas the regular 4″ GI Joe figures have sat on store shelves, gathering dust unwanted and unloved for the last several years, GI Joe Kre-O toys have brought fun back to the G.I. Joe franchise! I posted the code number list for G.I. Joe Kre-O Series 1 in the spring, and now Hasbro is back with a second series of Kreo GI Joe blind bags–and I've got the code numbers to help you pull the G.I. Joe or Cobra recruits you want, every single time!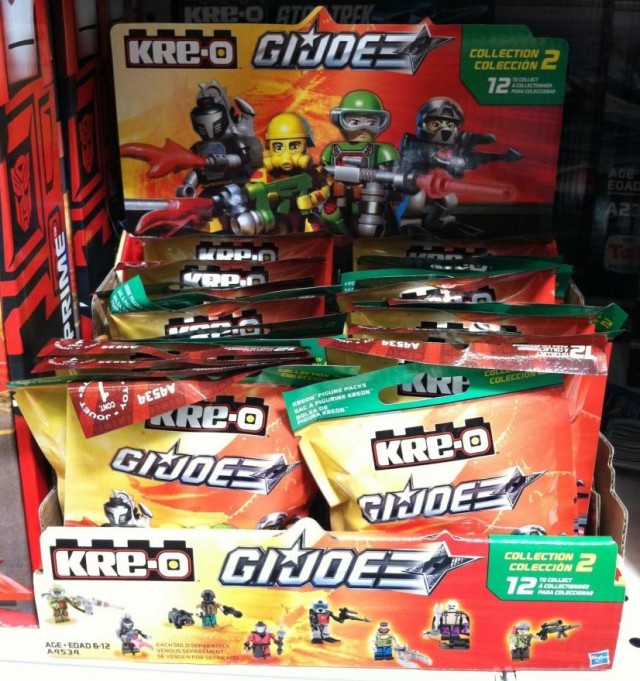 While GI Joe Kreo Wave 2 doesn't have quite the same level of heavy-hitters as the first series did, it still has its share of top-tier, A-List characters built in. In fact, while Kreo G.I. Joe Series 1 gave me one of my two favorite GI Joe characters ever (Jinx), the other one–Tunnel Rat–is one of the Kre-O GI Joe Series 2 figures! With the GI Joe Kre-O Wave 1 Jinx and Law & Order figures, we're well on our way to having the roster of new Joes from the 1986 G.I. Joe movie! Thanks, Hasbro!

On the G.I. Joe side of things, this series includes brand new Kre-O GI Joe figures of Mutt & Junkyard, Flash, Tunnel Rat, Snow Job and Blowtorch. Flash is here to represent the original wave of G.I. Joe figures from 1982 (I wonder if there's any chance we'll get the entire original GI Joe team?), while the Land Adventurer figure goes even farther back for fans of the classic 12″ G.I. Joe figures. And though I've never been big on Mutt & Junkyard, even I have to admit that the Kre-O Junkyard bulldog looks absolutely adorable as a chubby block figure!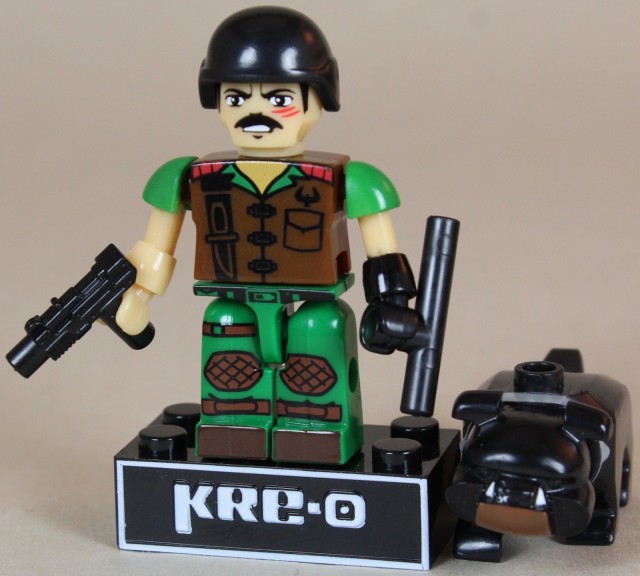 Cobra will be getting six recruits of their own as part of Kre-O G.I. Joe Wave 2, including two army-builders that almost certain to be the absolute most popular figures in the case and on the aftermarket: the Kre-O BAT and Eels figures!

If G.I. Joe Kre-O Series 2 hasn't reached your local area yet, all of the Kreo G.I. Joe Wave 2 figures are already up for sale on ebay, so you can still get the figures you want without even needing to use the codes on the back of the packages.
The G.I. Joe Kre-O Series 2 Blind Bags Code List is as follows:
B.A.T. – 58
Land Adventurer – 78
Mutt & Junkyard -79
Flash – 80
Tunnel Rat – 81
Snow Job – 82
Blowtorch – 83
Slice – 84
Dreadnok Ripper – 85
Cobra Eels -86
Dr. Mindbender – 87
Major Bludd – 88
Good luck, G.I. Joe fans! What figures–if any–are you looking forward to hunting down as part of Kre-O GI Joe Series 2?