Though the LEGO Minifigures Series 10 blind bags have yet to arrive in stores, LEGO collectors are already ahead of the game, and we now know the full LEGO Minifigures Series 11 lineup! LEGO Collectable Minifigures Series 11 will add another sixteen figures to our collections, and will be coming our way around August 2013! We don't have have photos of the LEGO Series 11 Minifigures themselves to share yet, but we do know the color for the series and have the complete minifigure lineup…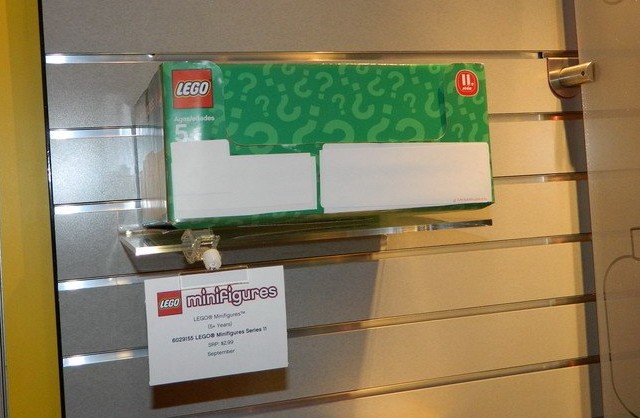 We got our first glimpse–of a sort–at 71002 LEGO Minifigures Series 11 at the 2013 Toy Fair in New York. And by "glimpse", I mean that we got to see the box that the LEGO Summer 2013 Minifigures series will come in, but with all of the pictures of the figures in the series obscured by white tape.What we did learn at Toy Fair 2013 would be that LEGO 71002 would be the first minifigures series to have a dark green box and packaging theme (unlike the icky neon green from LEGO Minifigures Series 3).
Yes, LEGO means to shroud the Series 11 LEGO Minifigures in secrecy until a later date–but LEGO fans have learned what LEGO has in store for Series 11 regardless. The complete lineup of all sixteen figures scheduled to be released in LEGO Minifigures Series 11 is as follows:
Barbarian
Bavarian Lady
Constable
Diner Waitress
Evil Mech
Gingerbread Man
Grandma
Holiday Elf
Jazz Musician
Lady Robot
Mountain Climber
Scarecrow
Scientist
Tiki Warrior
Welder
Yeti
Though we don't know what any of the figures look like yet, the LEGO Series 11 Minifigures lineup looks to be one of the most diverse and crazy lineups ever. I love the addition of a Lady Robot to complement the robots we've already had in the line, and holiday additions like the Gingerbread Man and Holiday Elf should add some real festiveness to the assortment (which should last in stores through Christmas 2013). Also, I was thinking LEGO had used up all the good monsters Minifigures already, but with the Yeti they've proved me wrong. Can a LEGO Bigfoot minifigure be far behind?
The official release date for this series that LEGO is giving out is September 2013, but past experience says that we should start to see LEGO Minifigures Series 11 appear in stores in August 2013. I'll update with photos and full previews of all sixteen figures in LEGO Collectible Minifigures Series 11 71002 as more information becomes available.
And be sure to Like Bricks and Bloks on Facebook if you want more LEGO news and information beamed directly to your Facebook Newsfeed!