Back in the good old days, LEGO used to make things easy for LEGO Minifigures Series collectors with reliable bump codes on each LEGO Minifigure blind bag, allowing the contents to be "easily" discerned by LEGO collectors. LEGO has strayed a little bit away from that practice over the years, but bump codes are alive and well for the Simpsons LEGO Minifigures Series! If you don't want to be "that person" in the toy aisle frantically feeling up blind bags, give this list of LEGO Simpsons codes a try to see if it can help you identify exactly the minifigures that you're looking for instantly…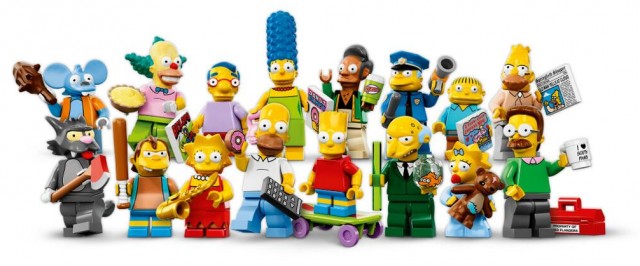 When LEGO stopped making it easy to just decipher the codes on the LEGO Minifigures Series Blind Bags a few years ago, I seriously went into mourning. I am terrible at trying to identify what LEGO figure is in a blind bag via the method of touching the contents of the bag and looking for unique elements. I've gotten elves while looking for Gingerbread Men, Bumblebee Ladies while looking for Skydivers, and so on and so forth.
Thus, when I ran across a fresh case of 60 LEGO Simpsons Minifigures 71005 blind bags and realized that there was in fact a logical "bump codes" system of identify the figure in each bag, my heart soared. I was doubly excited to learn that my figures were from the same production batch as Rich's over at Pop Critica, so I was able to snap up all 16 different blind bagged Simpsons LEGO Minifigures for myself with no problems!
I modified the bar codes images put together by the team at Pop Critica to make their printable list easier to read on a mobile device, and have posted the full 71005 LEGO The Simpsons figures code list below to help fellow collectors complete their own Springfield minifigure set…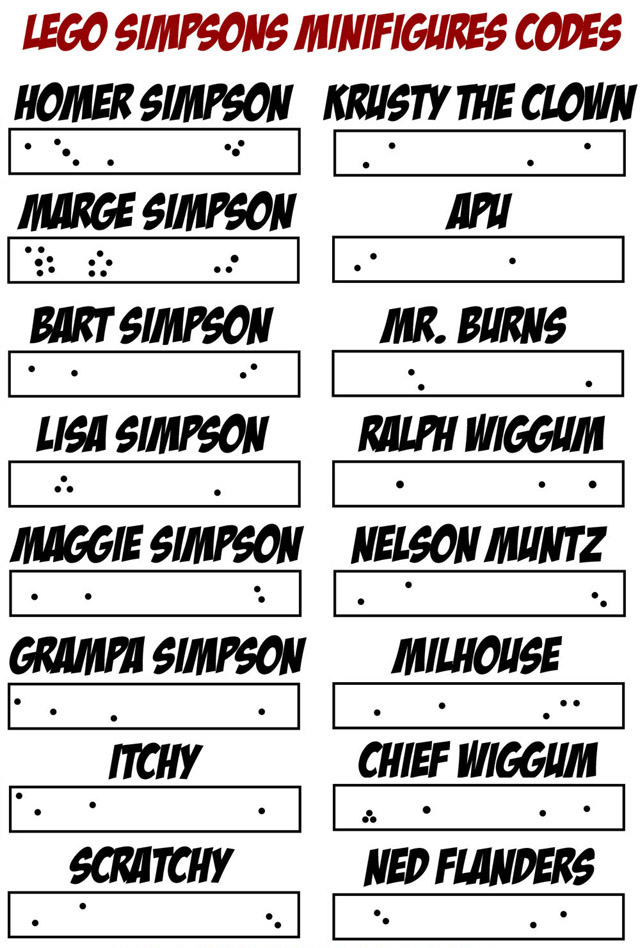 Disclaimer:
LEGO has been known to change up the bump codes/dot codes during the run of a LEGO Minifigures Series, so beware. If you encounter a case with a whole bunch of codes that match nothing on this list, then it's probably a fair guess that you've encountered a different production batch of LEGO The Simpsons minifigures with different codes.
Obviously the Simpsons LEGO blind bags codes here are useless if you run into codes that aren't on the list, in which case you'll be forced to "feel up" the bags in-person to make sure you're drawing the character you're looking for.
If anyone does happen to pull minifigures with decidedly different bump codes running alongside the bottoms of the packages and wants to share, feel free to leave a reply and add to our pool of info about LEGO 71005!