Make no mistake: I loved Star Wars Clone Wars. I mourn for Star Wars Clone Wars. But there comes a time when one has to move on–and for me, that time is now. See, while we still have the better part of a year before the Star Wars Rebel cartoon series debuts, another important debut has already occurred: LEGO has premiered their Summer 2014 LEGO Star Wars The Ghost 75053 set from Star Wars Rebels!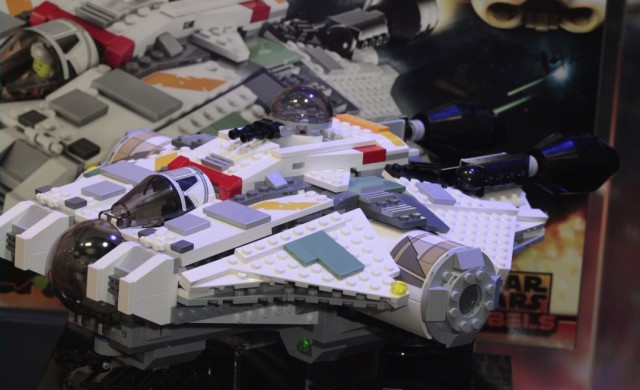 I really didn't expect LEGO to allow photography of any of their LEGO Star Wars Summer 2014 sets until the New York Toy Fair 2014 (which is now under three weeks away!), but LEGO defied expectations when they showed off the LEGO Star Wars Rebels Ghost 75053 set at the German Toy Fair 2014 this week!
If you're scratching your head and wondering if you've lost your Star Wars fanboy cred by having no clue what "The Ghost" is, don't feel too bad–if you haven't been following Star Wars Rebels news religiously like I have, you've never of The Ghost. The Ghost starship is the main ship that the heroes fly around in in the upcoming 2014 LEGO Star Wars Rebels series.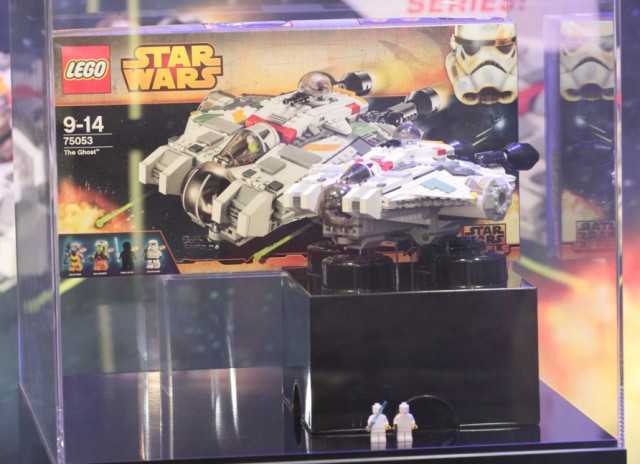 While there are several LEGO Rebels sets expected to release on the second half of 2014, the largest and most noteworthy of the sets is easily the 75053 LEGO The Ghost ship! The massive LEGO The Ghost 75053 will consist of 929 pieces for just $89.99–a fantastic deal at less than ten cents per piece (my "sweet spot" for LEGO sets "value").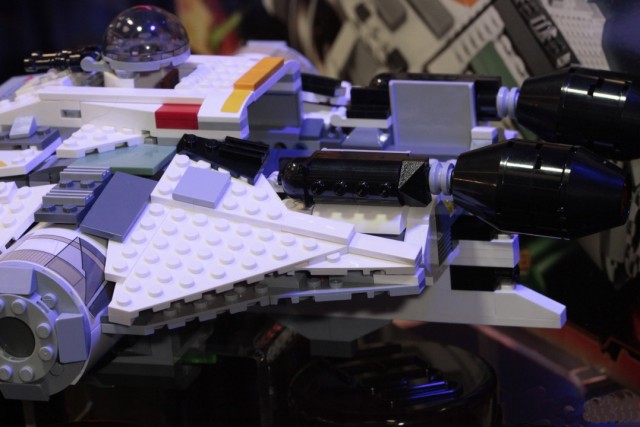 If the design of the LEGO 75053 Ghost set looks a tad familiar to you, that's probably because its a Corellian freighter starship–just like the Millennium Falcon! While the two starships are invariably different, there's no question that there are obvious design similarities between the two.
The 75053 LEGO The Ghost ship will feature a pair of cockpits, a Holocron, multiple detachable, escape pods, a gun turret that rotates 360 degrees and more.
While the figures shown with the Ghost LEGO Rebels set are obviously placeholders, they do make it pretty clear that the set will include at least four minifigures (including a Zeb minifigure–whoever that is!).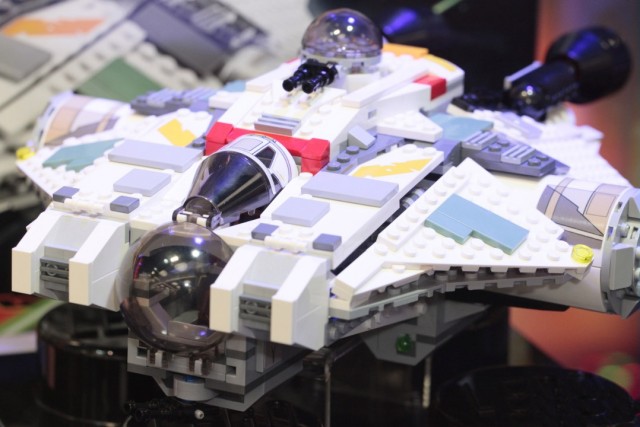 The LEGO Star Wars 75053 The Ghost set is expected to be released in July/August 2014. I'll post an update when more specifics about the set are available, and you can 'Like' Bricks and Bloks on Facebook to have more LEGO news and photos beamed right to your Facebook Newsfeed!
I am surprised by how impressed I am by the aesthetics of the LEGO Star Wars Rebels Ghost set and how fun it looks! What about you, LEGO Star Wars fans? Are you looking forward to this colossal new LEGO Star Wars set (and the upcoming Rebels cartoon that it's based upon)?