When the 2015 LEGO DC Super Heroes sets' images leaked out back in September, there was one straggler that was holding out on us. We knew the set's name and contents from earlier materials, but photos of this LEGO DC Comics 2015 set managed to elude us for more than an additional month. But today, the void in our hearts and the blank in our wish lists can be filled–the LEGO DC Super Heroes Brainiac Attack 76040 set (with Martian Manhunter and Supergirl minifigures!) has now finally been revealed!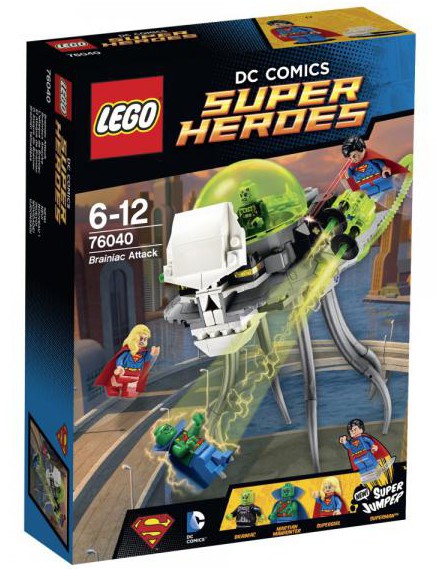 Although Brainiac-5 of the Legion of Super-Heroes has long been one of my favorite characters in the DC Universe, I've never been terribly big on Brainiac. I understand that his unmatched intellect is a perfect foil for Superman's unmatched strength, and it's cool that he was the ultimate villain of Justice League Unlimited and all, but Brainiac has just never clicked with me.
That said, the fact that LEGO Brainiac is the catalyst and primary villain in the LEGO Batman 3 video game coming out this week has rocketed him to the top of my LEGO DC minifigures wish list as an absolute must-have. And as luck would have it, I won't be waiting long–the LEGO Brainiac minifigure will be released in the upcoming 2015 LEGO Brainiac Attack 76040 set!
Of course, Brainiac won't be coming into battle packing just his superior intellectual abilities–he's also bringing in a scary alien ship! The LEGO Brainiac's Skull Ship (yes, the name of this vehicle is actually just "Brainiac's Skull Ship"–I'm not making this up), is definitely one of the creepiest-looking vehicles that we've ever seen in the LEGO Superheroes theme.
And the best part is that this is a real vehicle that has appeared in countless comic books over the years, as well as the Justice League Unlimited cartoon and the LEGO Batman 3 video game! There aren't too many prominent villainous vehicles out there for comic fans, but this is definitely one of them!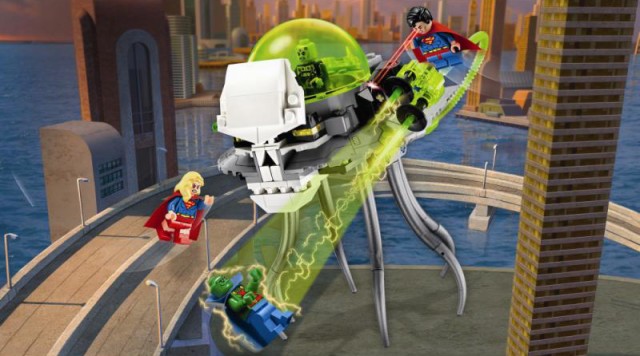 In addition to Brainiac, the 76040 LEGO Brainiac Attack set will also include the first-ever LEGO Supergirl minifigure, as well as a LEGO Martian Manhunter minifigure and a LEGO Superman minifigure. The Martian Manhunter figure in this set is unique and exclusive, as it features his classic costume and not the New 52 Martian Manhunter costume seen on the LEGO polybag promo set given out in March 2014.
The official piece count for LEGO 76040 Brainiac Attack hasn't been revealed yet, but based off of the images and the expected price-point of $24.99 US, I think we can reasonably guesstimate that this set will contain 220-260 pieces. That's not a bad price at all when you consider you're getting a totally new LEGO DC Superheroes vehicle and three all-new, exclusive minifigures with the set.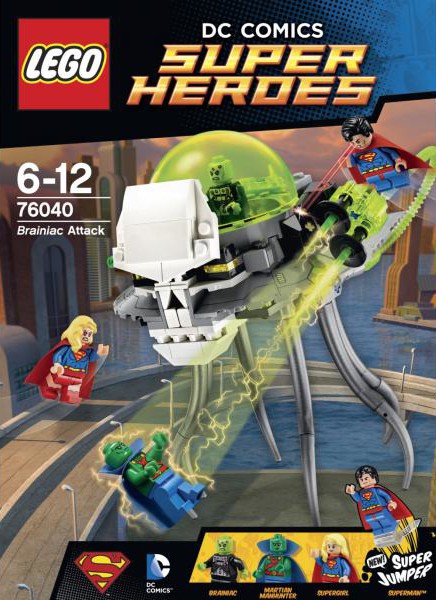 Although the 76040 LEGO Brainiac Attack set is part of the Winter 2015 LEGO DC Super Heroes sets wave, this particular set may not be available in January 2015 when most of the LEGO 2015 winter sets ship out. The estimate release date I've seen floating around for this set is April 2015, so we may have to wait a little bit longer for Superman's cousin and classic Martian Manhunter to join our Justice League lineups! I'll post an update to the Bricks and Bloks Facebook Page when LEGO confirms an official release date for this set.
How do you like the last one of the LEGO DC 2015 sets to be revealed for the winter, LEGO fans? Is this rare LEGO DC set that's lacking a Batman destined to leap into your collection, or do you have no interest in this heavily Superman-themed set?