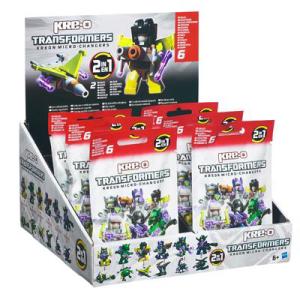 Hasbro made a slight miscalculation when they devised their Transformers Kre-O line of toys in 2011–they assumed people were going to want the actual construction sets. They were wrong. As it turns out, all fans and collectors really want were for the small, minifigure-like Kreon Transformers action figures included with the sets. It's taken over a year for Hasbro to rectify their initial mistake, but now they're giving Transformers fans exactly what they want: Kre-o Transformers Kreon Micro-Changers blind bags!
The people at Hasbro, being the sweethearts that they are, gifted us with the most easy-to-crack code number list in blind-bagging history. The code number for each and every blind bag is printed clearly and largely on the bottom front of each bag, making identifying the Transformers Kreon you want a relative piece of cake (especially compared to the nightmare of the LEGO Minifigures bump codes!). Just look at the bag, glance at the code list at the bottom of this post, and–VOILA!! Be amazed as you draw exactly the Kre-O lind bag figure you want every time.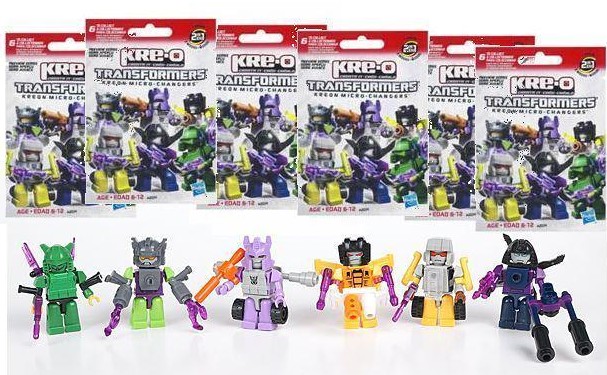 As far as the range of characters selected in this preview group, all I can say is–CRAZY!!! I think it's a little bizarre that Hasbro picked six Decepticons for the Kreon Micro-Changers Preview Wave, but it's hard to argue that they didn't pick an amazing variety of characters. From the G1 Movie to Headmasters to Targetmasters to Beast Wars to the live-action movie expanded-universe to however-you-want-to-classify-Sunstorm, this wave literally has a little bit of everything in it. I don't think Crankstart was even on anybody Top 1000 list of characters they'd want as a Kreon, but it's definitely interesting to see how deep into the character selection Hasbro wants to go with this line.
As far as quality goes, it's sort of a mixed bag. Sunstorm and Scorponok look great in both robot and vehicle/beast modes, whereas Galvatron only looks good as a robot and Waspinator looks terrible as a robot. Spinister is a crazy choice that turned out excellent in both modes, and the double-barreled gun he has is an incredibly-cool homage to his G1 Targetmaster gun.Crankstart effectively copies the style and feel of the original, even if the character isn't particularly appealing. All-in-all, this is a promising beginning to the Kre-o Transfomers Micro-Changers blind bags line.

Without further ado, the code numbers for each Kre-O Transformers Kreon Micro-Changers Preview Series figure are as follows:
Crankstart – 214510
Scorponok – 214511
Waspinator – 214512
Spinister – 214517
Galvatron – 214518
Sunstorm – 214519