I admit to not being the biggest fan of the LEGO Architecture theme. It's not that I don't love real buildings–I actually think that the LEGO Architecture sets are some of the coolest things that LEGO releases. No, it's the prices that put me off of the LEGO Architecture theme–I feel like the sets just plain cost too much for the small size of the boxes and the sets! That said, I've weakened tremendously toward the notion of buying LEGO Architecture sets today. One reason for that is a pretty sweet sale going on for current LEGO Architecture sets, and the other is the reveal of the brand-new, upcoming Summer 2013 LEGO Architecture United Nations Headquarters 21018 set!
Before I get down to business, a quick sale alert–as of writing, Amazon has a big sale going on on current LEGO Architecture sets! The price on these sets is the main thing that usually keeps me away from them, but when they go on sale for 20%-35% off, the sets become a whole lot more appealing! This sale finally motivated me to buy the LEGO Rockefeller Plaza, LEGO White House, and LEGO Sydney Opera House sets I'd been wanting, so definitely give the sale a look if you're interested!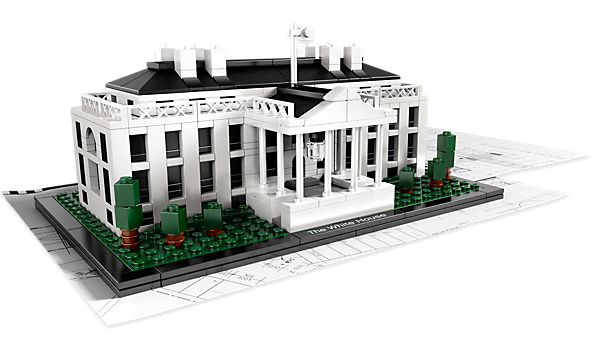 Now then…
The 21018 LEGO Architecture United Nations Headquarters set will be the third LEGO Architecture 2013 set released. While the LEGO Imperial Hotel 21017 released earlier this year was one of the more spectacular LEGO Architecture sets, the second set released–the LEGO Leaning Tower of Pisa 21015–was pretty underwhelming.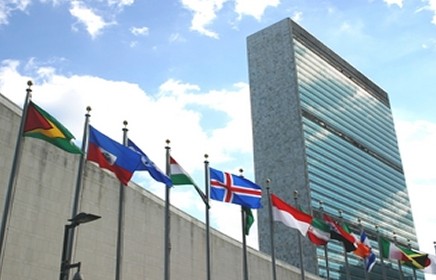 Luckily, LEGO is definitely back on the right track with the LEGO United Nations Headquarters set! The way that LEGO has replicated the United Nations Headquarters building located in New York City of the United States is downright awesome. It's hard to tell from the prototype box photos, but it looks like this set will include a large number of highly-desirable LEGO transparent blue plates!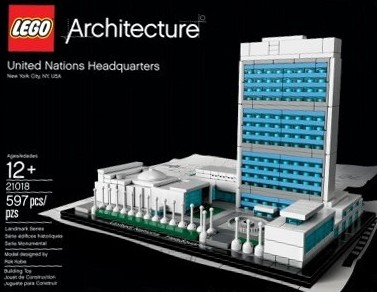 To me, this LEGO Architecture United Nations Headquarters 21018 set is a lot more striking and colorful than the majority of other sets in the LEGO Architecture theme. With 597 pieces, the set is likely to cost $70-$80, though, which may be a little bit more than many of us are willing to pay for it when the set gets released in summer/fall 2013. I'll update with more details and the final price of the LEGO 21018 United Nations Headquarters set just as soon as it's officially announced by LEGO.