The last of the four LEGO The Hobbit The Battle of The Five Armies sets that's just been released at Toys R Us stores in the past few days is none other than, well… the LEGO The Battle of Five Armies 79017 set! This is the second-biggest of the fall 2014 LEGO Hobbit sets, and comes with more minifigures than any other LEGO The Hobbit set this year! Is it worth your 60 bucks? Read on…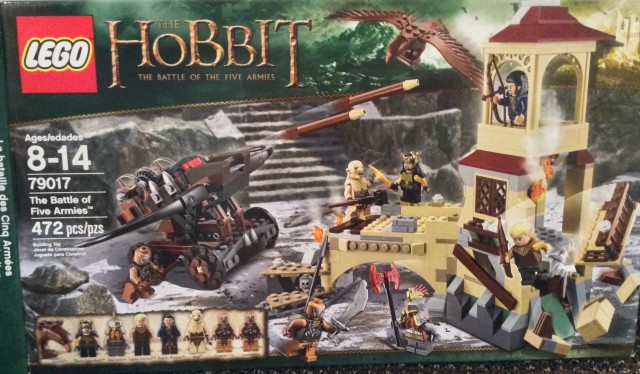 Last but not least, we come to the LEGO The Hobbit set bearing the same name as the final The Hobbit movie: The Battle of Five Armies. I've been purposely avoiding re-reading The Hobbit for the past half-decade so that I wouldn't spoil the movie for myself (I'm senile enough that I can barely remember the details of the novel, despite the fact that I took a graduate level course on it and analyzed it thoroughly), so I'm a little hazy on exactly what the five armies that make up
the
"Five Armies" are.
That said, I think I can we get a pretty fair idea of the five armies based upon the assortment of minifigures (and one not-so-mini LEGO Eagle) included with this set.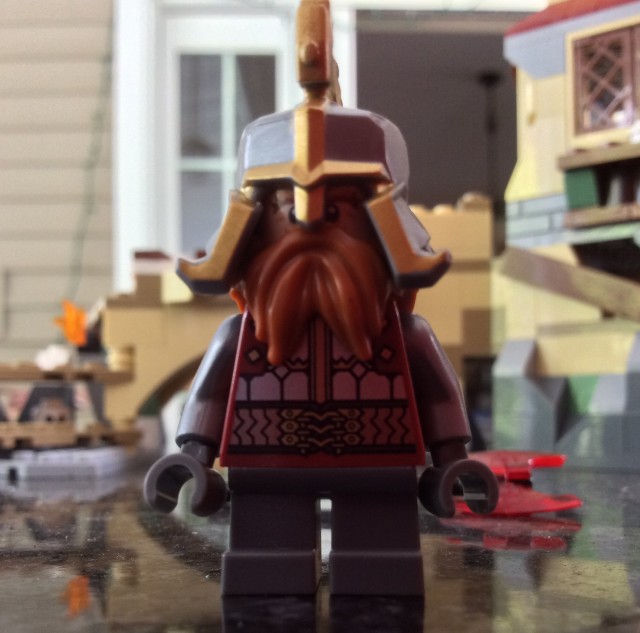 The one totally new character in LEGO 79017 The Battle of Five Armies is the LEGO Dain Ironfoot Minifigure. I don't believe we've seen Dain appear in the first two The Hobbit movies, so presumably he comes to help Thorin in The Hobbit: The Battle of Five Armies (hence why he's in the set with that name).
We have so, so many Dwarfs now that I didn't get I'd excited for one more, but I love the chest print and and the angular helmet that comes on the LEGO Dain minifigure. Good stuff.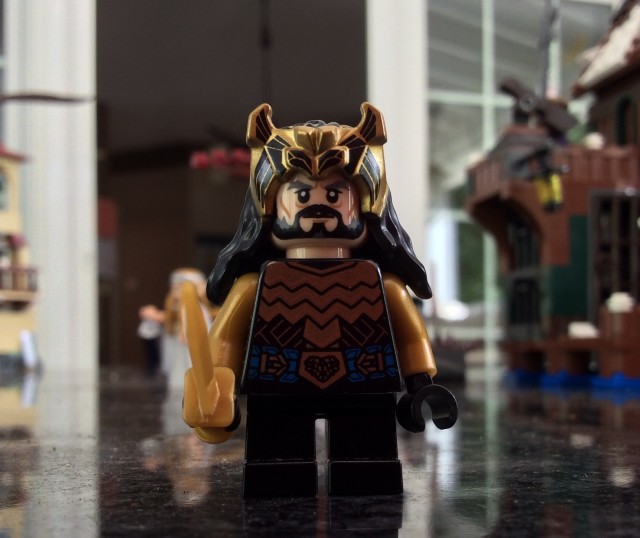 The other Dwarf included with this set is yet another LEGO Thorin Oakenshield minifigure. You didn't think we'd get through an entire wave of LEGO The Hobbit sets without the King Under the Mountain, did you? While some might groan at another LEGO Thorin minifigure, this is actually definitely the best one yet.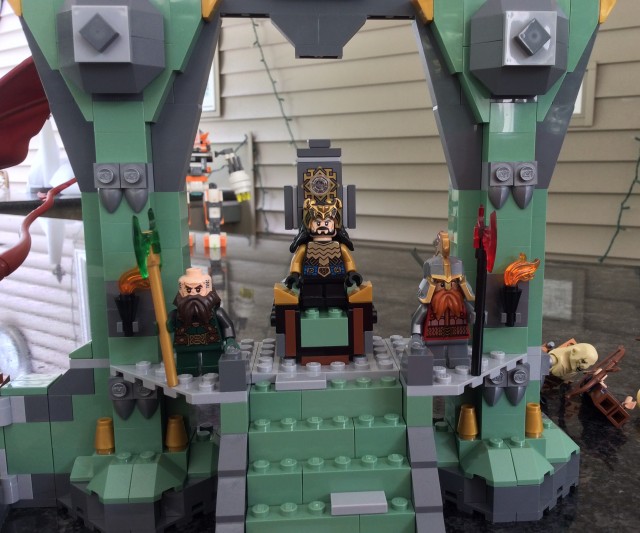 The Thorin Oakenshield LEGO minifigure looks absolutely fantastic wearing his crown, both here and in the 79018 LEGO The Lonely Mountain set's throne. Strange as it might sound, this Thorin may legitimately be my favorite part of this whole set!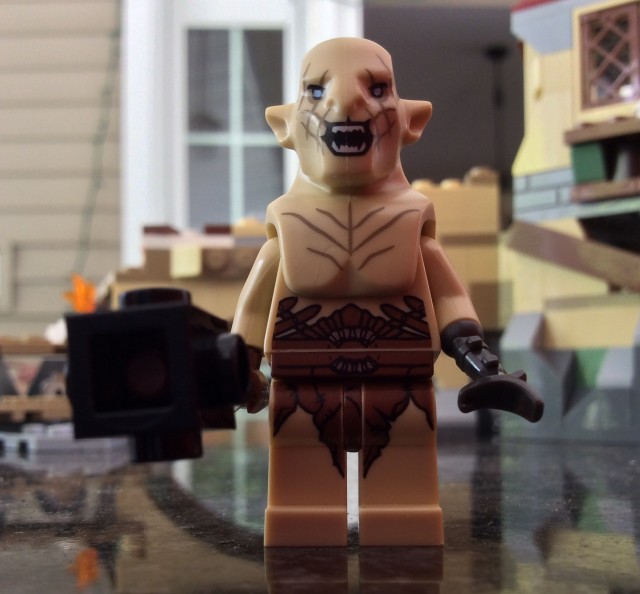 The second mass-release LEGO Azog minifigure also appears with this set, and this time he's got a new face print with a scarier open mouth. Azog doesn't appear (alive) during The Hobbit book at all, but I can only assume he'll be playing a critical part in The Battle of Five Armies (otherwise, the character would have no point).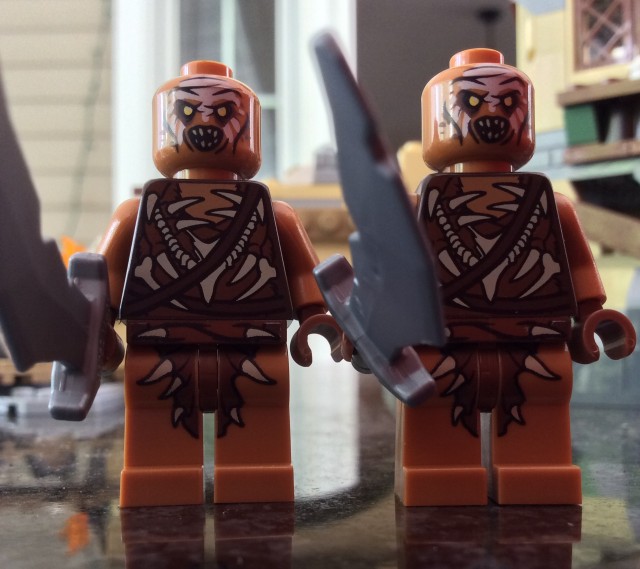 Two more LEGO Gundabad Orc minifigures make their appearance in this set. We got a bunch of these last year (including in the excellent LEGO Mirkwood Elf Army 79012 set that I reviewed), and these look to be exactly the same to me as last year's releases other than the new faces. I would've liked a little variance in the torso prints, but it is nice to be able to easily build a LEGO Orc army.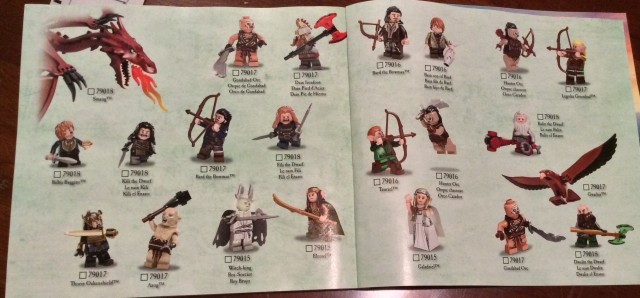 You might think that's it, but there are yet more minifigures with this set. The LEGO Battle of Five Armies 79017 set also includes another LEGO Legolas minifigure, a LEGO Gwaihir the Great Eagle figure (the third time LEGO has released a LEGO Great Eagle), and another LEGO Bard minifigure. The LEGO Bard minifigure is exactly the same one that was given out as a promo at San Diego Comic Con 2014,  so kudos to LEGO for getting such a hotly-demanded minifigure out there for the general public and not just SDCC goers.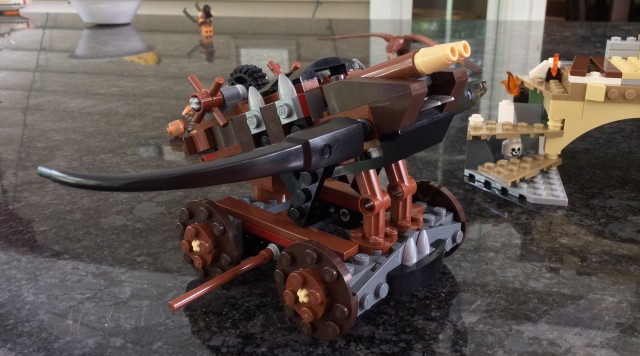 Don't worry–there is an actual LEGO set here too and not just piles of minifigures. You're appreciation of this set will depend largely upon how much you care about the huge LEGO Ballista that makes up a major component of the set.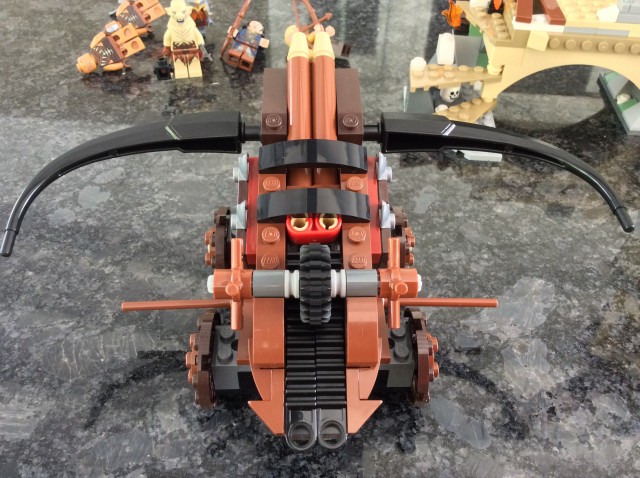 I've heard the the LEGO Orcish Ballista is unfortunately rather dysfunctional, and may only be able to shoot the projectile it launches about four inches. Poor, underachieving Ballista! It certainly looks fearsome and impressive otherwise, though, doesn't it?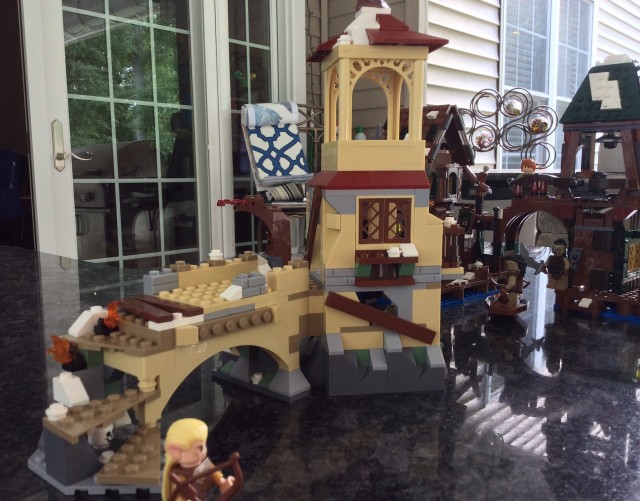 Finally, we have the LEGO Elven building that makes up the last portion of this set. Other than the staircase (which LEGO clearly didn't put much effort into designing), this LEGO building actually looks quite nice enough–especially considering that it's mainly here for its action feature. This LEGO Elven structure has a really fun action feature–you can blow up both the bridge and the lower tower with the press of a button!
This LEGO structure probably could have been designed a bit better so that it would be more aesthetically-pleasing, but it's a fun addition nonetheless.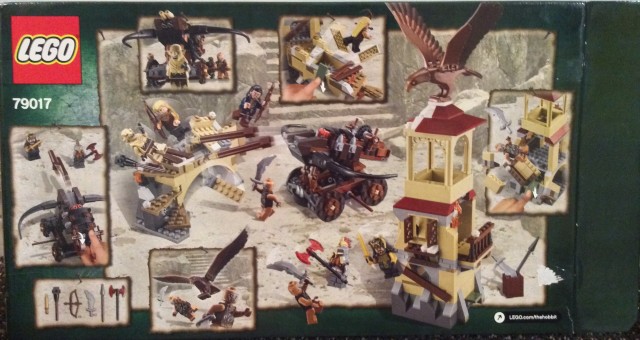 The 79017 LEGO The Hobbit Battle of Five Armies set is scheduled to be officially released in October 2014. A significant number of Toys R Us stores have already received the set and started selling it, so if you want to secure this set before its official release date, Toys R Us is the place to be. Shuebmabow picked up this set at his local Toys R Us store and gave us permission to run his photos, so big thanks to Shuemabow for his photos and impressions!
Does LEGO 79017 contain enough to justify your $59.99, LEGO fans? Or are you content to build your LEGO The Hobbit world without the Battle of Five Armies set included?