LEGO has done an admirable job of concealing the secrets of the Winter 2014 LEGO Minifigures Series 12 71003 for as long as they possibly could, but the time for secrecy is at an end! With the 71003 LEGO Minifigures Series 12 blind bags scheduled to officially launch on January 1st 2014, LEGO is giving us two full months to salivate over the photos of the next sixteen LEGO Minifigures series figures, all of which are specific characters drawn from next year's sure-to-be-hit "The LEGO Movie"!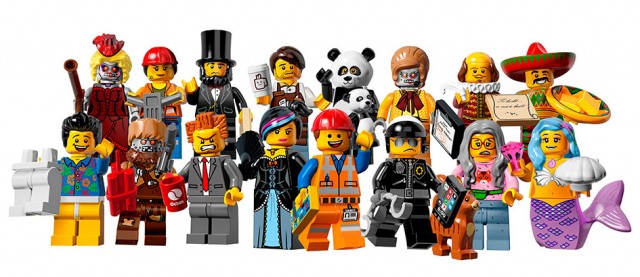 It's been long,
long
-rumored that the Winter 2014 LEGO Minifigures Series 12 figures theme would be that they were all pulled from the upcoming "The LEGO Movie",
as I reported on back during the summer
. Some people said there was no way LEGO would theme a set of LEGO CMFs like that, but I think with these photos that were first posted by Brick Fanatics this morning we can put that argument to rest. LEGO Minifigures Series 12 is officially based entirely off of characters from "The LEGO Movie". And you know what…? It's glorious!
The 16 blind-bagged LEGO Collectable Minifigures contained in LEGO Minifigures Series 12 71003 are as follows (going top row to bottom row, left to right):
Calamity Drone
Gail the Construction Worker
Abraham Lincoln
Larry the Barista
Panda Guy
Velma Staplebot
William Shakespeare
Taco Tuesday Guy
"Where are my Pants?" Guy
Wiley Fusebot
President Business
Wild West Wyldstyle
Hard Hat Emmet
Scribbe-Face Bad Cop
Mrs. Scratchen-Post
Marsha Queen of the Mermaids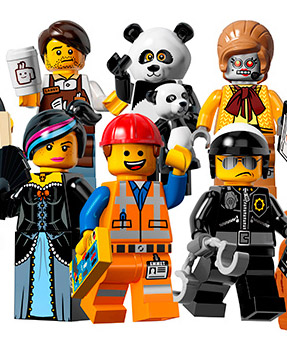 I correctly guessed several of the characters in this lineup such as the LEGO Abraham Lincoln, Panda Guy, and William Shakespeare, but I was very surprised to see Emmet included in the lineup! We've never had a figure available in sets completely repacked in the LEGO Collectable Minifigures Series before, so I'm wondering if the blind bags will be the only way to get LEGO Emmet with a Hard Hat accessory, as the figure is officially designated as "Hard Hat Emmet".
For people wondering what the color of the LEGO Minifigures Series 12 blind bags and cases will be, I've heard that it's going to be a really cool shiny electric blue. That could obviously change, but ordinarily when I hear details like that they turn out to be true!
Remember that you can 'Like' Bricks and Bloks on Facebook to have more LEGO news, photos and updates sent straight to your Facebook Newsfeed!
What do you think of LEGO Minifigures Series 12, LEGO fans? Is this your favorite (or least favorite) LEGO Minifigures Series yet? Leave a reply and let us know your thoughts!