I hadn't seen anyone post scans of the full LEGO Store October 2013 calendar yet, so a couple days ago I stopped at my local LEGO Store and picked up next month's calendar myself. Only trouble was, I went to scan the October 2013 LEGO Store Calendar and broke the port off my computer's scanner entirely (don't ask). I haven't had a chance to get my scanner replaced yet, so instead, here are hi-res photos of the October 2013 LEGO Stores calendar, along with my thoughts on next month's LEGO promos and events…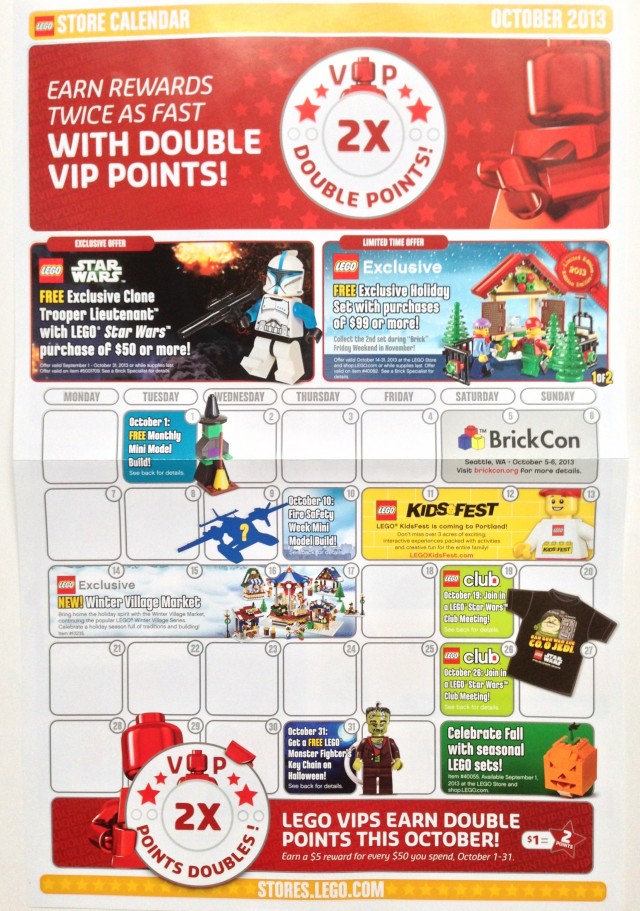 The most high-profile thing going on at the LEGO Stores in October 2013 is the return of Double LEGO VIP Points during the entire month of October 2013. That means you get $5 back in LEGO rewards for every $50 you spend, which ends up being a great deal when you take into account all of the high-priced LEGO sets that have come out in the last few months like the LEGO Sydney Opera House, LEGO Star Wars Ewok Village and LEGO Lord of the Rings Tower of Orthanc.
The 2013 LEGO Winter Village addition–the LEGO Winter Market 10235–will become available for non-LEGO VIP Members on October 1st. That means that if you didn't buy the set early in October, you'll be able to get $10 in LEGO Rewards dollars when you purchase it. As well as one other thing…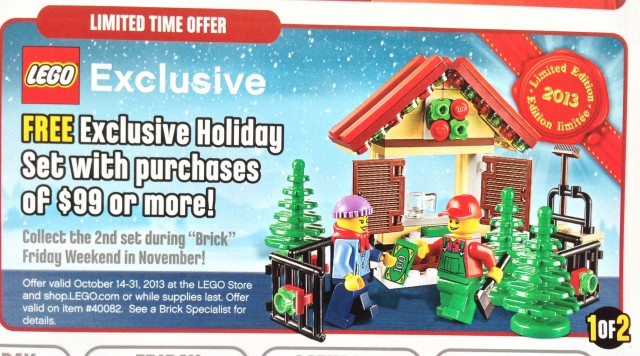 If you wait just a little bit longer to pick up your 10235 LEGO Winter Market set, you'll be able to get the much talked-about and very cool 2013 LEGO Holiday Set #1 as a free bonus as well! I talked at length about this set last week, and it's definitely going to be among the most hotly-demanded LEGO promo sets of the year.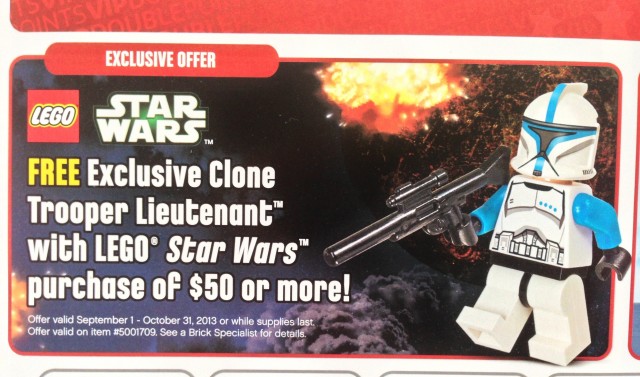 In addition to the LEGO 2013 Holiday Set 1, the LEGO Star Wars Clone Trooper Lieutenant minifigure 5001709 promo giveaway will continue through until the end of October 2013 as well! This is great news for LEGO Star Wars army builders and those who don't have a chance to make a purchase at the LEGO Store this month.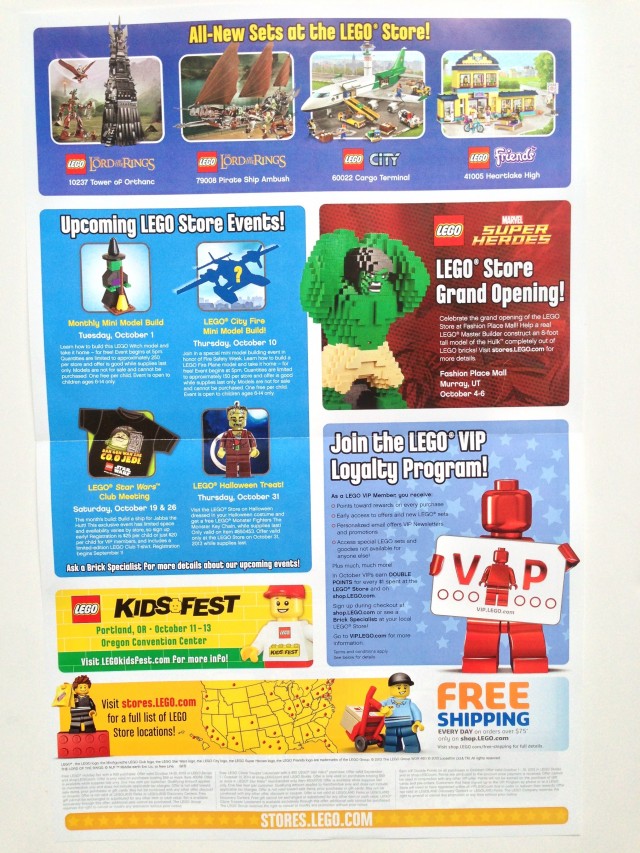 The back of the LEGO Store October 2013 Calendar is pretty dull, but it does boast promotional photos for the October 2013 Monthly Mini Build Witch set. I'm too old to get the free Monthly Mini Build sets myself, but it's always cool to look.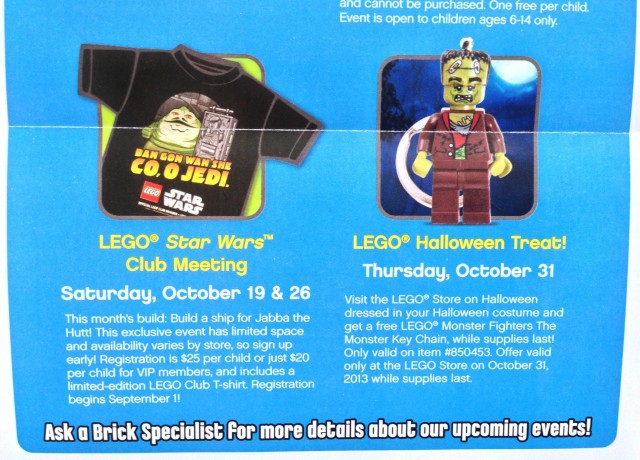 Finally, you can visit the LEGO Store on Halloween while wearing your Halloween costume to obtain a free LEGO Monster Fighters The Monster Minifigure keychain! There's no age limit written on this offer, so I'm seriously contemplating busting out my Pikachu gear and heading to the LEGO Store on Halloween (no, I'm not kidding).
What do you think of October 2013, LEGO fans? Is this going to be a fun month, or are you disappointed in the free promos and goings-on over at the LEGO Store next month?