The Republic AT-TE liked taking on full-size LEGO form so much, it's decided to come back for a third engagement! One of the most-produced LEGO Star Wars vehicles is back one more time! Having already been produced twice as a mini set and twice as a full-size set prior to this year, I wasn't sure how much room there was for improvement in the Summer 2013 LEGO Star Wars AT-TE 75019 Set. Having seen the set in its entirety when we were at this year's International Toy Fair in New York City, I'm still not sure that it really is much of an upgrade over the previous iterations. But hey–at least it comes with an all-new Jedi Coleman Trebor minifigure!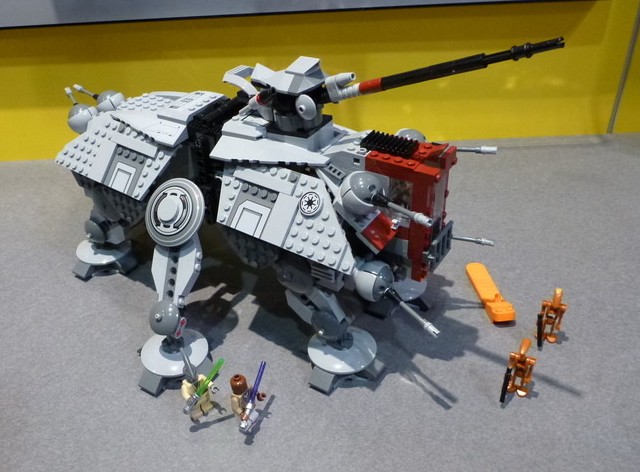 The 75019 LEGO AT-TE was one of the LEGO Star Wars theme sets that leaked pictures turned up for well before the New York Toy Fair, so we had a pretty good idea of what to expect once the AT-TE set was officially revealed. Having finally seen the set in all its glory, it was pretty much exactly what I expected it to be: a slightly more realistic, movie-styled Episode II Attack of the Clones LEGO Star Wars AT-TE.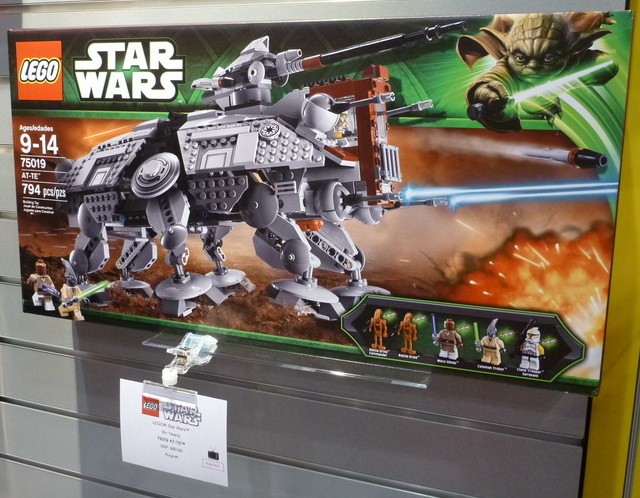 LEGO has previously released two full-sized LEGO Star Wars AT-TE sets: the 4482 AT-TE in 2003 and the 7675 AT-TE Walker in 2008. It seems like just yesterday I was seeing LEGO AT-TEs in stores, but it was actually quite a while ago! While the 2003 LEGO Star Wars AT-TE is archaic by this point, the 2008 LEGO Star Wars AT-TE is still a very nice set.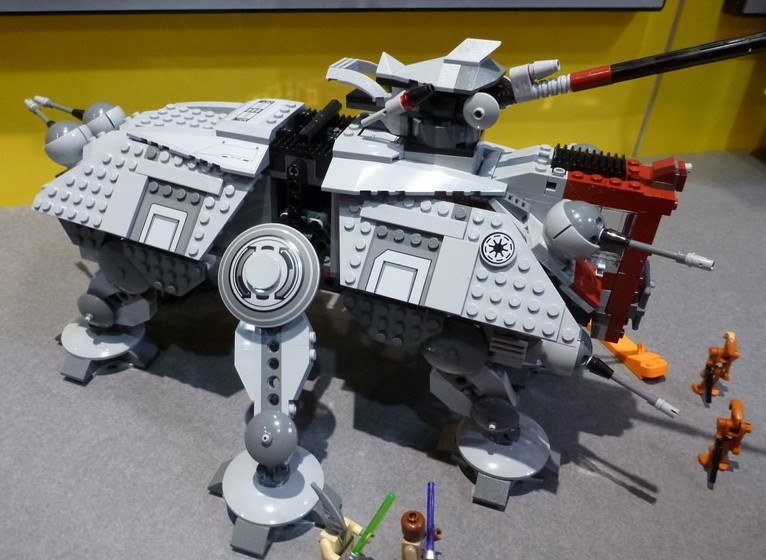 There are relatively few differences between this year's LEGO Star Wars AT-TE 75019 and the LEGO Clone Wars AT-TE Walker 7675 from five years ago. In fact, this year's set is only four pieces short of having the exact same number of bricks as the old set! While the two AT-TEs are ever so slightly different, the only real noticeable change to the 2013 LEGO AT-TE is that it has more muted colors and less of the cartoon-y maroon on it than the Clone Wars one did. Otherwise, the sets look very similar and are even close to being the exact same size.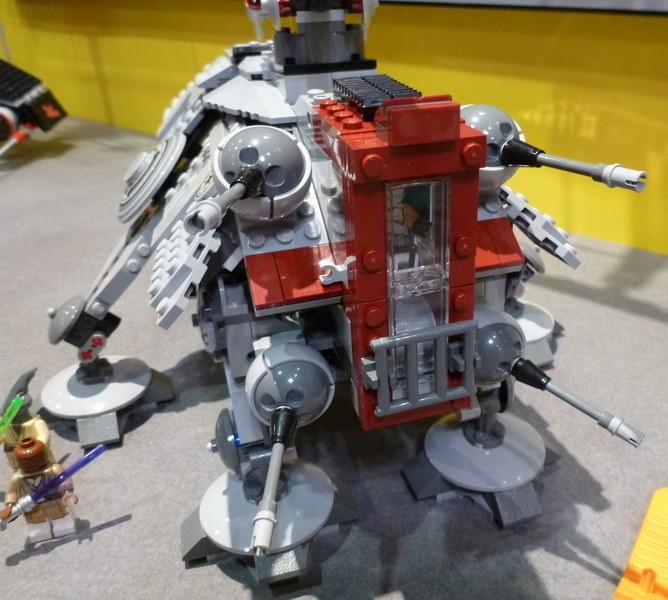 Of course, the biggest change between this LEGO Star Wars Summer 2013 AT-TE and the previous ones is the minifigures included! The headliner figure in this set is the Jedi Mace Windu minifigure, which is newly redesigned. Unfortunately, I think LEGO really messed up Mace Windu this time. The Mace Windu minifigure has glaringly white boots, which doesn't make much sense, since the character has never worn bright white boots in any incarnation.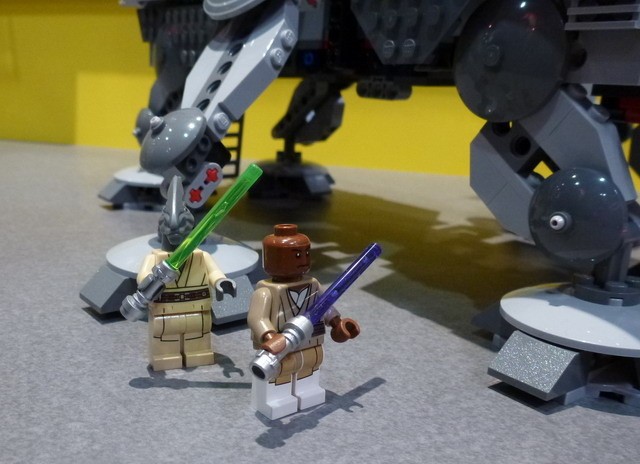 In addition to Mace Windu, an all-new Jedi minifigure will be released: the Coleman Trebor minifigure! Though Coleman Trebor doesn't exactly get a lot of love in Star Wars Episode II: Attack of the Clones (he attacks Jango Fett on Geonosis and gets killed almost instantly), Trebor has garnered a lot of popularity in fandom and will finally get his LEGO due when the LEGO Coleman Trebor minifigure comes out this summer.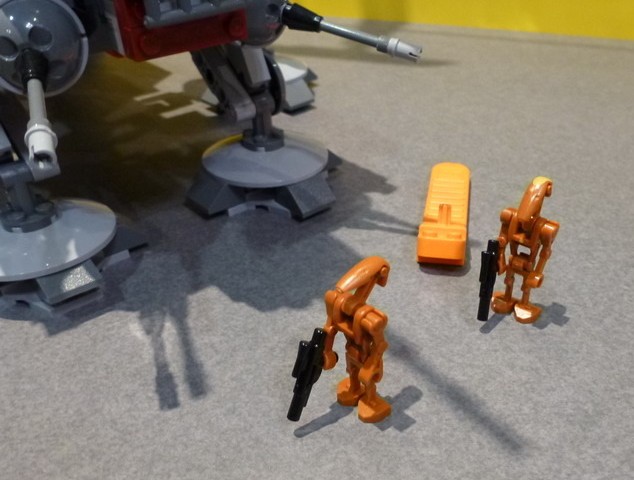 Finally, the set includes a Clone Trooper Commander minifigure, a Geonosis red Battle Droid minifigure, and a red Geonosis Battle Droid Commander minifigure. We don't get yellow Clone minifigures very often, and it's nice to get multiple red Battle Droids, what with 2013 being such an AOTC LEGO year. I'd be lying if I said I wasn't disappointed that there was no Battle Droid minifigure with a C-3PO head, however!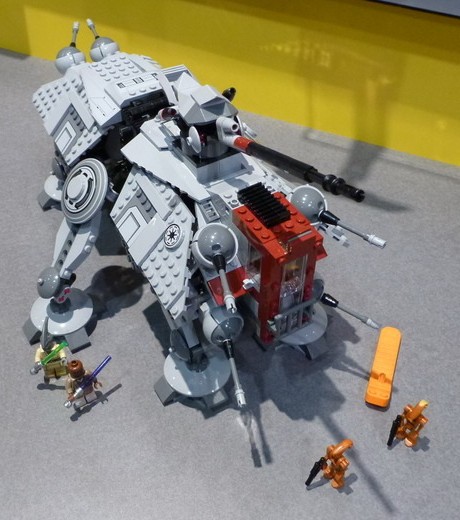 The LEGO Star Wars AT-TE 75019 is scheduled for release in July or August 2013 with an MSRP of $89.99. We'll post links to order it once it becomes available.