We knew from the list of LEGO events on the schedule for San Diego Comic Con 2013 that we would be getting our first glimpse at a 2014 LEGO Star Wars set, and as usual, LEGO was true to their word! Coming up in the Winter 2014 LEGO Star Wars wave, it's going to be an all-new build of the LEGO Star Wars AT-AP Walker from Revenge of the Sith!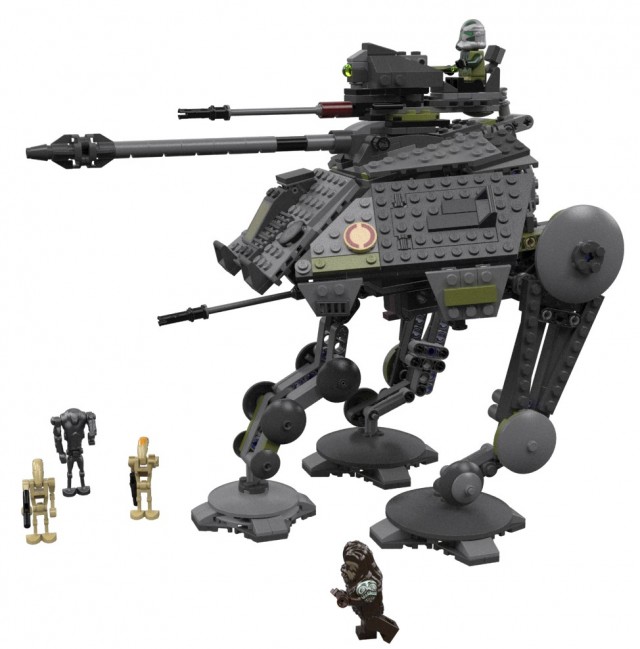 Last year at SDCC 2012 LEGO showed off the LEGO Rancor Pit set for the very first time, which was one of the very coolest LEGO Star Wars sets of the year. So I had similar hopes that LEGO would drop the curtain around something really special and cool again at the 2013 SDCC. Well, LEGO did show off a new set coming up in the LEGO Star Wars 2014 series, but it's not exactly one that was on my wish list.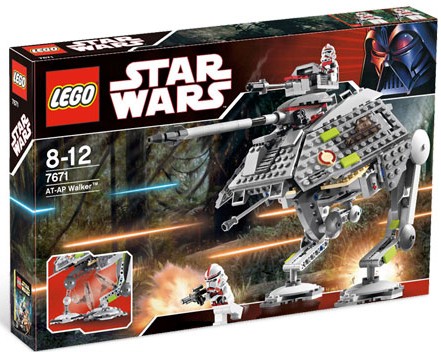 This LEGO Star Wars 2014 AT-AP Walker will be the second time there has been an AT-AP LEGO Star Wars set released. The vehicle appears in Star Wars Episode: III Revenge of the Sith, and previously was available as a LEGO set in the 2008 line. That set was a bit of a slow mover in stores, and as the AT-AP Walker has very limited screen time in ROTS (and I don't know if it ever appears in the Clone Wars cartoon series at all), I never expected to see this particular vehicle revisited.
The minifigures included with the AT-AP 2014 LEGO Star Wars set appear to be a Battle Droid Commander minifigure (note the yellow marking on the head), a regular Battle Droid minifigure, a Super Battle Droid minifigure, a new Commander Gree minifigure and a Wookie Warrior minifigure (this may be Tarfful–it's hard to tell from the photo). These minifigures are fine and all, and I would be excited for a LEGO Tarfful minifigure if it turns out to be him, but they're not anything I can't live without.
What do you think about the first 2014 LEGO Star Wars set reveal, LEGO collectors? Are you excited about a improved and upgraded LEGO AT-AP addition to your LEGO Star Wars Republic fleet, or were you hoping for something a little bit different? Leave a reply and let us know your thoughts!
And if you want more LEGO news, photos and updates sent straight to your Facebook Newsfeed, be sure to 'Like' Bricks and Bloks on Facebook!