I started off my previews of the Winter 2014 LEGO Legends of Chima sets last week with the LEGO Chima Scorm's Scorpion Stinger, which happens to be my favorite one of the new Legends of Chima LEGO sets due out next month. So to balance things out and keep everything fair, today I'm going to discuss the set that has the (dis)honor of being my least-favorite of the LEGO Chima 2014 sets: Lavertus' Twin Blade 70129!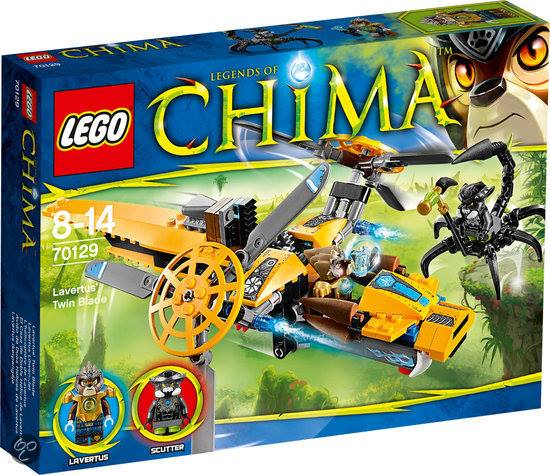 The Lion Tribe is, for all intents and purposes, the main tribe of LEGO Legends of Chima–so it's no great shocker to see a new Lion Tribe set as parts of the LEGO Chima Winter 2014 sets wave. What is a bit of a plot twist, however, is exactly what that sets turns out to
be.
When I first heard the set name "Lavertus's Twin Blade", I assumed the new vehicle was going to be another sort of Chima Lion Tribe tank with some blades attached. That couldn't be farther from the truth–the little single-seater craft is actually a crazy lion-themed helicopter. No, really–I'm not making this up. It doesn't make any sense to me either, but apparently the LEGO Legends of Chima Lion Tribe is determined to prove that lions can, in fact, fly.
Personally, this particular set design does nothing for me. It goes against the lion-themed motif of ground vehicles with a total disregard of logic, and ends up looking like LEGO just threw a lion head on a randomly-designed fantasy helicopter. Lavertus' Twin Blade set just doesn't work for me, and seeing as the Lion Tribe Lavertus minifigure will be available in multiple LEGO 2014 sets, I could almost pass on this set with no regrets.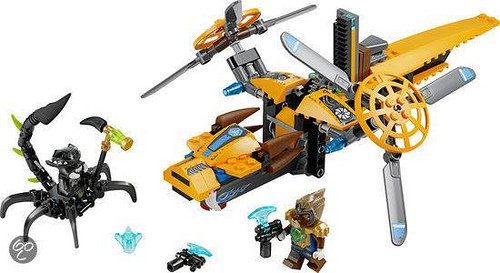 Unfortunately (for my wallet), I really like the Scorpion Tribe Scutter minifigure included with this set. The LEGO Scutter minifigure's black brick-built extra appendages look deadly and fearsome, and make him one of the coolest 2014 LEGO Legends of Chima minifigures bar-none. I don't want Lavertus' Twin Blade helicopter itself (at all), but I'll be picking up this set for the Scutter Scorpion Tribe minifigure nonetheless.
The 70129 LEGO Lavertus' Twin Blade set is part of the January 2014 LEGO Legends of Chima sets wave. The set should actually sneak out to retail sometime in December 2013, and I'll post an update to the Bricks and Bloks Facebook page once the set hits retailers.
What do you think of Lavertus' Twin Blade 70129, Chima fans? Am I being too hard on the Lion Tribe's first aerial attack machine, or are you also having a difficult time believing that cats can fly?