Just when you thought it was safe to go back on the Internet, LEGO has shown off yet more LEGO Legends of Chima 2014 sets expected to arrive in January 2014! While all of the sets we've seen for the winter thus far have been rather small, these last two sets are pretty loaded–and the first one exclusively includes the Chima Spider Tribe Queen! It's LEGO Chima 2014 Spinlyn's Cavern 70133!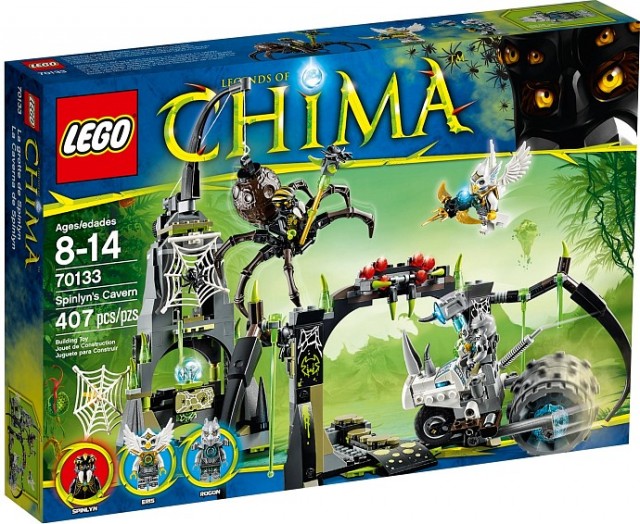 While the previous showings for the initial batch of Chima LEGO Spider Tribe sets have been a bit sparse, LEGO was holding their biggest and most fun Spider Tribe set in reserve! The Legends of Chima Spinlyn's Cavern 70133 set features the first Spider Tribe base, a trio of minifigures (including one very important exclusive minifigure), and a Rhino Tribe Cycle that's far cooler than you would expect.
As we haven't previously heard anything about the 70133 LEGO Spinlyn's Cavern set, the set is almost certainly going to be a retailer exclusive that will only be at specific stores like Target or Walmart. Ordinarily those sets aren't very important, but LEGO 70133 Spinlyn's Cavern is a crucial one!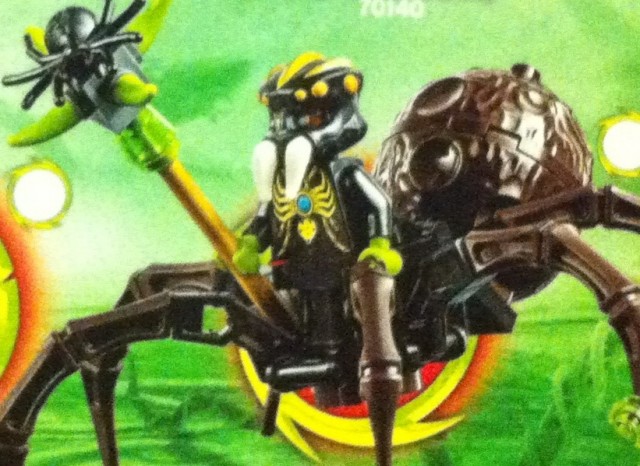 The main selling point of LEGO Chima Spinlyn's Cavern is that it is the exclusive way to get the only Chima female Spider Tribe member: the LEGO Spinlyn minifigure! The leader and Spider Tribe Queen, Spinlyn will be an essential addition to many Chima fans' collections. The set also includes repackage of Eris and Rogon Minifigures, though those aren't nearly as riveting.
The Spinlyn's Cavern LEGO playset itself isn't huge, but it does look respectably creepy for a LEGO Spider Tribe lair set. I'm also infatuated with the awesome Rhino Cycle included with the set!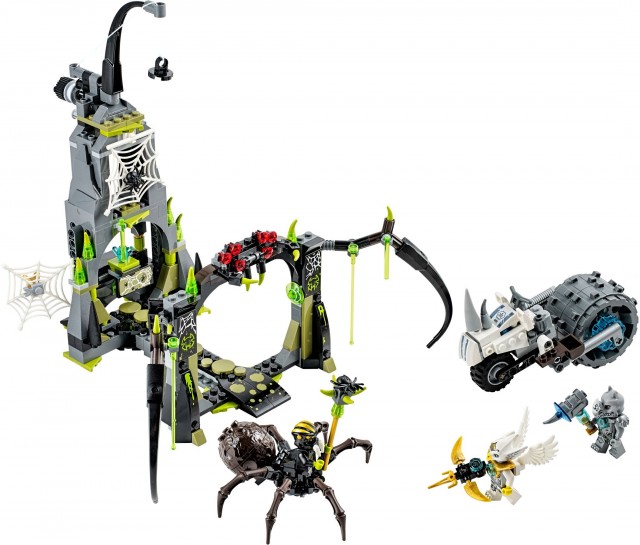 LEGO Legends of Chima Spinlyn's Cavern 70133 set contains 407 pieces and is part of the LEGO Chima 2014 sets wave scheduled to arrive in January 2014. I'll post an update once the official price for LEGO 70133 is revealed, as well as what retailer the set will be exclusive to.
How do you like Spinlyn's Cavern, LEGO Chima fans? Does the inclusion of the queen of the Chima Spider Tribe make this set a must-buy for you?