Earlier this week I discussed the first of two LEGO Legends of Chima Summer 2014 exclusive sets–Cragger's Fire Striker 70135. While I really dug the two exclusive minifigures in that 2014 Chima set, I wasn't bedazzled by the main vehicle component of the set. However, not only do I love the exclusive minifigures in this second LEGO Legends of Chima 2014 retailer exclusive set, but the set itself is one of my favorite Chima builds of the year! Coming this summer–LEGO Chima Sir Fangar's Ice Fortress 70147!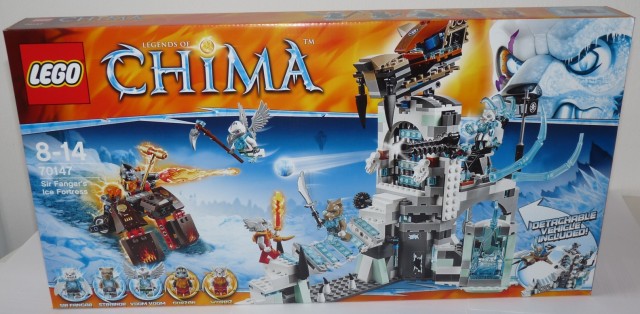 Though the fantasy-based LEGO Legends of Chima isn't the most popular LEGO theme around, the line is getting a drastic thematic overhaul this summer, when the new Chima Fire vs. Ice storyline kicks off!
I'm a total mark for any type of ice-themed LEGO sets, so LEGO guaranteed themselves wads of my money when they announced the focus on fire and ice for the LEGO Chima 2014 summer sets (even if they did decide to make the ice tribes evil for some reason)!
LEGO seems to be a fan of making the "enemy" Chima tribes' bases retailer exclusives, and LEGO Sir Fangar's Ice Fortress 70147 will continue that trend. The piece count and price-point for LEGO 70147 Sir Fangar's Ice Fortress is still unknown. I've heard a rumor that the set could cost as much as $129.99, but it honestly doesn't look large enough to me that it would be logical for it to cost that much. I'm thinking this set will be well under $100, but we'll have to wait until we get the actual piece count to hazard a better guess.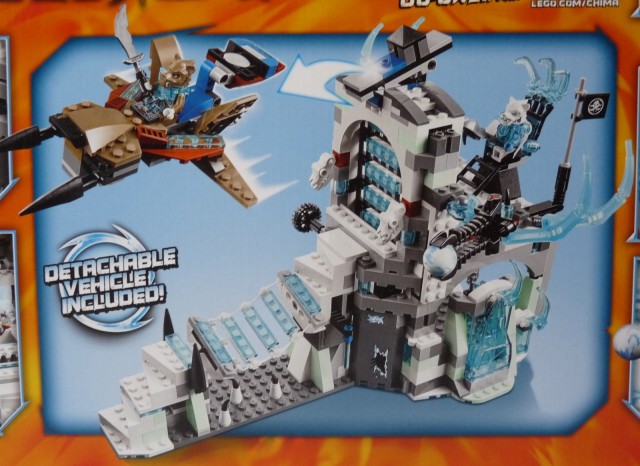 I think the Ice Fortress is pretty nifty looking, as I always love the combination of "icy" blue and white bricks together. I also really like the twisty bridge leading up to the throne room's gate, and the scary clawed throne for the LEGO Sir Fangar minifigure to sit upon. As the leader of the evil ice tribes, Sir Fangar should have an impressively intimidating home, and I think that this set fits the bill nicely.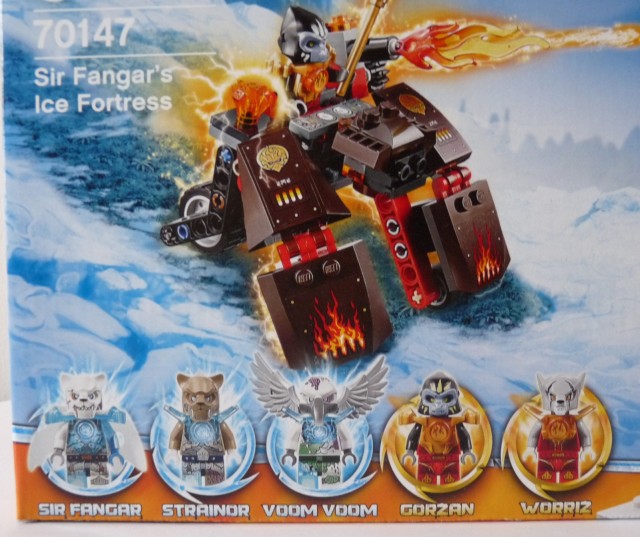 LEGO Chima Sir Fangar's Ice Fortress 70147 includes five minifigures, but thankfully for those who can't afford another large and expensive set, none of the characters are exclusives. Included with the set are a Sabretooth Tribe Sir Fangar minifigure, a LEGO Strainor minifigure (Saber-tooth Tiger Tribe), a Voom Voom minifigure (Vulture Tribe), a Fire Armor Gorzon minifigure (Gorilla Tribe), and a Fire Armor Worriz minifigure (Wolf Tribe).
The fire-themed "gorilla mech" vehicle that Gorzan has to ride on looks really cool, as the decals really add a lot of aesthetic appeal and style to the mini vehicle. The LEGO Sabre-tooth Tiger flying vehicle doesn't look quite as cool, though I do like the idea of the figurehead of the Ice Fortress transforming into a vehicle to attack enemies!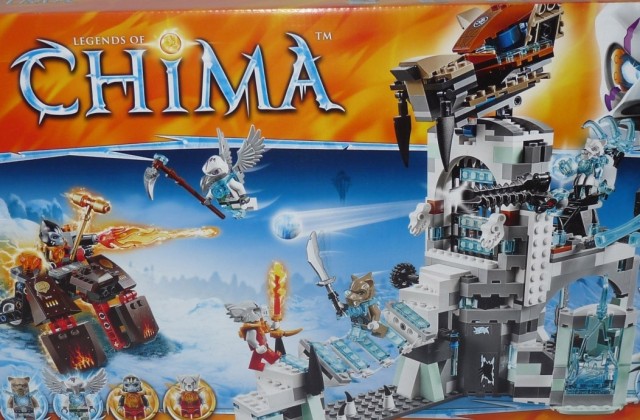 The 70147 LEGO Legends of Chima Sir Fangar's Ice Fortress set is scheduled to be released in Summer 2014. It's unknown what retailer this set will be exclusive to at this time, but I'll post an update once we know the release specifics for LEGO 70147, and you can 'Like' Bricks and Bloks on Facebook to have future images, news and alerts sent right to your Facebook Newsfeed!
How do you like the last LEGO Chima set of 2014 to be revealed, LEGO fans? Is Sir Fangar's Ice Fortress up your alley, or does this icy playset leave you cold (sorry, couldn't help myself)?