November 2013 has arrived, and that can only mean one thing (well, besides shopping malls suddenly becoming insane)–it's time for the December 2013 LEGO Store Calendar and the announcement of all of the big LEGO Stores December 2013 promos, events, and giveaways! Don't get too, too excited though–December 2013 is more like a lump of coal for LEGO collectors, with some of the blandest and most uninteresting happenings of the entire calendar year…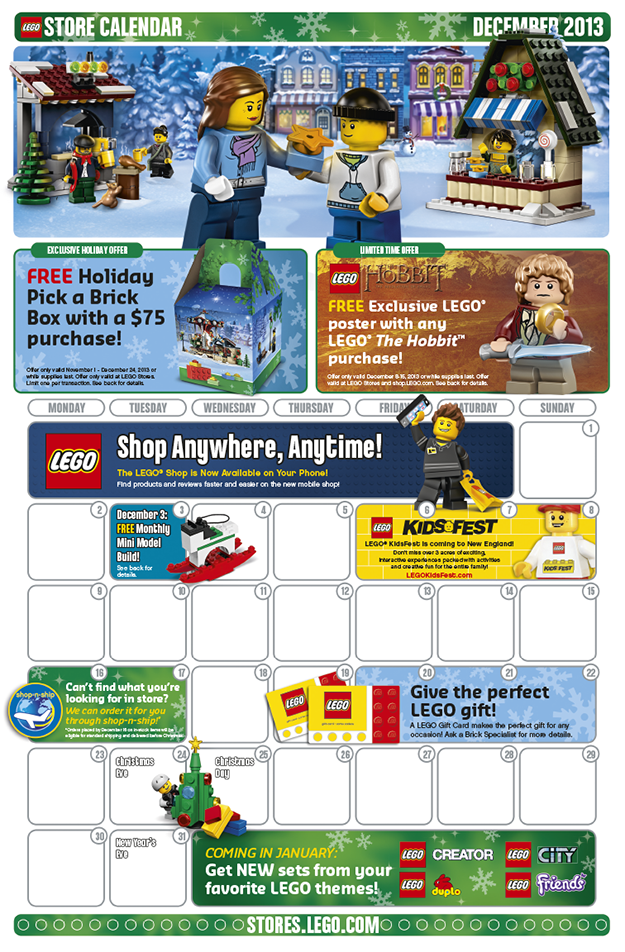 It would be very difficult for LEGO to top the inherent excitement of Brick Friday from November 2013, and it looks like next month the LEGO Stores aren't even going to try! Instead of the month being filled with the usual free promo polybags and frequent collector events, the calendar spotlights LEGO Shop at Home and LEGO Gift Cards. This seems a mite silly to me, as anyone who found this calendar likely already knows all about the online LEGO Store and the existence of LEGO Gift Cards, but whatever.
There are three actual promotional giveaways occurring at the LEGO Store in December 2013. The first is a free LEGO The Hobbit poster with purchase of any new LEGO The Hobbit set (although my LEGO Stores just lay these posters out on a table and anyone who wants them can take them); a free Holiday Pick-A-Brick box with a $75 purchase (cute box, but always one of my least favorite promotions); and a LEGO Christmas Ornament Rocking Horse as the December 2013 Mini Monthly Build for children.
The new LEGO The Hobbit and LEGO Ninjago 2014 sets should be out in December 2013, but for some reason LEGO chose not to talk about them on the calendar. It's interesting to see the "Coming In January: New Sets" blurb only showing logos for 2014 LEGO City, LEGO Creator, LEGO Duplo and LEGO Friends sets. The new LEGO Star Wars and LEGO Legends and Chima sets will presumably also be out in January 2014, and we know LEGO Minifigures Series 12 and The LEGO Movie sets officially launch on 1/1/2014.
And… that's really about it. Not exactly the most compelling month ever. What do you think of the December 2013 LEGO Store Calendar, LEGO fans? Is there anything coming up at all that you're excited about in December, or is the LEGO Store not all that interesting to you until the Winter 2014 LEGO sets appear in January?