There are some things in life that just make so much sense that it is absolutely inconceivable that they may not turn out exactly the way that we imagined them. Such was the case a few days ago, when the official word came out that McDonald's restaurants were going to be offering The LEGO Movie Happy Meals toys this winter. LEGOs are toys to begin with, so there's no way McDonalds wouldn't offer something at least mildly cool for the Happy Meal The LEGO Movie promos… right? At least, that's what everyone thought. Everyone–except McDonald's. Enter: The LEGO Movie "Action Cups"…

I literally have not ingested a molecule of McDonald's food in close to 20 years. No, seriously. Even so, I was half-prepared to make a few trips to local McDonalds restaurants when I learned McDonald's had The LEGO Movie license. After all, it'd be close to impossible for them to possibly louse up that license. Well, unfortunately, "close" isn't the same thing as "completely", and McDonalds has actually managed to concoct a LEGO Happy Meals promotion that's going to turn away most LEGO fans: The LEGO Movie Cups. Yes… Cups. *crickets*
Coming soon to McDonald's fast food restaurants and running through most of February 2014, McDonald's will be giving out eight different The LEGO Movie Happy Meal "Action Cups". In case you're wondering what an "action cup" is, it seems to just be a plastic cup. Yay…? If there are any lenticular functions are anything interesting like that built into these cups, they're sure not apparent from the images McDonald's posted on their official Happy Meal website. Near as I can tell, these are plain old plastic cups.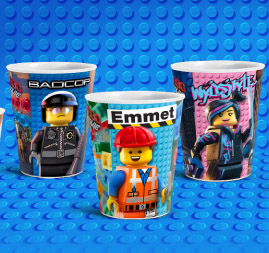 I genuinely thought McDonald's was going to come through for fans with some cheaply made, low-quality Happy Meal LEGO Movie minifigures, but alas–we're getting these cups instead. There's eight different total The LEGO Movie Happy Meal "toys" action cups: Unikitty, Batman, Emmet, Wyldsyde, Vitruvius, Metalbeard, Bad Cop and Lord Business. I'm half-tempted to pick up a LEGO Movie Batman cup. The rest…? No thank you.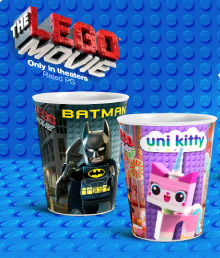 McDonald's hasn't officially announced the exact date of The LEGO Movie Happy Meals promotion, but some quick math and intuition tells me that McDonald's should either begin giving out the LEGO Movie Cups on Friday, January 31 or Friday, February 7 2014. I'll post an update once it's confirmed exactly which week this LEGO promo will be beginning (because I know you're all prepping to race to your local McDonald's now that you've seen these LEGO cups, right? Right…?).
UPDATE: The LEGO Movie Action Cups are now available at McDonalds restaurants. If you don't want to purchase Happy Meals to get the LEGO Movie Happy Meal cups, entire sets are available for purchase online.
Alright, LEGO fans! Let's hear it: Is anybody out there honestly, cross-your-heart excited about these McDonalds The LEGO Movie Action Cups? Or is this truly the single dumbest use of a license by McDonald's ever?