The 2013 Kre-O Transformers Kreon Micro-Changers Series 1 blind bags have arrived, and this weekend I picked up a whole set so that I could share the Transformers Kre-O Series 1 codes! I posted the codes for the Transformers Kre-O preview wave figures in the fall, but this is the first full series of 12 figures.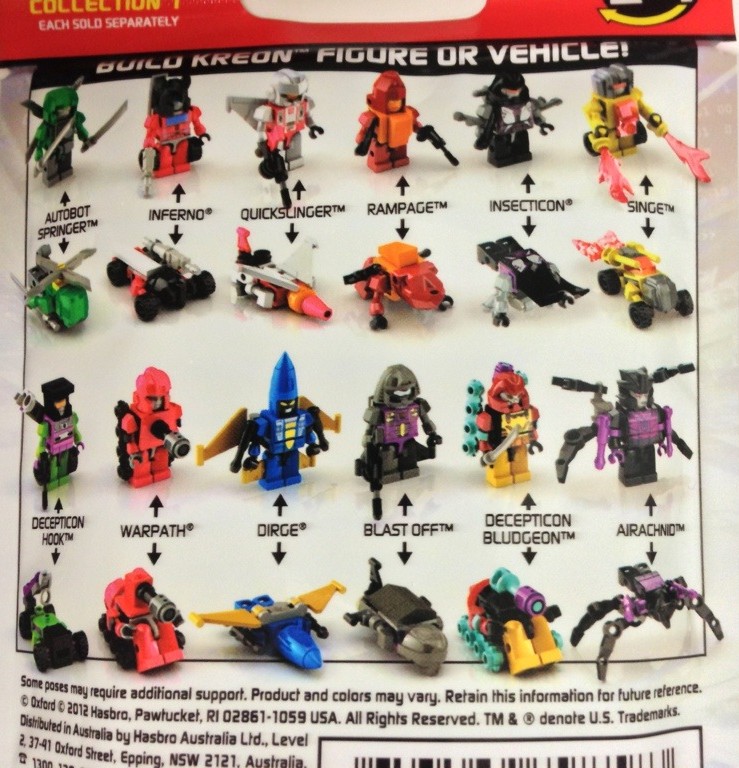 As expected, there's still a clearly-defined code number at the top of the back of each Transformers Kre-O blind bag, making every figure in the set easily identifiable. Each code starts with the same five digits (22981), but it's the final two digits on the back of each package which clearly define which figures is included in the blind bag. In other words–disregard the first part of the code completely and only look for the final two numbers and you'll pull the Transformer figure you want every single time!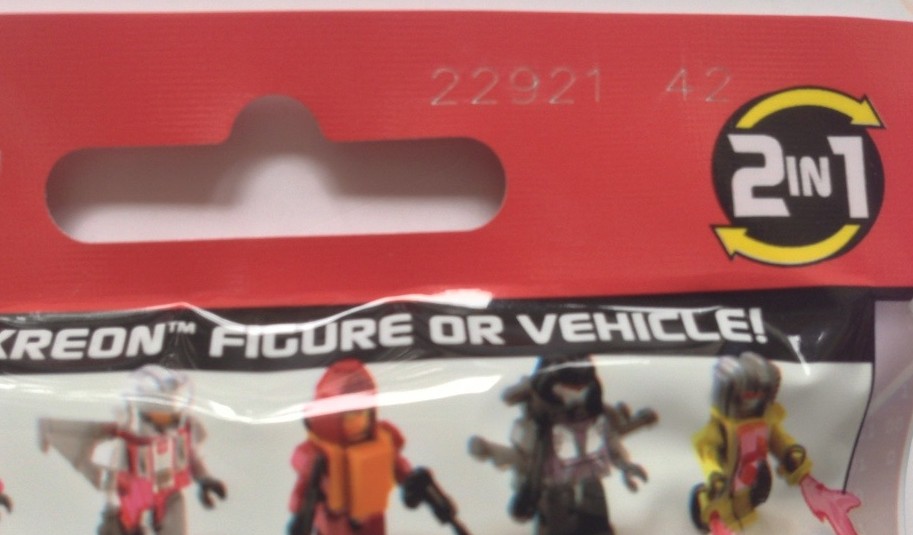 If you're looking to order any Transformers Micro-Changer ever made without searching, they're all available for purchase online. If you're want to blind-bag them, then the Kre-O Transformers Kreon Micro Changes Series 1 codes list is as follows:
22981 40 – Singe
22981 41 – Inferno
22981 42 – Autobot Springer
22981 43 – Warpath
22981 44 – Quickslinger
22981 45 – Rampage
22981 46 – Insecticon
22981 47 – Blast Off
22981 48 – Decepticon Hook
22981 49 – Dirge
22981 50 – Airachnid
22981 51 – Decepticon Bludgeon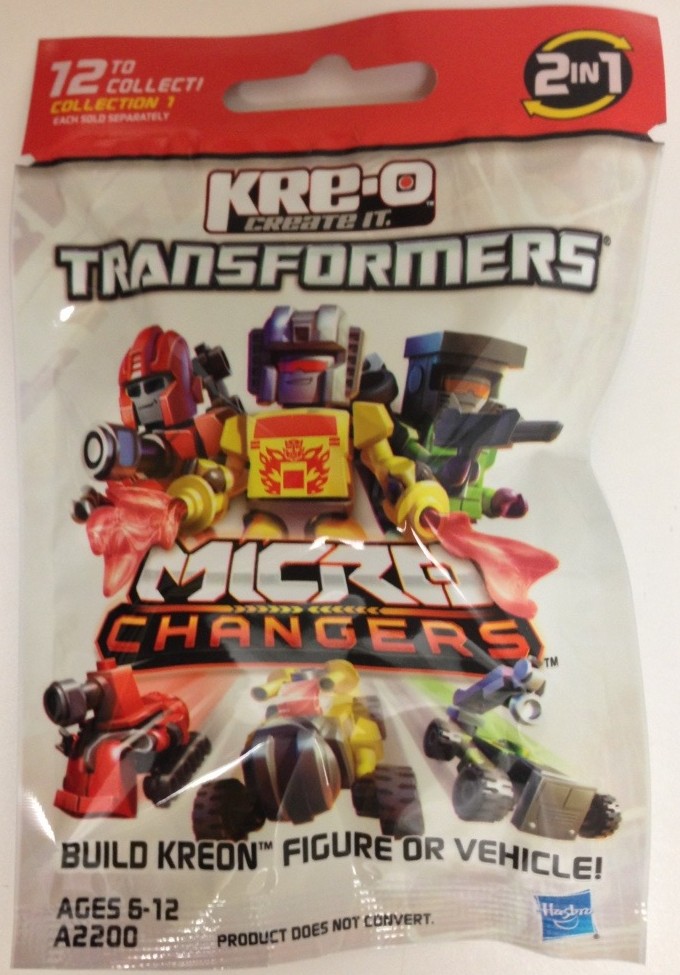 Hasbro made some really inspired (and crazy!) choices for the first full set of Transformers Micro-Changers, with characters ranging from Transformers G1 to Transformers Prime! I love that Hasbro decided to lure in collectors by incorporating obscure fan-favorites like the G1 Turbomaster Scorch (called "Singe" here, as Hasbro doesn't hold the copyright for Scorch anymore). Even Transformers comic book fans are covered with the inclusion of Bludgeon, one of the most beloved Decepticons made popular by the Transformers comics ever! Well-played, Hasbro.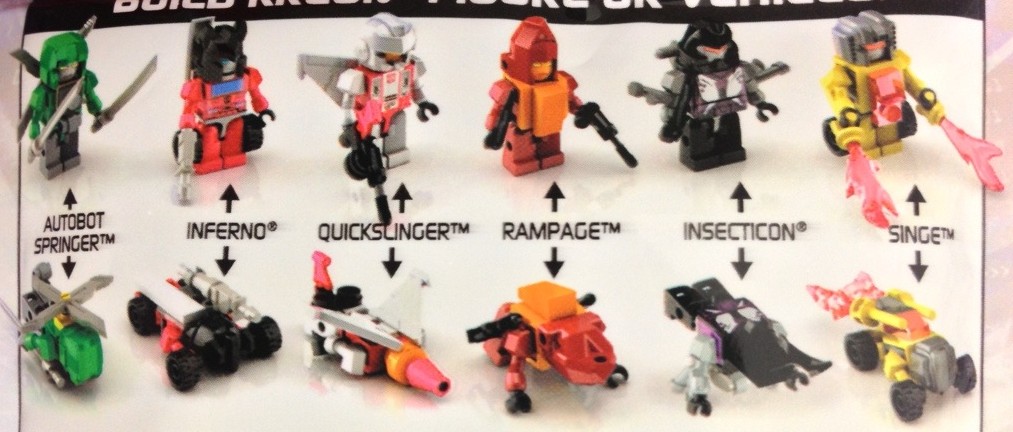 I do think it's a crazy choice of Hasbro's part to have the Decepticons outnumber the Autobots 7 to 5 in Transformers Kreons Series 1 after the Micro-Changers Preview Wave consisted entirely of Decepticons. I always thought that kids were more attracted to purchasing Autobots than Decepticons, but what do I know?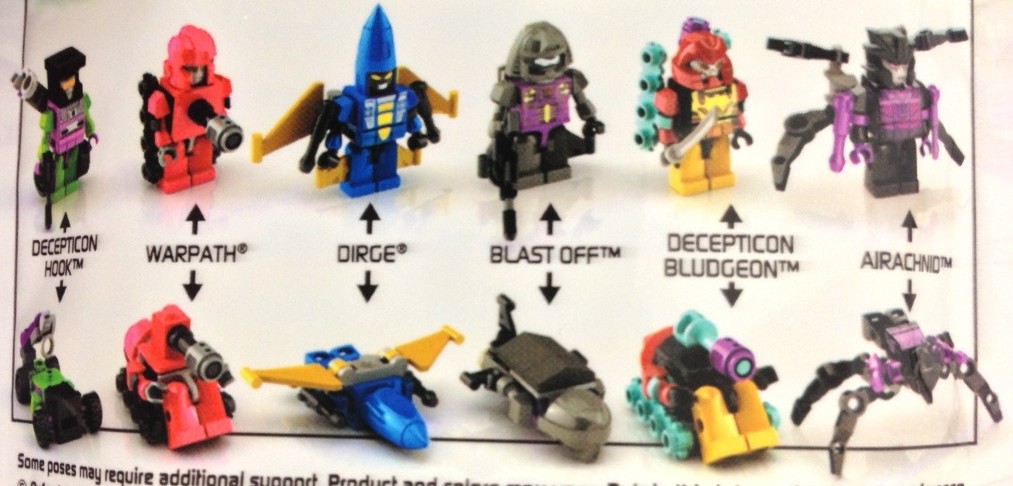 I'll be posting reviews of some of the most exciting Series 1 Transformers Kre-O figures from here in the next few days.