They took over mobile gaming (and the minds of Americans of all ages), and now Angry Birds have decided to conquer blind bags! Seeing what a craze blind bagged toys have become and what an obsession Angry Birds are for millions of Americans, K'NEX made a masterful decision when they combined the two and devised K'NEX Angry Birds blind bags!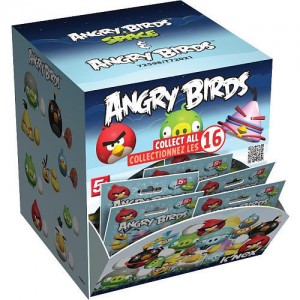 There are 16 total different Angry Birds Mystery Figures in this series, which can be broken into three groups: regular Angry Birds, Angry Birds in Space, and Pigs. Every figure comes with one accessory (of which most are some variation of an egg). These K'NEX Angry Birds Mystery Packs are a Toys R Us exclusive, so you won't find them in your local Target, Walmart, or anywhere else.
The Frozen Wee Minion Pig has a star in front of its code number–it is the only figure in the series that does, so look for that star if you really want to army-build Frozen Wee Minion Pigs! Most of the packages' codes have one number underlined once or twice (denoted in the code list below by the strike-through effect on a number as well as it being underlined).
The complete list of K'NEX Angry Birds codes is as follows:

Regular Angry Birds:
Red Angry Bird w/ Accessory: White Egg  0512198
Black Angry Bird w/ Accessory:  0512198
Blue Angry Bird w/ Accessory: Ham  0512178 or 0512198
Orange Angry Bird w/ Accessory: Rubber Ducky  0512198
White Angry Bird w/Accessory: White Egg  0512170
Yellow Angry Bird w/ Accessory: Golden Egg  0512198
Space Angry Birds:
Space Red Bird w/ Accessory: Space White Egg  0512198
Space Lazer Bird w/ Accessory: Space White Egg  0512198
Space Ice Bird w/ Accessory: Space White Egg 0512198
Space Black Bird w/ Accessory: Purple Crystal 0512170  or 0512178
Space Blue Bird w/ Accessory: Yellow Crystal 0512198
Pigs:
Wee Minion Pig w/ Accessory: White Egg  0512178 or 0512198
Frozen Wee Minion Pig w/ Accessory: Space Golden Egg  *0512198
Helmet Pig w/ Accessory: White Egg  0512198
Frozen Helmet Pig w/ Accessory: White Space Egg 0512198
Big Minion Pig w/ Accessory: White Egg  0512198