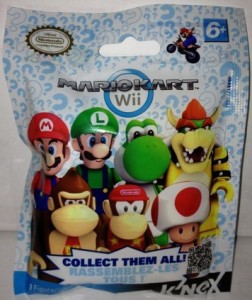 I've traditionally not been a K'NEX guy, but that all changed when they discovered my greatest weakness: blind bags! Worse still, they unleashed blind bags from one of the most beloved video game franchises of all-time: Mario Kart! I'll be truthful: I kind of suck at Mario Kart. I can finish the 150cc Rainbow Cup (maybe) after months of practice, but I stay as far away from competitive play as possible (unless I'm crusin' for a bruisin'). Even so, there was no way I could resist this series of seven blind-bag Mario Kart Mystery Pack figures.
While Mario, Luigi, Yoshi and Bowser were all released in 2011, new to the K'NEX Mario Kart Wii line for 2012 are K'NEX figures of Donkey Kong, Diddy Kong, and Toad! We haven't exactly gotten a plethora of articulated Toad or Diddy Kong figures over the years, so they're some pretty exciting additions!
Luckily, this series has only seven figures, so it can be collected quickly and easily. But wait–!! There's a wrinkle! K'NEX does their blind bag codes a little weird, and all of the code numbers on the Mario Kart blind bags are all exactly the same number! How can you tell which figure is which? Well, Bowser makes it easy with his giant, spiked body–but there is another method! Every bag has one of the seven numbers in the code underlined, and you can use the underlined digit to determine what figure is in each bag.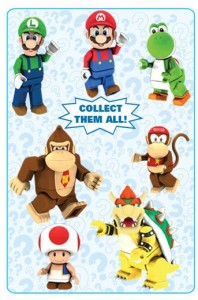 I've bolded and underlined the proper digits in the codes below. Even though you may encounter different numbers, the place of the underlined digit will always be the same regardless of the number on the bag, so just follow the example if you encounter that situation! The K'NEX Mario Kart Blind Bags code number list is as follows:
Mario – 0512102, 0512065
Bowser – 0512102, 0512065
Luigi – 0512102, 0512065
Yoshi – 0512102, 0512065
Donkey Kong – 0512102, 0512065
Toad – 0512102, 0512065
Diddy Kong – 0512102, 0512065
If anyone finds other numbers that they'd like to report, just leave us a reply and the number will be added to the code list. Good luck collectors!