Previously I discussed the three more expensive LEGO Legends of Chima Summer 2013 sets (Worriz' Combat Lair, Gorzan's Gorilla Striker, and The Lion CHI Temple) and today I'm going to talk about the fourth and final main (boxed) LEGO Chima set coming in 2013: Eglor's Twin Bike 70007. As you might expect from a set with "bike" in the name, Eglor's Twin Bike is a pretty impressive motorcycle. As you might not expect, it also transforms into a wicked awesome jet…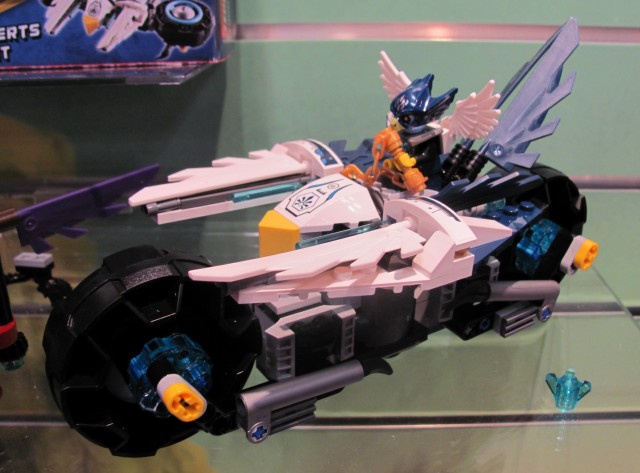 The one big advantage that LEGO 70007 has over the other Summer 2013 Chima sets is that it's cheap. With prices ranging from ~$50 for the Gorilla Striker to ~$120 for the Lion CHI Temple, the second half of 2013 is not going to be a cheap time for LEGO Legends of Chima fans. At a price of just $24.99 for 233 pieces–less than half the price of the next cheapest Summer 2013 Chima set–Eglor's Twin Bike 70007 is in a distinctly favorable position compared to its counterparts.
The main component of this set is (obviously) Eglor's Twin Bike itself. Eglor's Twin Bike is amazingly stylish, and the eagle-themed motorcycle design works far, far better than I would have expected it to. The primarily white motorcycle complements the dark-hued Eglor minifigure beautifully, and is truly one of the slickest entries into the LEGO Legends of Chima theme thus far.
Eglor's Twin Bike has a Transformers-like action feature that I'm surprised no one is really talking about–it can convert into a jet! I'm old enough to remember the amazing line of M.A.S.K. toys from the 1980's which consisted entirely of vehicles that could take on multiple forms, and this reminds me of that so much it's crazy. I love–love–the idea of transforming Chima vehicles and hope this is the start of a trend within the Chima theme.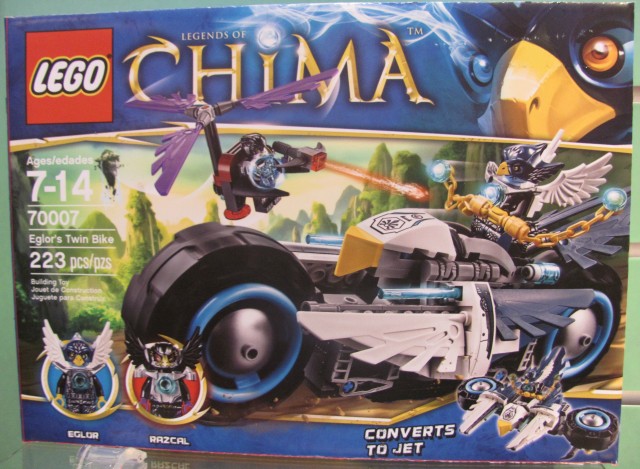 70007 LEGO Eglor's Twin Bike includes two minifigures, but unfortunately neither of them is exclusive (or even new for Summer 2013). The dark-colored Eglor of the Eagle Tribe minifigure makes its third appearance here, as does the Raven Tribe Razcal minifigure. This time Razcal has a weird helicopter backpack accessory, which seems like a poor match for Eglor's Twin Bike.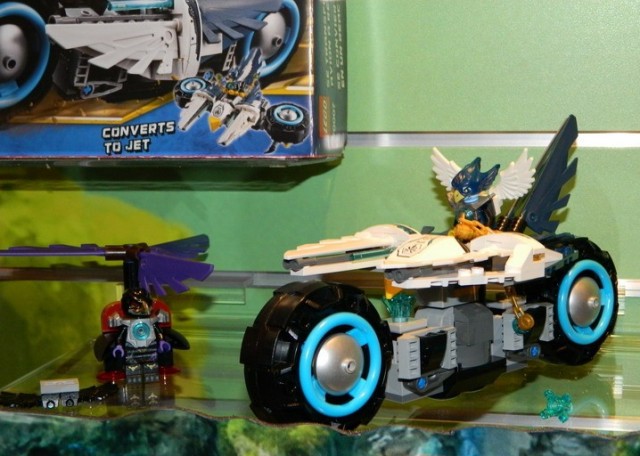 For me, this set is going to fall squarely into the zone of "I'm glad LEGO is making some lower-priced Legends of Chima boxed sets, but I don't know if I need it myself." While the Chima Eglor's Twin Bike vehicle itself does look neat–and I absolutely adore the jet transformation–both minifigures included are common and easily obtainable. Eglor's Twin Bike is cool–but not $25 cool (at least not to me).
The LEGO Legends of Chima Eglor's Twin Bike 70007 is one of the four main (non-Speedorz) LEGO Chima Summer 2013 sets, and should be in stores in July 2013.