Earlier today I started my coverage of the 2014 LEGO City sets when I posted my impressions of the LEGO City Helicopter Surveillance 60046 set. Now I'm back with another winter LEGO City 2014 set, with my discussion and photos of the LEGO City Logging Truck 60059…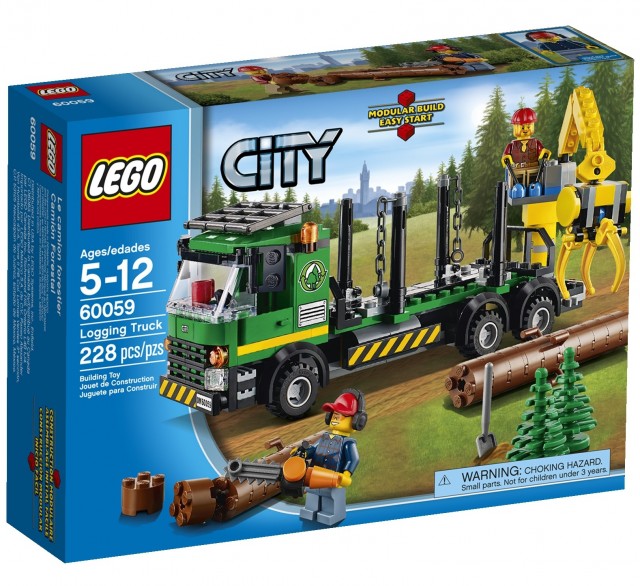 Ordinarily, I'm not really into LEGO themes that don't have any action to them. There are exceptions to this, of course (like the LEGO Winter Village sets and some of the amazing LEGO Creator sets like Tower Bridge), but by and large I like my LEGO sets to have a lot of guns, fighting, and violence intrinsically.
As such, I didn't expect a LEGO Construction set to be one of my favorites from the winter 2014 LEGO sets wave, but it turns out to be true! The LEGO 60059 Logging Truck is a simple and straightforward set, but even so it has an unexpected amount of charm and personality in its design!
The LEGO logging truck itself has a green and black design with yellow/black caution stripes that automatically scored some points in my book by being reminiscent of the G1 Transformer Hoist. The logging truck features a flatbed back that you can chain logs into after picking them up with the positionable crane grabber. But my favorite of the set doesn't have to do with the LEGO City Logging Truck itself, but rather the included minifigures and a particular accessory…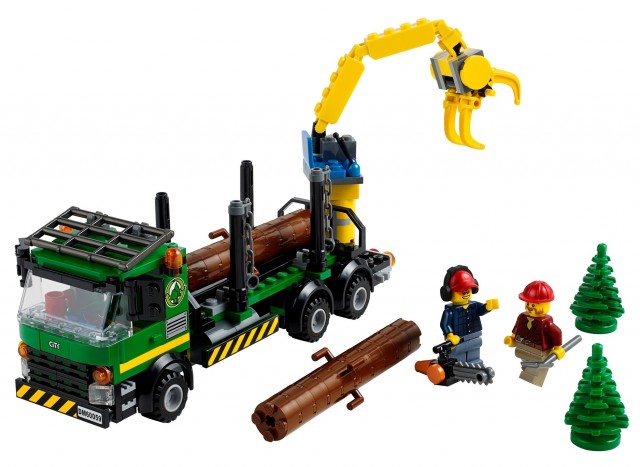 LEGO City 60059 Logging Truck includes two LEGO Lumberjacks minifigures. I'm impressed that the two Lumberjacks are so different from each other, as they have totally different face designs and different colored plaid shirts. One Lumberjack is clean-shaven but wearing glasses/goggles, while the other has a suitably manly beard.
The lumberjacks include various accessories such as a shovel, but the best–and most fun–part of LEGO 60059 is the included LEGO Chainsaw! Because of the nature of LEGOs, you can really simulate the LEGO Lumberjack chainsawing the tree into segments (and then put it back together and load it onto the logging truck, of course)! This is just an inspired feature of the set and incredibly fun and well-designed. Good job, LEGO!
The LEGO Logging Truck 60059 set will be released by January 1st, 2014, but I expect online retailers like Amazon to have the Logging Truck LEGO set up for sale by mid-December 2013 for savvy holiday shoppers to pick up for surprise Christmas gifts for their loved ones. You can 'Like' Bricks and Bloks on Facebook to get updates sent to your Facebook Newsfeed when LEGO 2014 sets start to hit physical and online retailers.
How do you like the 60059 LEGO City Logging Truck, LEGO fans? Is there a place in your home (and heart) for a brick-built Logging Truck, or do your dollars belong to a different upcoming LEGO set?