I just got done last night saying how I don't particularly care for LEGO sets that aren't action-based, and then LEGO has to go and make a liar out of me by hitting me with something like these! See, I've got an embarrassing weakness for ridiculously cute animals, and LEGO has decided to capitalize on this character flaw of mine next year. Coming in Winter 2014–LEGO Creator Forest Animals 31019 and Furry Creatures 31021!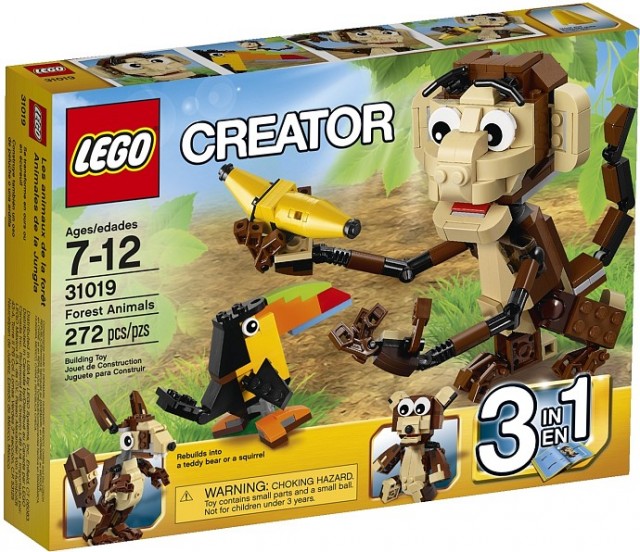 Ordinarily the only sets in the LEGO Creator theme that I'm really attracted to are the gigantic sets like LEGO Tower Bridge and LEGO Sydney Opera House, but every once in a while they'll come up with a cool LEGO animal set that I'll be powerless to resist. Such is the case with not one, but two sets in the just-revealed LEGO Creator 2014 winter sets wave!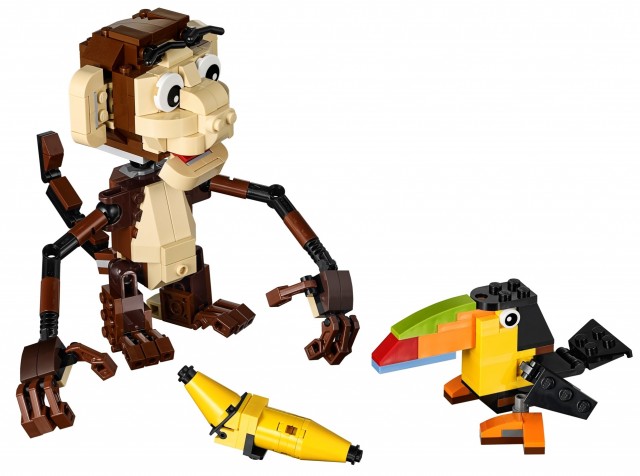 First up is the 31019 LEGO Forest Animals set, which includes 272 pieces and contains a brick-built LEGO Monkey, a LEGO Toucan, and a LEGO banana. The LEGO ball-jointed Technic parts are perfect for giving the LEGO Forest Animals Monkey all the articulation a monkey needs to hang on trees, jump around, and just look totally fun and cool.
The LEGO 31019 Monkey can be rebuilt into a LEGO Teddy Bear or LEGO Squirrel, but from the images on the box, both those creatures look kind of demonic at a glance. My LEGO Creator Monkey is going to be built as a monkey and stay that way, but your mileage may vary.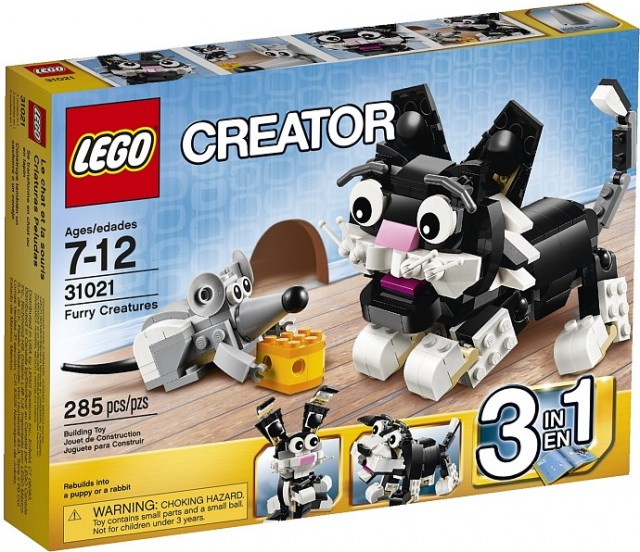 While it's not quite as endearing to me as the Forest Animals set, the LEGO Creator 2014 Furry Creatures 31021 has a cuteness all its own as well. I'm pretty sure that this LEGO Furry Creatures Cat just wants to be friends with the LEGO Mouse and share the LEGO cheese between the two of them, contrary to the urban myth that cats and mice don't always get along (that's my story and I'm sticking to it).
The LEGO 31021 cat is actually kind of ugly, in my opinion, as I think LEGO tried too hard to make it a mash-up of Sylvester the cat and a real cat in LEGO form. The alternate build LEGO dog is cuter, but I have a hunch that the 31031 LEGO bunny rabbit is going to take the cake for the most sickeningly sweet-looking of the three possible animals you can build with the LEGO Furry Creatures set.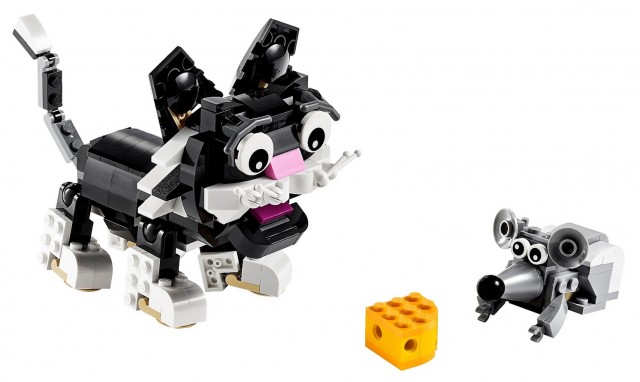 The 2014 LEGO Creator Furry Creatures and Forest Animals sets are scheduled to be in stores by January 1, 2014. Both sets should be in the price range of $24.99-$29.99, although we don't have official pricing details on either new LEGO Creator set yet. I'll post an update to the Bricks and Bloks Facebook page once the price for this set has been confirmed, and you can 'Like' Bricks and Bloks on Facebook to have more LEGO news, photos and updates beamed straight to your Facebook Newsfeed.
What do you think of these new LEGO Creator animal sets, LEGO fans? Is this the kind of cuteness that you're hopeless against (like me), or will you be passing on this pair of LEGO Creator 2014 animal sets?