Need and photos of upcoming sets seem to be coming out earlier and earlier these days, and today's big (or should I say little?) reveal feels especially early! It's too bad this set couldn't stay under wraps for a few more weeks, because we could have had Christmas in July–the 2015 LEGO Christmas Tree 30286 polybag has now been revealed!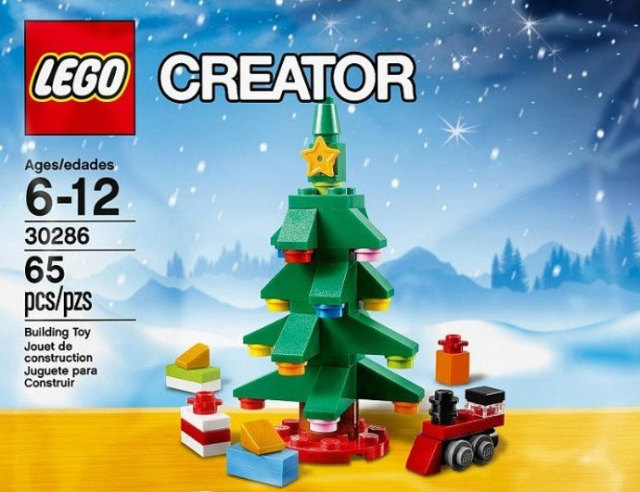 I'm a self-professed Christmas nut, so even though it's only the middle of May and over 90 degrees outside, I am already totally pumped up about this upcoming winter seasonal polybag set! We're probably going to have quite a wait ahead of us for this set, but isn't waiting half the fun with Christmas…?
The 30286 LEGO Creator Christmas Tree set contains 65 pieces (a decent amount for a polybag) and will include a brick-built Christmas tree, a little brick-built toy train and four brick-built presents.
While the new Christmas Tree build is obviously a bit smaller and simpler than some of the elaborate Christmas Trees that we've seen in the past, I really prefer the multi-colored studs being attached to the undersides of slanted green bricks to strands of lights being placed on the tree. I think that this little tree build looks terrific!
I also think that the two presents that have red studs as bows are actually quite cute, but the other two presents looks more like random blocks with a slab of cheese sitting on top of them. Oh well!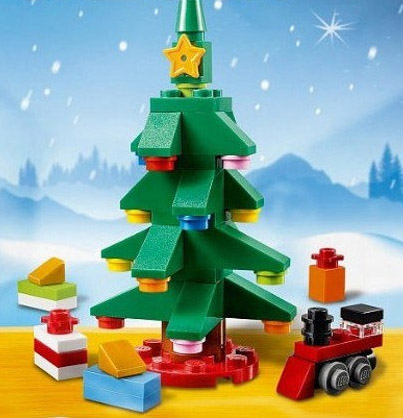 The little toy train build is adorable as well, although I already have similar (if not exact) toy trains from the Winter Village sets. But hey–who am I to turn my nose up at a toy train, right?
At this time, no official pricing or release details regarding the Christmas Tree LEGO polybag set are available. That said, I'd be shocked if we see this polybag appear before October 2015, and more shocked still if it doesn't retail for $3.99-$4.99. Look forward to it (I know I will)!
What do you think of the LEGO 30286 Christmas Tree polybag set, holiday lovers? Is this the best brick-built mini Christmas Tree yet?