The amount of Rocket Raccoon toys and collectibles available at retail this year has sort of become surreal to me. As a lifelong Rocket Raccoon fanboy, I never thought the day would come that any piece of Rocket Raccoon merch would show up in a mass retail store–much less dozens upon dozens of Rocket Raccoon figures. But thanks to the success of Guardians of the Galaxy, Rocket Raccoon is now a star for eternity. And as such, he gets an honor previously reserved only for headliner Marvel characters like Thor and Iron Man–his own LEGO minifigure polybag! Is the LEGO Rocket Raccoon polybag worth your five bucks (or ten bucks if you're buying Rocket online)?
The Right:
One of the things that made me really sad about this year's LEGO Marvel Guardians of the Galaxy sets was that LEGO put the two most popular characters into a mid-priced set that many kids weren't going to be able to afford: Rocket Raccoon and Groot. Making matters worse, LEGO decided to release a then-exclusive Rocket Raccoon minifigure at San Diego Comic Con 2014 as part of
the LEGO Rocket Raccoon's Warbird set
.
But wait! There is a happy ending to this story! LEGO finally realized that Rocket Raccoon was going to be a breakout star, and thus devised a low-priced Rocket Raccoon polybag set with the SDCC Rocket Raccoon LEGO minifigure and a little potted Baby Groot! Now everyone can afford to have their very own 1.5″ Rocket Raccoon figure!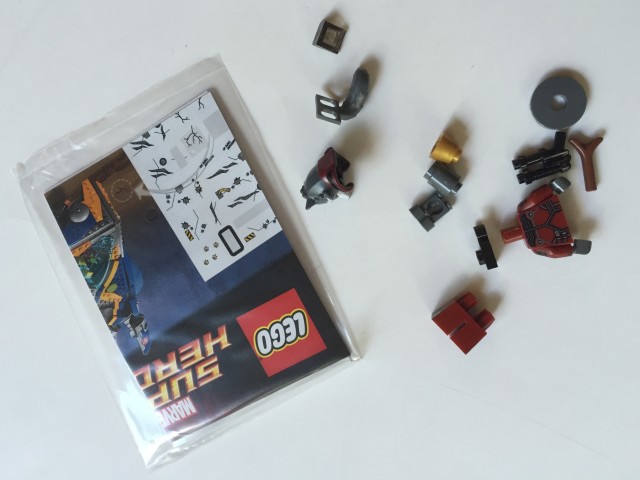 The LEGO Rocket Raccoon bagged minifigure is a quick and easy (and I mean easy) build. Even the youngest child of LEGO-building age should have no problem putting this set together entirely in under a minute. At 13 pieces for $4.99 it's technically not the best value around, but I don't apply the usual cost-per-brick value rules on minifigure-centric sets like this one.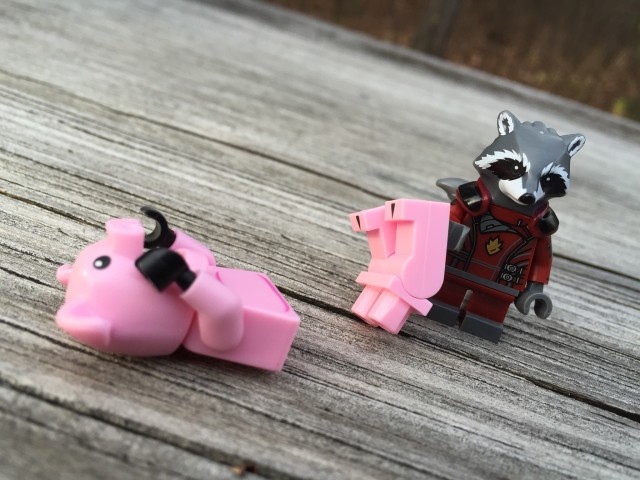 This figure represents the Ravagers red outfit that Rocket Raccoon wears in the climactic battle of the Guardians of the Galaxy movie. This is Rocket's second-most prominent uniform in the movie, and a great choice for a variant figure (although I am partial to the blue Rocket Raccoon costume from the end of the movie).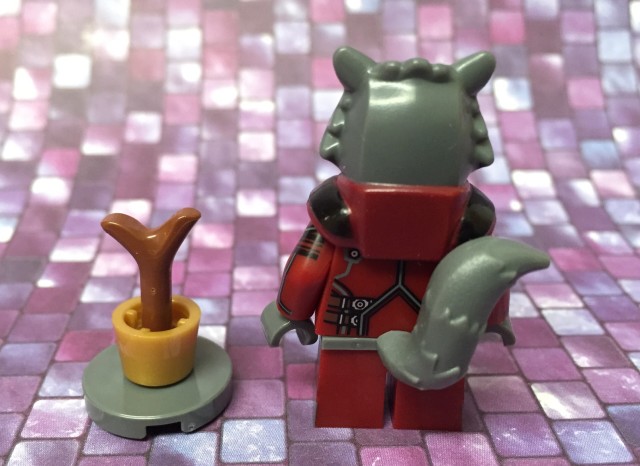 LEGO didn't cheap out at all on the torso piece for Rocket Raccoon–it has full printing on both the front and back and looks terrific (although it is disappointing that Rocket's tail didn't get any paint deco on it at all).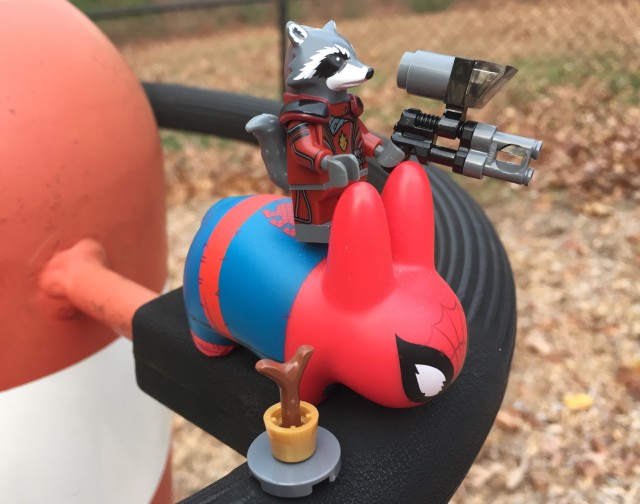 Rocket comes with a large and impressive brick-built blaster gun. I don't know that this gun is specifically modeled after anything from the film, but it does seem like the kind of intimidating and heavily-destructive gun that Rocket Raccoon would wield.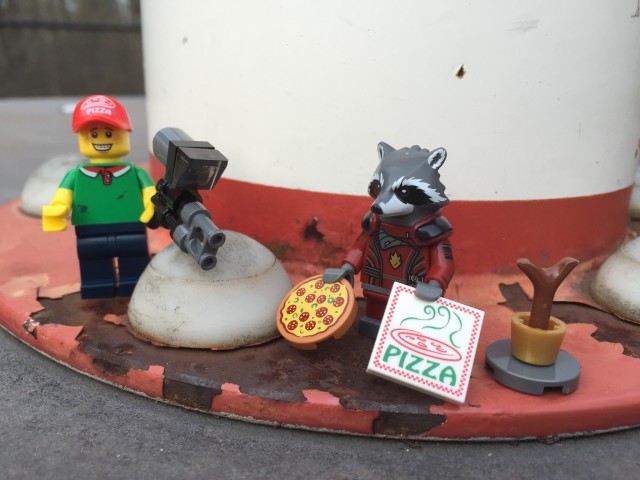 A little brick-built baby Groot in a pot is also included with the set. This is actually just a LEGO twig set upright in a pot, but Rocket regrows Groot from a small stick like this in the movie, so It is canonically accurate (sort of). This is a fun and neat extra to include.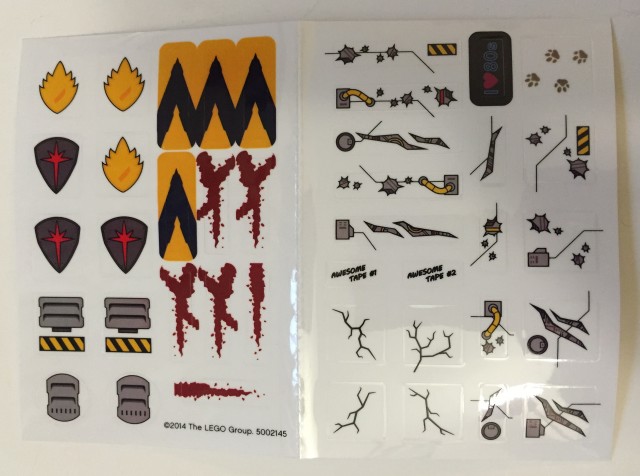 In addition to the actual LEGO pieces included with this set, you also get a sticker sheet full of decals you can use to enhance your LEGO Milano Spaceship. On paper this sounds like a "meh" inclusion, but having all these extra stickers is actually quite a bonus if you've been wanting extra stickers to decorate your Milano with.
In total, 41 stickers are included! That's a lot of extra stickers as a free bonus. This is also the first time I can ever remember LEGO giving you a sticker sheet with one set that's specifically meant to improve another set. Thanks, LEGO!
The Wrong:
There's one primary thing that bothers me about this Rocket Raccoon LEGO minifigure, and it's the color that they've chosen for Rocket's fur: grey. LEGO chose this same grey as the main color for all of their Rocket Raccoon figures, and, well… It's just not right. Rocket is brown–not grey.
Though Rocket Raccoon may sometimes be grey in certain artists' renditions, or as a color palette swap in Marvel vs. Capcom 3, he's just not grey in the Guardians of the Galaxy movie. It looks wrong to me, and it's hard for me to get past it–especially considering that no other company thought to make a Rocket Raccoon action figure that was grey instead of brown.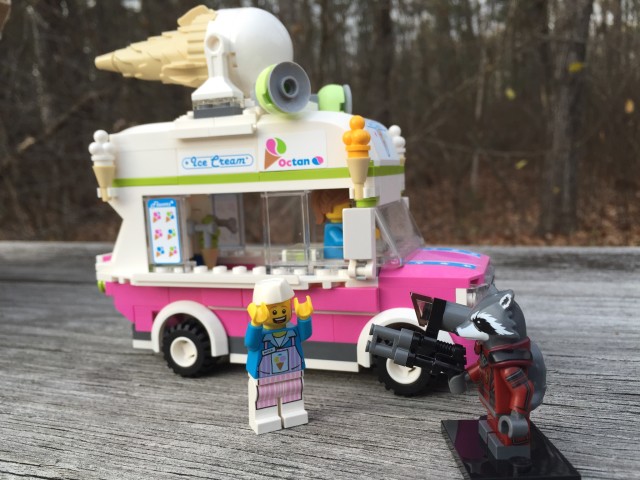 While it's not a deal breaker, I do wish that LEGO had produced a brown Rocket Raccoon figure for this (or any other) set as a variant. We're unlikely to get another Rocket Raccoon minifigure for at least a year, so it's a bummer that this one isn't quite right.
In addition, Rocket can be a little bit top-heavy and can topple over when holding up his monstrous gun. This can be remedied with one of the plain black stands that all the LEGO Minifigures Series blind bags include, but it would have been nice for LEGO to pack one in with Rocket himself.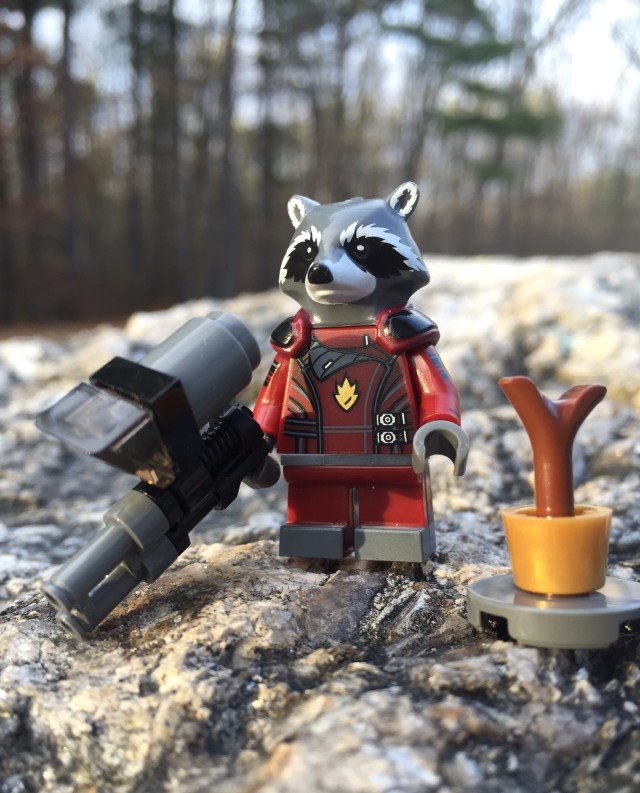 Overall: For five bucks, you're getting a LEGO Rocket Raccoon minifigure, an exclusive potted Baby Groot LEGO figure (of a sort), a deadly-looking gun, and a slew of cool stickers to detail your LEGO Guardians of the Galaxy Milano Spaceship with. That's a great value, and I have no qualms about paying it. The only things detracting from this set for me are the weird gray color that LEGO chose for this Rocket Raccoon figure and the lack of any kind of included stand to help balance Rocket. Otherwise, it's a fabulous set. Recommended. Go get it while you still can!
GRADE: B+