LEGO sets are one of of the hottest holiday toys of 2014, and that means that every retailer wants some of our LEGO dollars this holiday shopping season! While Toys R Us had the Rocket Raccoon polybag this weekend and the LEGO Store will have their own Ice Skating 2014 Holiday Promo set for Brick Friday, but this week Target is getting in on the action themselves! While the set has been available in limited quantities elsewhere this fall, the LEGO Snowman 30197 polybag set will be a free promo with purchase at Target stores this week!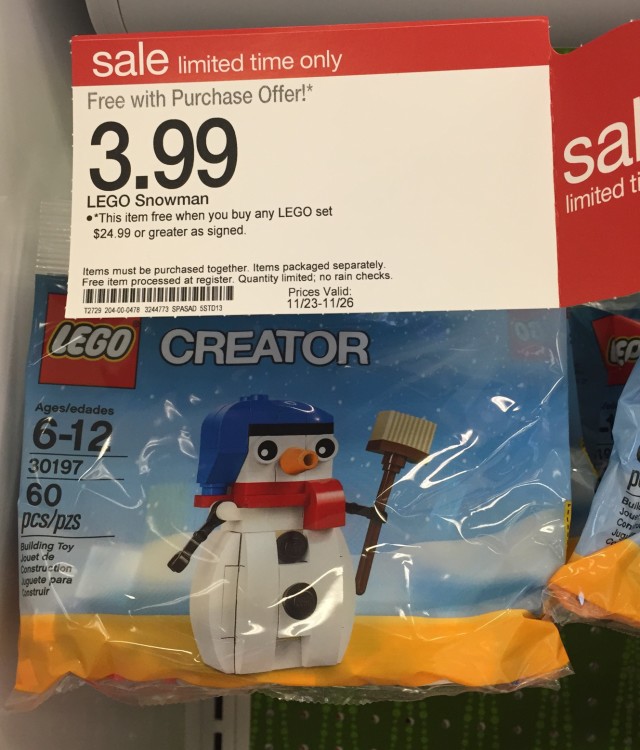 A new Target opened up literally half a mile from my apartment this fall, so I make the two-minute drive to my closest Target store every single day now (sometimes twice–or three times, depending on what I forgot to pick up). So even without checking the sales flyers for Target, they rarely managed to sneak anything past me. As such, when they started putting up shelf-tags on an endcap for a polybag that they hadn't previously been selling last night, I knew something was up.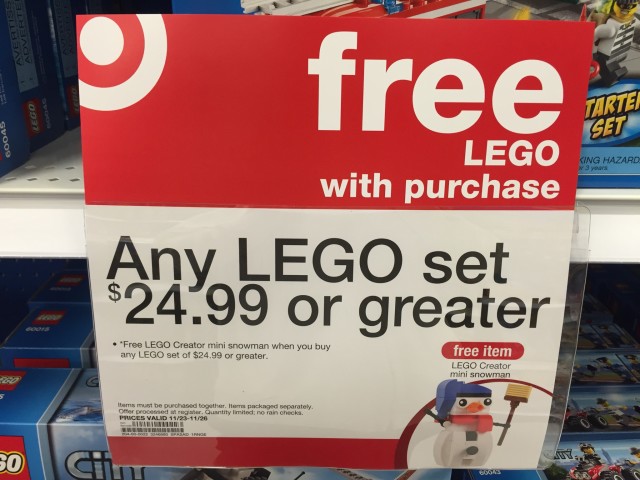 As it turns out, I went back this morning to find the pegs freshly-filled with one of this year's new polybag sets: the LEGO 30197 Snowman. While there's an actual boxed LEGO Snowman seasonal set available at the LEGO Stores this fall, this version has the advantage of being smaller, cheaper (if not free), and having the capability of easily being inserted into a stocking as a stocking stuffer.
If you want to get the 30197 Snowman LEGO polybag set at Target, you've got two options: 1) Buy the set outright for $3.99, or 2) Get the set free from 11/23/2014-11/26/2014 with a qualifying LEGOpurchase of $24.99 or more at Target. I'm approaching my credit limit this month as it is, so I opted to just grab a polybag for four bucks. Your LEGO purchasing mileage (or should I say credit?) may vary.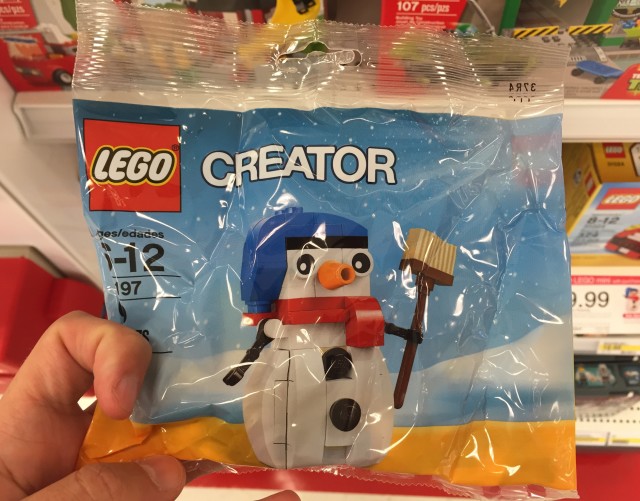 The 30197 LEGO Creator Snowman set is also available online for about $10 shipped right now, but $3.99 or free is (obviously) always better than paying to have the set shipped out to you, so you probably only want to order the Snowman polybag online if your local Target is already sold out of them.
Who besides me couldn't resist the siren song of the seasonal LEGO Mini Snowman 30197?