If there's one thing that LEGO knows how to do better than any other toy company, it's enticing customers with a constant barrage of free promo offers. And while consumers may not need much motivation to buy a plethora of the all-new LEGO sets arriving in stores in January 2015, LEGO is taking no chances and has a variety of promo polybags lined up for the month. And the best one of all is the LEGO Flower Cart 40140, free with a qualifying purchase at the LEGO Stores throughout January 2015!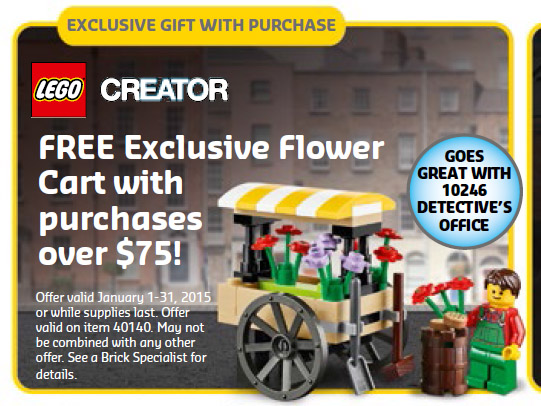 If there's one thing that I always say goes hand-in-hand with detectives, it's Flower Carts. After all, why else would LEGO state right in the text on next month's calendar that the LEGO Flower Cart "goes great with Detective's Office"? Seriously, though, this is a very cute little free promo set, and I'll be glad to take one for free when I pick up a credit limit's worth of new LEGO sets on January 1st.
In addition to the flower cart itself, you get a generic-looking LEGO Flower Vendor minifigure. Could he be the murderer that the Detective Ace Brickman is looking for!?! (DUN DUN DUNNNNN!)

The 40140 Flower Cart LEGO polybag set will not be for sale individually–if you want one, you'll have to spend $75 or more in the LEGO Store in January 2015. Seventy-five dollars sounds like a lot (and it is), but with dozens upon dozens of new sets hitting stores next month–including the UCS LEGO Star Wars Slave-I, LEGO Minifigures Series 13 and LEGO Detective's Office–I don't think many LEGO fans will have a hard time finding something new that they want to buy.
Also, this promotion should be combinable with the LEGO Mini AT-DP and LEGO Mini Golf promos that are on the January 2015 LEGO Store Calendar, so you can get those sets in addition to the LEGO 40140 Flower Cart if your purchase contains a LEGO Star Wars or LEGO Friends set.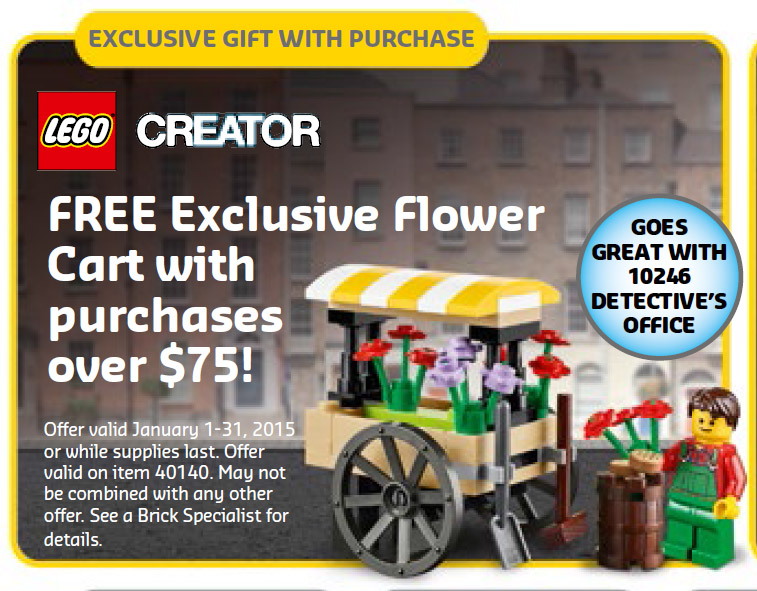 The 40140 LEGO Flower Cart set will be available exclusively with a qualifying purchase online and in the official LEGO Stores starting January 1st, 2015. With the crazy number of new sets being released next month, I wouldn't be surprised at all if LEGO runs out of their allotment of LEGO 40140 polybags long before the end of the promotional period.
How do you like this latest promotional set, LEGO fans? Will you be picking up a LEGO Flower Cart 40140 promo polybag in January?