The moment that LEGO Minifigures Series 10 started to leak into stores, it was only a matter of time before the much talked-about Mr. Gold minifigure was found for the first time. And now, this vac-metallized beauty of a figure has indeed been spotted. It was also an inevitability that we'd discover these confirmed Mr. Gold minifigures sightings for the first time exactly where we did: eBay…
The first two LEGO Minifigures Series 10 Mr. Gold minifigures have been officially found and confirmed–via a listing for the Mr. Gold figures on eBay. The price? A little over $1300 US. No, really–$1300. And yes, the seller did already sell one of the two at that astronomical price.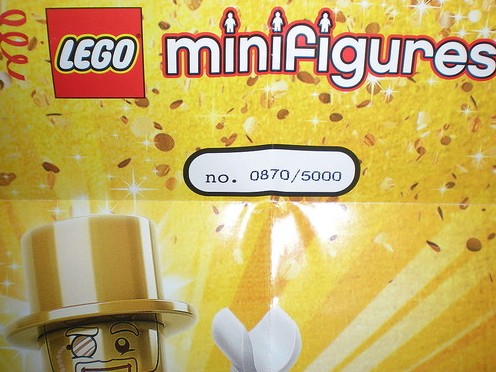 Honestly, I'm not sure what to say about this. These are the first Mr. Gold figures to be found, so the prices were always going to be astronomical. I expect that the secondary market cost for Mr. Gold will decrease in the near future–a lot–but the fact remains that there are far more LEGO Collectable Minifigures collectors than there are 71001 LEGO Minifigures Series 10 Mr. Gold minifigures.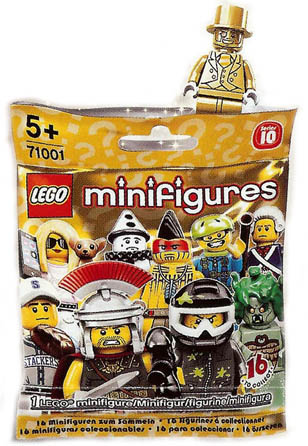 I totally see that LEGO was trying to do with the Mr. Gold promotion–and it certainly has drummed up a ton of interest in the 2013 LEGO Minifigures series–but I also think LEGO was a bit misguided in their efforts. "Chaser" figures are the norm in other blind-bagged collections, but at worst most companies put a chaser in every one to six cases.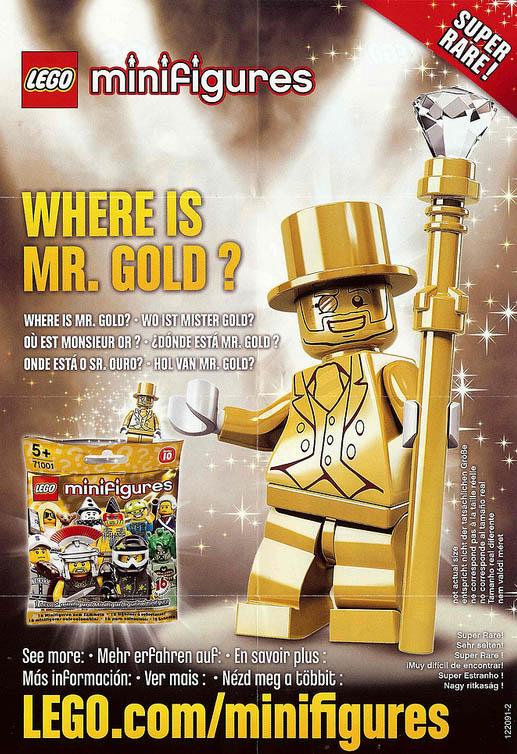 With only 5000 Mr. Gold minifigures being distributed in the entire world, it seems he's going to be quite a bit rarer than your average "chaser" figure. I think one Mr. Gold minifigure per every one to two cases of LEGO Minifigures Series 10 would have been plenty scarce to satisfy collectors. With the minifigure being as limited as it is, I doubt Mr. Gold will ever drop below $100 on the aftermarket.
You can check out the sale listings for Mr. Gold right here. I'll keep watching and report on the ongoing sales and "value" of Mr. Gold as LEGO Minifigures Series 10 710001 fully rolls into stores.