LEGO Star Wars fans look forward to this weekend all year long, as May the 4th has (somehow) become the official Star Wars holiday! Like every year, LEGO is getting in on the action again for May the 4th 2014 with a variety of cool free promo giveaway items, as well as some highly-discounted items! Not only will LEGO Star Wars fans be able to bring home a free exclusive LEGO Star Wars poster and LEGO Star Wars Darth Revan minifigure this weekend, but the now-discontinued LEGO Malevolence 9515 is on sale for a whopping 50% off! If you want to nab these deals and more, read on, LEGO Star Wars collectors…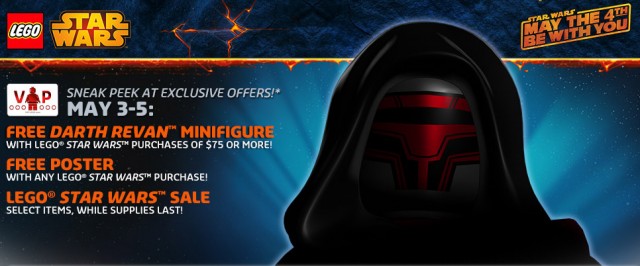 It's what you've been waiting for, LEGO Star Wars fans! The biggest weekend of the year for LEGO Star Wars collectors has arrived. Starting at the stroke of midnight that heralds in 5/3/2014, all of LEGO's sales, deals and promos for May the 4th will go live!
Have you been pining away for that exclusive LEGO Star Wars Darth Revan minifigure that we revealed a couple months back? You'll have your chance to snatch one absolutely free (while supplies last) this weekend with a qualifying LEGO Star Wars purchase from the online LEGO Shop!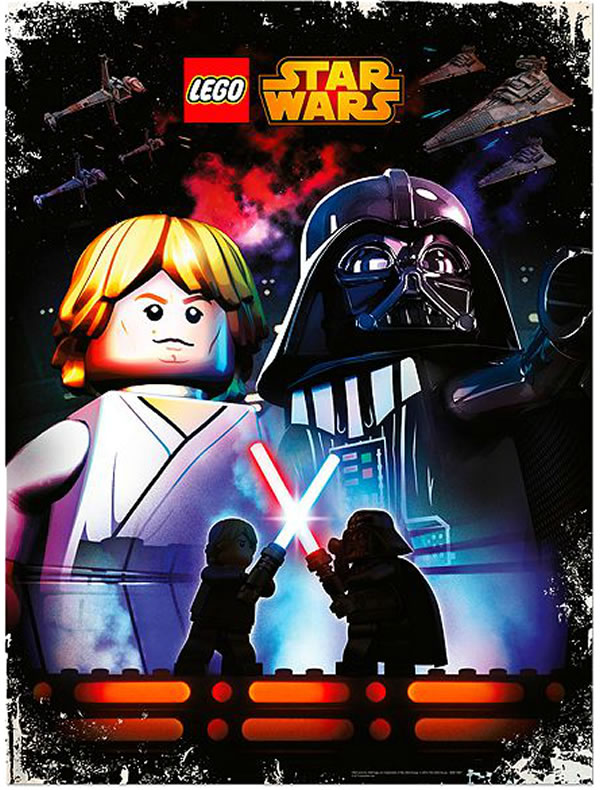 But that's not all–! Every purchase from the online LEGO Shop that includes any LEGO Star Wars item this weekend will also come with the awesome LEGO Star Wars poster shown above, where Luke Skywalker and Darth Vader are both battling and hanging out like father and son!
And who could forget the launch of the super-anticipated LEGO Star Wars Sandcrawler?! I didn't care very much about last year's May the 4th new product (the UCS X-Wing), but the Sandcrawler is quite literally one of my most-wanted items that LEGO has ever produced.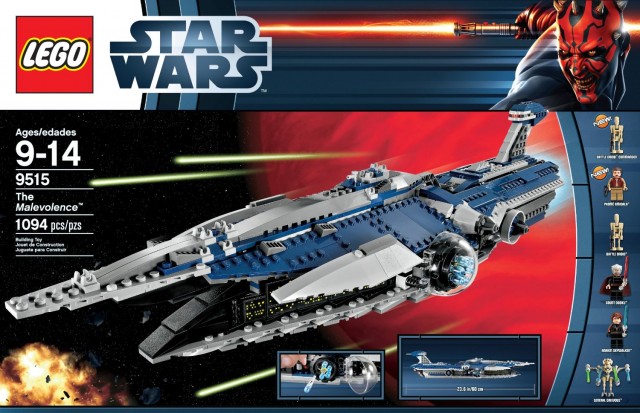 Finally, what big LEGO Store event would be complete without sales?! Most of the sale items for this event are pretty lackluster, but if you haven't already purchased the recently-discontinued Star Wars LEGO Malevolence 9515, it's on sale this weekend from the online LEGO Shop for an unbeatable 50% off its original price! I fully expect this item to sell out within the first day of the sale at that killer price, so don't hesitate if you think you might want the LEGO 9515 Malevolence for your collection.
The complete list of LEGO Star Wars products on sale from May 3rd to May 5th 2014 is as follows:
Product
Number
Product Name
Discount
9496
Desert Skiff™
50%
9515
The Malevolence™
50%
9525
Pre Vizsla's Mandalorian™ Fighter
50%
5002211
LEGO SW OBI vs DARTH VADER WATCH w/MF
50%
75007
Republic Assault Ship™ & Coruscant™
20%
850446
Keychain Darth Maul
20%
850448
Keychain Luke Skywalker
20%
850636
Magnet Luke Skywalker
20%
850637
Magnet Princess Leia
20%
850638
Magnet Han Solo
20%
850639
Magnet Chewbacca
20%
850640
Magnet Obi-Wan Kenobi
20%
850641
Magnet Darth Maul
20%
850996
Keychain Darth Vader 2014
20%
850997
Keychian Princess Leia 2014
20%
850998
Keychain Boba Fett 2014
20%
850999
Keychain Stormtrooper 2014
20%
851000
Keychain C-3PO 2014
20%
851316
Keychain R2-D2 2014
20%
851317
Magnet Boba fett 2014
20%
851464
Keychain Chewbacca
20%
852550
Keychain CW Yoda
20%
852838
Keychain Wicket
20%
75000
Clone Troopers™ vs. Droidekas™
10%
75001
Republic Troopers™ vs Sith™ Troopers
10%
75002
AT-RT™
10%
75003
A-wing Starfighter™
10%
75004
Z-95 Headhunter™
10%
75005
Rancor™ Pit
10%
75012
BARC Speeder™ with Sidecar
10%
75013
Umbaran MHC™ (Mobile Heavy Cannon)
10%
75015
Corporate Alliance Tank Droid™
10%
75016
Homing Spider Droid™
10%
75017
Duel on Geonosis™
10%
75018
Jek-14¿s ™ Stealth Starfighter
10%
75019
AT-TE™
10%
75020
Jabba¿s Sail Barge™
10%
75021
Republic Gunship™
10%
75022
Mandalorian™ Speeder
10%
75024
HH-87 Starhopper™
10%
75025
Jedi™ Defender-class Cruiser
10%
2850828
Darth Vader Watch
10%
2850829
Luke Skywalker Watch
10%
2851193
Darth Maul Watch
10%
2855057
Storm Trooper Kids Watch 2010
10%
2856080
Stromtrooper Minifigure Clock
10%
2856081
Darth Vader Minifigure Clock
10%
2856128
Anakin Kids Watch w/Mini Figure
10%
2856130
Yoda Watch Kids w/Mini Figure
10%
2856203
Yoda Mini Figure Clock
10%
5000143
Boba Fett Watch
10%
5000249
Boba Fett Clock
10%
5002212
Chewbacca Watch
10%
What do you think of this year's LEGO May the 4th 2014 celebration, LEGO Star Wars fans? Will you be picking up your own LEGO Sandcrawler, buying items to get an exclusive LEGO Star Wars poster or Darth Revan minifigure, or grabbing any of the products discounted for the weekend? Or is this year's LEGO Star Wars May the 4th a great big washout in your eyes?