Man, kids get everything. If you're lucky enough to be ages 6-14, there's a free LEGO Monthly Mini Model Build event that happens on the first Tuesday of every month at 5PM. As I'm, uh, a few years past 14, I tragically don't get to participate in these LEGO Store events. Even so, I must be a total glutton for punishment, because I like to stay informed and see what I'm missing out on. I stopped by my local LEGO Store over the weekend and discovered not one, but two, upcoming Mini Model Builds: the August 2013 LEGO Flamingo and a special summer LEGO Barbecue Grill set…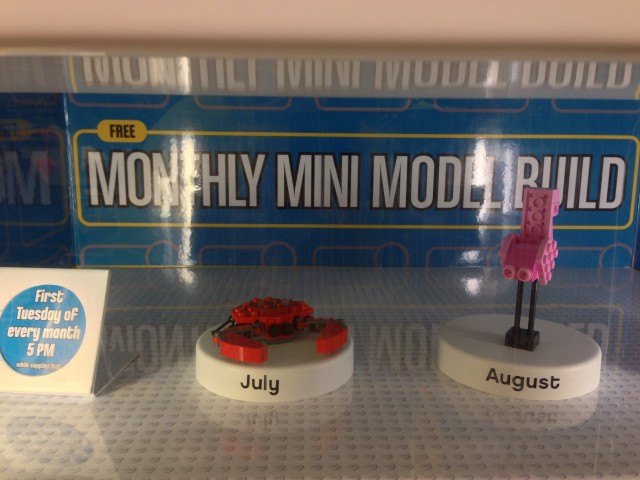 The July 2013 LEGO Stores Monthly Mini Model Build Crab event was last Tuesday, so I decided to swing by and see if they had the finished model on display. To my delight, the LEGO Store had both this month's crab on display as well as the just-announced August 2013 Monthly Mini Build LEGO Flamingo. I know not everyone is blessed to have a bunch of LEGO Store locations nearby, so I took some nice hi-res photos of both the monthly mini build Crab and Flamingo in the display case.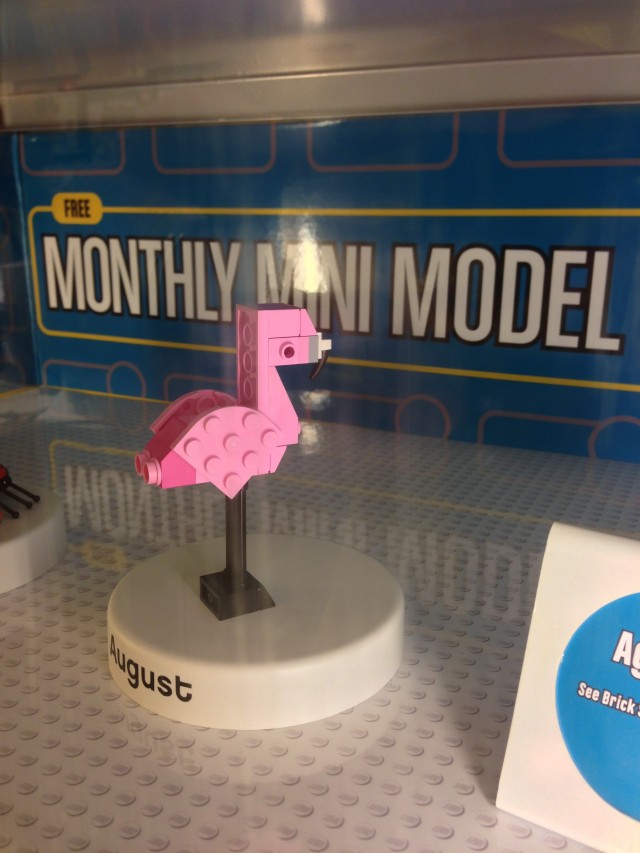 I'm more bummed than usual that I can't participate in the free LEGO Monthly Mini Build for August 2013–while there's no a lot of pieces that make up the flamingo, I sadly don't think I have any of the hot pink and light pink bricks that go into the Flamingo LEGO model. Like I said–kids have all the fun!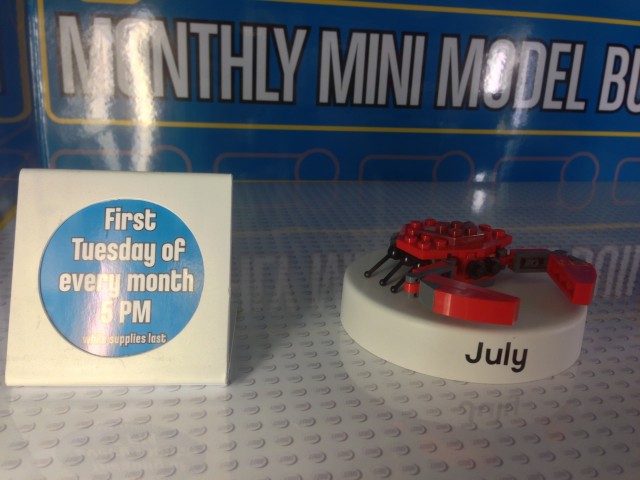 I may actually own all the parts necessary to make my own Crab LEGO Monthly Mini Build model, however. I probably have 1000 red bricks in my collection for every pink (if I have any pink–I really don't think that I do). The Flamingo and Crab free promos weren't the only thing I got to see at the store, however–I also saw the huge posters on the door advertising a previously unknown free LEGO Mini Build Barbecue Grill!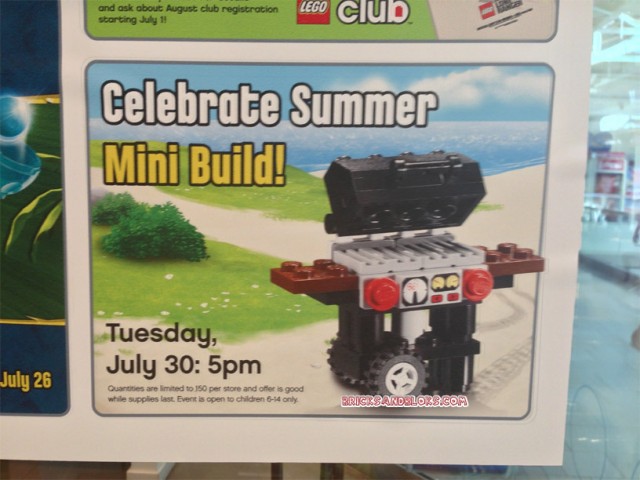 Each LEGO Store will only receive the parts to make 150 LEGO BBQ Grill mini builds on Tuesday, July 30th. This is a special event to "celebrate summer"–assuming, of course, that you're a little kid. Once again, my hopes have been dashed by the curse of being over the age of 14. I really like the grill top and printed control panel brick on this Barbecue Grill Mini Build. Alas, I shall have to resort to the aftermarket to acquire the LEGO Grill. Sigh.
If you're like me and not exactly a young whippersnapper anymore, almost every LEGO Monthly Mini Build can be purchased on ebay for about $4-$6. It's not as good a price as "free", but this is one of the pitfalls of being an adult.