Last night I chatted up a storm about the newly-reissued LEGO Arctic Scout 30310 polybag set that's just started to hit stores again this past week. But of course, that's not the only LEGO polybag making the rounds in the build-up to Halloween–and it's definitely not going to be the most popular one! Though it's also been briefly available before, the LEGO set arriving in stores now to accompany the LEGO 30310 Arctic Scout is going to be a hot one–the LEGO Batman Batwing 30301 polybag is now flying back onto shelves!
Though it was previously available as
a pre-order incentive bonus with the LEGO Batman 3: Beyond Gotham video game
, most LEGO fans opted for the LEGO Plastic Man minifigure as their pre-order bonus instead of the LEGO 30301 Batwing set. That was definitely the right choice, because as expected, the 30301 LEGO Batman Batwing set is now about to enjoy a far wider (and cheaper) distribution!
Target stores in the United States are now beginning to receive shipments of the LEGO Superheroes Batwing polybag set, which are being stocked in the seasonal aisle instead of the typical Target toy department.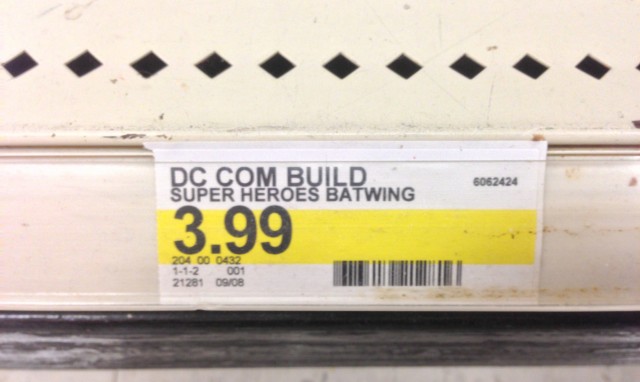 My local Target stores have begun their seasonal aisle resets, but haven't received the actual LEGO DC Batwing 30301 polybags in yet. I did, however, manage to take a photo of the shelf-hanger tag where the LEGO Batwing set is going to be stocked shortly.
If you're on good terms with the friendly Target employees at your local store (there are no friendly employees at my stores), you can ask them to look up DCPI #204000432 for you to determine if they've got the LEGO Batman Batwing vehicle set sitting around in the back, just waiting to be stocked!
While I've come up short looking for the Batwing LEGO set myself thus far, reader Dann B. was kind enough to send in the photo below of the full-stocking of the set at his Target store.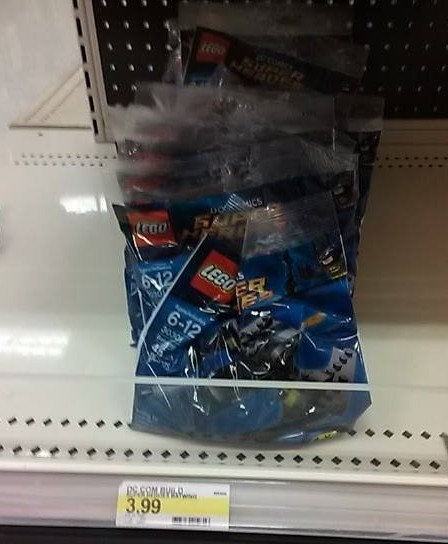 The LEGO DC Super Heroes Batwing 30301 set should be available at most Target locations within the next week, as Target stores are currently refreshing their seasonal section for Halloween. You might want to check your local Target frequently for this set, however–quantities of the LEGO Batwing polybag are likely to be far smaller than that of the LEGO Batman Tumbler polybag which was so well-stocked earlier in the year.
Will you be picking up the 30301 LEGO Batman Batwing set, LEGO collectors? Or is the Batwing LEGO polybag not relevant/cool enough to garner your interest?