Just when I thought I'd covered every set being released for The LEGO Movie, I remembered that there was one more set that I saw on display at the New York Toy Fair 2014 last month! While the LEGO Movie Super Secret Dropship 70815 isn't the most iconic of the LEGO Movie Summer 2014 sets being released, it's a beast of a set that includes the most diverse and unique assortment of LEGO minifigures ever–including the only accurate LEGO Movie Batman minifigure!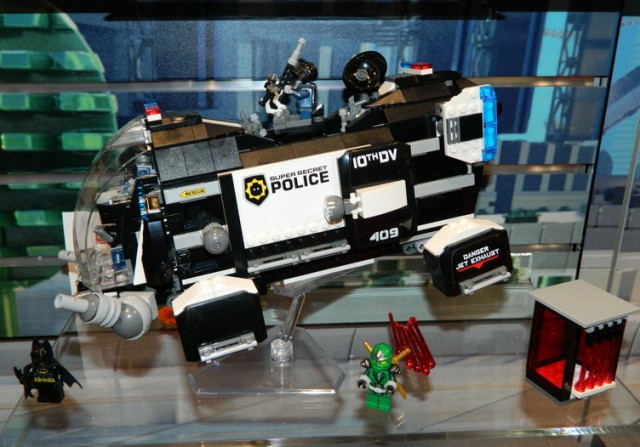 Of the three LEGO Movie 2014 sets being released (with the other two being
Emmet's Constuct-o-Mech
and
Benny's Spaceship Spaceship SPACESHIP!
), the LEGO Super Secret Police Dropship 70815 is easily the most obscure of the sets being released in the final wave of LEGO Movie toys. Even so, LEGO has given this set a unique selling-point that no other LEGO Movie set can boast–it's the only set from The LEGO Movie that contains minifigure from three other themes!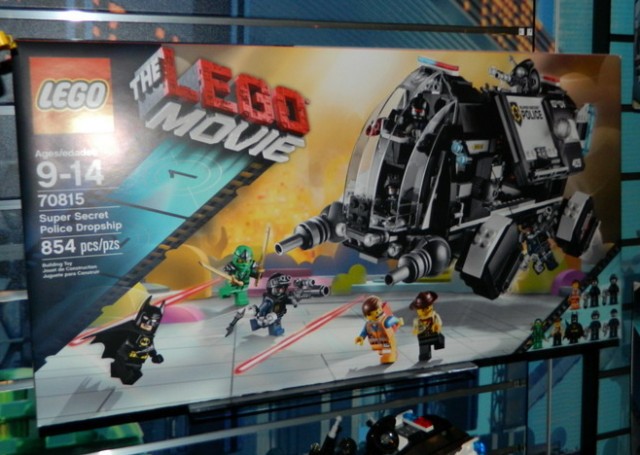 The headliner of this set is, of course, the authentic LEGO Batman movie minifigure! This is the one and only set that will be released to feature an accurate LEGO Batman figure, as this variation of Batman includes arched eyebrows on the cowl, just as in The LEGO Movie! Given the prominence and popularity of Batman in the LEGO Movie, I'm truly amazed LEGO didn't stick him into more sets. The arched-eyebrows LEGO Batman minifigure is definitely going to be hot when it hits along with LEGO 70815, though.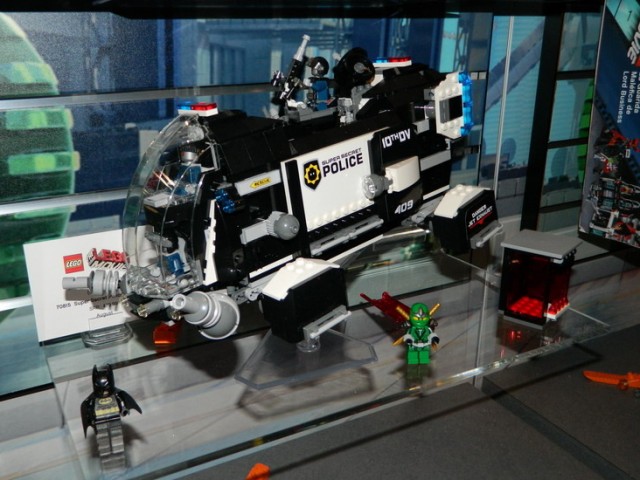 Along with a LEGO Movie Batman figure, the set also includes an Emmet minifigure, a Ninjago LEGO Green Ninja minifigure (in his Green Ninja ZX form), a Johnny Thunder minifigure (from the LEGO Adventures theme), and four Robo SWAT minifigures (of three different types).
Of course, I've also completely overlooked the humongous LEGO Super Secret Police Dropship that makes up the bulk of this set! The assault on Cloud Cuckoo Land was one of the most shocking and memorable scenes in The LEGO Movie, and this is the perfect vehicle to add to your collections to recreate the scene.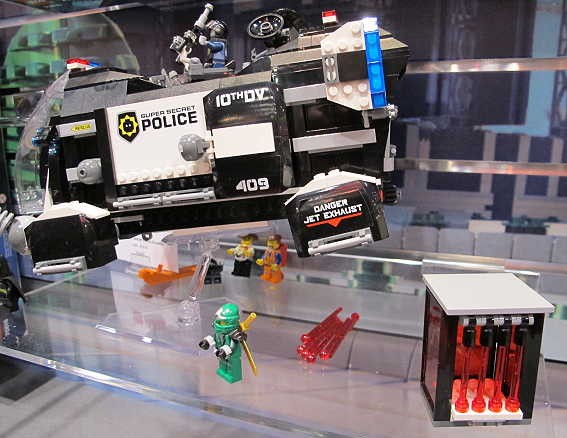 The set includes a very cool-looking prison cell that can be used to capture a Master Builder, and then be loaded into the back of the Super Secret Police Dropship LEGO set. LEGO 70815 also features rotating rocket boosters and a super-cool zip line function.
The LEGO 70815 Super Secret Police Dropship LEGO Movie set will contain 854 pieces (and eight minifigures!) for $79.99. This is a great price by most standards at just over 9 cents per piece, and should hopefully help this set to do well when it hits retail shelves in summer 2014.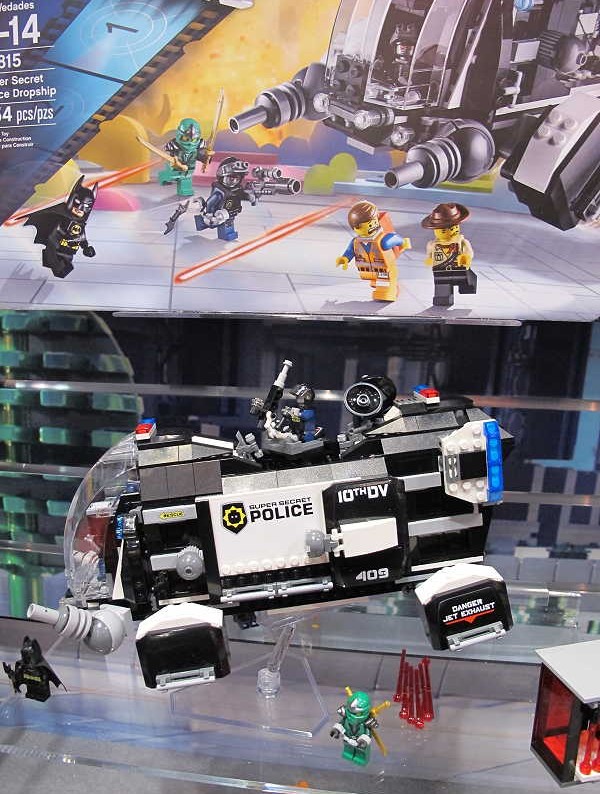 The 70815 LEGO Super Secret Police Dropship will be released in August 2014. I'll be continuing to discuss the Summer 2014 LEGO sets over the coming weeks, and you can 'Like' Bricks and Bloks on Facebook to have LEGO news, reviews, photos and updates beamed right to your Facebook Newsfeed.
How do you like the LEGO Movie Super Secret Police Dropship set, LEGO fans? Is this set and its incredible selection of minifigures enough to earn your $80 this summer?