I've begun the way-too-long ride to New York City for New York Toy Fair 2015 (it's tomorrow!), and while I try not to drive those around me nuts with my fidgeting, I figure I can catch up on some minor LEGO news. There's a new LEGO CIty polybag set coming our way this winter, and official photos have now driven in: it's the LEGO Go-Kart Racer 30314 set!
To kick off 2015, LEGO added listings to their database for a plethora of upcoming polybag sets due out in the first half of 2015. One of these happened to be an abnormally cool LEGO City polybag set featuring a Go-Kart (look out Mario!).
Up until this week we'd only seen a small, grainy photo of the set that was hardly worth talking about (and so I didn't). But with its release imminent for later this winter, official hi-red images of the 30314 LEGO City Go-Kart Racer have now been revealed!
At a glance, this is a super-cute set. The little red and white kart is just the sweetest, and will look great in a display with some of those K'NEX Mario Kart racers (if anyone besides me has some of those).
The little racing light pole (I'm sure someone with more racing knowledge than me can tell me exactly what this is called, so don't be afraid to speak up) is also an unexpected nice touch for a tiny polybag set.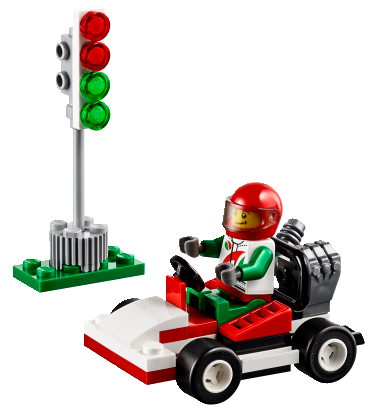 At this time, the exact price, piece count and retailer where the LEGO Go Kart Racer 30314 set will be available are not yet known. I'd assume this set will be about $3.99 wherever it's sold, but where that will be? I couldn't even make a guess right now.
I'll post an update here and to the Bricks and Bloks Facebook page once the specific release info for this Winter 2015 set is made available, so keep your eyes open if this is a set that you're excited about.
Thoughts on the adorably affordable LEGO 30314 Go Kart Racer set, LEGO fans? Is this set destined to race into your collection later this winter, or does this small racer fail to impress you?